Back to News
Factory Design Labs
November 2, 2006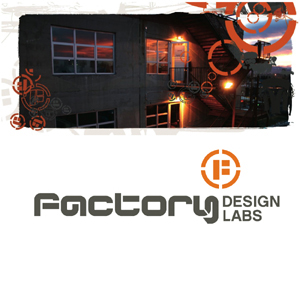 Factory Design Labs

Factory Design Labs, Inc. is a design collective that specializes in connecting brands with their consumers. Factory achieves this through using market research, brand identity development, interactive & print design, campaign management, web design / development / management, and more. This list doesn't do justice to everything Factory is able to offer its clients. It would be best to say they can do it all. If you ask yourself, "how about _____?" The answer is most likely yes – full service means full service.

A broad range of companies, from Adam Sandler to 20th Century Fox to Dell to the Denver Nuggets to Oakley to Audi North America (you get the picture), turn to Factory for it's services. The when, how, why, and who of Factory is an interesting story.

When does a company turn to Factory for assistance? What is the "right time" if there is one?
Whenever a brand has a goal, or needs to determine a goal is a good time to reach out to us. From a brand's perspective typically the need a partner to help them with some guidance, or they have a clear goal and need help from someone to achieve it.

We are also called on when a company needs capabilities that are outside of an internal department's specialties & unique skill sets.

A lot of companies in this industry [Action Sports] start out very small and passionate about the product they produce. And that passion is what drives them. Those companies grow and they start running into larger business issues that are not the original reason for getting into the business. Sometimes they get blind sided and realize, "I'm competing against these large companies and I don't know how to navigate through this part of our growth."

The right time is when there's a larger opportunity that can be realized by a brand + agency relationship. Most Marketing Managers, Directors and VPs are truly working within the company - they have a lot of internal responsibilities that often don't let them work on the brand.

An agency relationship typically comes from a macro perspective – a brand's positioning, image, transactional opportunities such as driving sales in an online environment.

Because we're not mired in bureaucracy we're able to bring a completely fresh perspective to the brand and the power of Factory is our collective intellectual property and experience in all capabilities we offer our clients.

We work with companies like Dell that is a $51B / year company vs. Optic Nerve which is much smaller; we serve the same role. We are given problems to solve from strategic level through execution of whatever it might be.

Factory is involved in entire strategic direction on projects?
Absolutely.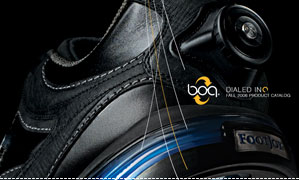 Is a company like Factory the right resource for a big company to use? A small company? When would each turn to you for assistance? (Picutred right, Boa Technology product catalog)
It really doesn't matter whether a company is big or small. What matters are what the company wants to accomplish and our ability to make that happen. We really work in two industries – sports and entertainment and within those two industries our clients range from relatively small to very big and complex. In sports we range from Rawlings to Oakley; Mountain High to Copper Mountain [and many more in between]. On the entertainment side we work with companies such as Sony Pictures, 20th Century Fox, and Paramount Pictures. What we find is there's such a complimentary aspect to our client roster it helps each individual client achieve its goal. We understand how to market and sell product to the Holy Grail demographic – 14 to 32 year olds. Our entertainment clients benefit from our ability to understand the kids, and our sports clients benefit from the level of business-sophistication it takes to execute projects for the entertainment industry.

If you just live in one industry it's easy to forget the rest of the world exists. The thing about working in both is you're constantly involved in what the rest of the world is doing instead of getting into a one-world mind set. We always think of how can we take what we've learned with this group of people and apply it to other people.

What does Factory do that a company can't or doesn't do on its own?
What we tend to find is if brands have an internal marketing department they have a strength in one online or offline Marketing, but not both. Our organization has a unique combination of both mediums – online and offline. And for many of our clients, we are their customer. That combined with our expertise is a powerful combination.

In other scenarios we serve a specialty role. For example, we serve as the interactive department for Oakley and Audi America. We will handle the entire online initiative – from website design, creative ad design, to media coordination, and measuring ROI.

There's no cookie cutter solution. We take time with prospective clients to discover where the potential benefit is by analyzing the strengths & weaknesses, and then providing a solution that meets those needs.

Are you able to create sustainable solutions for your customers? What constitutes sustainable?
You can look at it on a couple different levels. If you look at it as a logo or an image that can be sustainable for a long period of time but it becomes an issue of discipline on the client side. Are they able to consistently use that and allow the mantra / brand philosophy that we create for them to work in all aspects it was intended to? From an ad to Warranty policy to procedure at the Customer Service desk. The great sustainable companies understand that the brand has to be consistent across all touch points with the customer.

From a positioning standpoint sustainability is the agency's responsibility.

Integration is shared responsibility.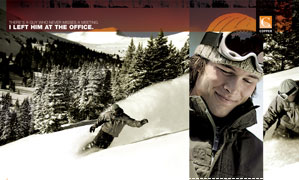 Is there ever a feeling of "it's too late" to assist a brand or company? (Pictured right, Copper Mtn. National Print Campaign)
Absolutely, there are always cases of brands that come to us in one phase or another of their lifecycle. Our fluency and integration into these industries gives us a unique vantage point.

The "too late" components are really predicated on a lot of market factors, how a company is managed, its product not is not up to par. It's not simply a matter of "does this company have capital". We had a heavily capitalized brand, plenty of money to work with, but the management team was not a winning combination, and it was a relationship we decided to terminate very early.

This goes back to our core, which is our people. Our people will be as good as the opportunities we put in front of them. We take a client who is horrible, and then the work will become horrible. There's a responsibility to our people. We feel it's too late when the questions, "Is it good for our people? Does the client have the right people in place?" are answered with a no.

What makes your clients trust you to provide a solution for their needs?
It's our people. When you walk through Factory you instantly know you're in a building full of people that get it. We live the lifestyle, have the experience, have talent - and that creates trust.

Experience and talent are two different things, but everyone needs passion. We put that in front of our clients and they think they have to work with us because of our passion. Because we're as passionate about it as they are. And it's genuine.

We have a responsibility to our people first. When our people are super stoked and thrilled with the companies we're working with it shows up directly in what we produce. If we bring clients on that don't mirror our own culture then there's an erosion of our culture. A lot of agencies say it's client first, but at the end of the day if our people aren't stoked we won't be any good.

Why am I working here, not just for the client? We respect what they - our employees and clients want - and deliver it. Our clients are passionate about us and the people we put in front of them - not our pricing structure.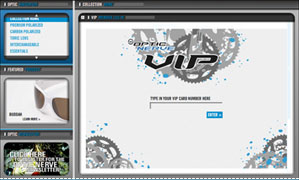 Does your involvement with a brand vary from a one-off project to complete control of a campaign / direction? How long do engagements last? (Pictured right, Optic Nerve VIP Program)
It totally varies. It's really based on what the client needs. There are some scenarios where we're the full marketing department, an extension, or execute a particular discipline to compliment in-house operations.

The engagements really almost never end. Usually once we start working with a client it becomes a legacy relationship. It's analogous to our hiring process. We don't hire new people here to work on a project; we hire for the long-term and make a huge investment in them. We invest in the client the same way. We want to create a legacy relationship.

Creatively, it's just our nature that makes it this way. If a client brings in a one off project there's no way we can look at it and not see other things that can grow out of it. It's hard to do one-offs because it'll be off your schedule within the week. If our people have great ideas, we'll get those ideas in front of the client even if it's just a one-off project – you can't let good ideas die.

Are there advantages or disadvantages to having clients within the Action Sports world as well as the "mainstream" world?
Absolutely huge advantages and no disadvantages in the matrix of brands we work with. The partnerships we create between the two segments historically have proven very powerful and long lasting. There's also external benefits to the clients and cross-connect opportunities.

It's also a huge advantage in staffing. It's really tough to pull in top talent when you're working on door hangers for a pharmaceutical company. It's a lot of fun to get out on the hill on a board from the catalog that you did. You feel connected. It's fun to know the product that well.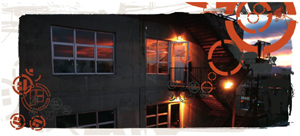 What makes Factory win a customer over another firm?
There's one real answer. It's our culture. Being really honest and transparent you can find similar design skills, engineering skills and project management skills in probably 10 other agencies in the US. However, you may not find the same combo of offline and online skills.

At the end of the day what wins it, and evolves it into the legacy business is the culture of our people. We've talked about the culture already and that's what the winning component of Factory is.

It's like what makes Factory win an employee over another firm. There are a lot of different places to work. Do you get to fill your career needs and personal needs? And that's not always possible. We have two kinds of businesses we have to win – clients and staff.

How do you prove or demonstrate results? What are some of the qualitative and quantitative measures that are used to show ROI?
There are really two basic levels of ROI and it's conversation that could go on for hours. Two basic metrics are P&L and Metrics. The company's P&L - are we helping them grow, increase top line, margins, etc.

The second measure is metrics. Click-throughs, client surveys, market share data, sell through rates all contribute to measuring the ROI. There's no cut and dry. There are a variety of tools we deploy to understand our effectiveness.

Do long-term relationships with customers go through peaks & valleys of activity? (i.e. – sometimes they need you intensely for 6 months, and then not again for 12 months)
Absolutely, we have a lot of seasonal clients. Snow focused clients we're intensely involved with year round but they intensity peaks when we're in early winter when everything is going out. Dell and Audi are busy year round.

Year over year we have peaks and valley as well. Forces affect marketing budgets. A Marketing budget is lean in year 1 for research & development of a new product, and then they reverse the budgeting to sell that product into the market place in year 2. We're nimble and understand the nuances. We react accordingly and find the best solution for the client within their spending requirements.

Even though there are the peaks and valleys, the strategy element of it is a 12 month ongoing element. We stay in touch with clients when we're not working on anything too, bouncing ideas around about what's coming next. Those little pieces of conversation build and formulate tangible ideas. Then when it's time to start a project it's not from scratch. We don't look at it as just a delivery date. So in that sense, it's year round.

Factory offers a full suite of branding, design, marketing, and advertising capabilities to its clients. How do you determine who needs what?
It's a rigorous part of our investment into brands. There's a tremendous amount of discovery that's done between our senior management, the client account team and the client. We look at online and offline solutions, where the greatest opportunities are, how we can make things happen, available budget, and how it can all be maximized. We have a very integrated approach with our clients.

We find some commonalities with our clients aside from the actual work. Cars, baseball, snowboarding, entertainment and so on enable us to create a great relationship. You can bring that learning & thinking full circle into the business relationship.

Can you take us through a basic process of client relationship from concept through completion?
We don't have a process. Any agency that tells you they have a process made it up. Or if they actually follow their process the client is getting a fast-food solution. We don't believe in having a rigid boilerplate because every client is different. It all starts with discovery and goes from there.



What does the composition of a client team consist of?
It depends on the stage of a relationship. New relationship it's business development looking at the situation in a unilateral fashion, determining needs with the client. When we get an engagement, we'll integrate different members of the team according to that solution set. Sometimes it will involve copy writers, engineers, designers, if it's TV work it involves our production team. There's no standard composition, it all depends. Departments we draw from include Account Services, Creative Services, Interactive Services, Client Services (Media Buying & Planning, Public Relations, Broadcast, Print Production), Operations, Finance, Information Technology, Human Resources.

When it comes to finding people to work within these departments, are the general "must-haves" or characteristics you look for?
On a macro level, our people are our sustainable competitive advantage. When we hire a new person we are really diligent to make sure it is a fit for the person and for our company. We're very disciplined in protecting our culture, as well as enhancing it. Every new person who comes in has unique personality, skills, etc. and that directly affects the existing balance.

We look for people that are culturally relevant first, and then we look for the specific skills and talent.

What's really getting fun with Factory is it's becoming an interesting puzzle - you can't have all the same pieces with the same shape because creatively you will all do the same thing. That changes the culture in a big way, instead of looking for something unique you're just hiring for experience to create organizational structure and a reporting structure. So you look at what the culture needs and everyone brings something unique but they also feel like they can learn something else. You bring them in where they're doing something well. The pieces fit together.

We have this whole sub culture where everyone spends a lot of time together outside the office. We create that mix where personality, culture, talent, and passion fit together. Then you can start working with skills sets and you can get into some interesting mixes of people. It's a really great time at Factory to be able to work on that mix. Our people like the clients and each other. The infusions have to come to growth. We're paying them, giving them great projects, and on the other hand we're asking them for 9 hours a day, go on out of town trips.

There's a philosophy that's unique to us that defines if they're a fit. We're a company based on Macro management. As a management team our objective is to provide people with the best of everything - clients, companies, tools, etc. We're focused on not becoming a traditional company with respect to the fact that we don't define work hours, dress code, traditional touch points because at the end of the day our job is to take all the normal work space stress out. Knowing we pay handsomely, being surrounded by great people, access to winter / summer resorts, etc. is creating an environment where people don't have to worry about all the normal bullshit of the work place, all they have to worry about is thinking. Generating the next great idea.

Some people are here 7 days, some work 4 – depends.

Our perspective is "rather than looking for your next job, let us help you build your next job. You can totally define your career at Factory."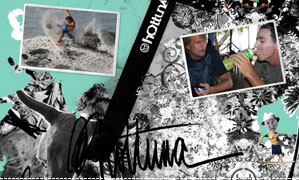 Does someone need to be the best in his / her field to be considered for employment with Factory? (Pictured left, Hot Tuna website)
I think we look for that. We have a responsibility to hire great people to work for our clients and vice versa. When you hire great people it pushes everybody. Sometimes people get into a rut, and then it becomes the end of your career.

But talent and experience are two different things. There's a lot of raw talent. We hire for culture, talent, and personality. Talent comes in many forms; talent in design or thinking or branding vs. media buying.

Certainly skills are important, the absolute best?
Not necessarily. A great example of that is the T.O. mentality. He will and can destroy teams. Talent will get you in the door here, but you have to be a rounded out person the rest of the way.

What positions are hardest to find the right fit? What makes it so hard?
There's no one that's really harder than the other. The work is created by everyone who touches it. They're all hard because you want to hire someone who's really good and a cultural fit.

Is there a job category or department where people need to have Action Sports industry experience?
Like working for a manufacturer - sometimes yes and sometimes no. Can we hire someone to work on Palmer Snowboards that has never been on the hill? No, never.

What positions do you typically hire for?
Creative and Interactive are the fastest growing departments. Account Services is growing quickly as well. But really, it's proportionate. It's an important part of the work product. When we were smaller we were heavily dominated by designers but you need great account services people so you can be more strategic and keep the work on track for the client. Every department is important and they grow in order to give a client a good solution. It's a great mix to have, it's what you need.

What's the general process you go through?
As a management team our responsibility is to look 6 months out and balance it from a scheduling standpoint. We have our positions well defined. Senior Art Director vs. Junior Art Director. You have to plan ahead what you want out of people.

We'll talk to people who are here to see if there's someone within the existing network. Once we find people who fit, generally always multiple interviews and multiple departments so we can find the best fit.

How can someone make him / her self stand out when submitting a resume?
On the Account Service side, it's attention to detail. When we see resumes with misspelled words it doesn't give us confidence that the person will be able to copy write or get an ad out the door, or be taken seriously by a client. Follow up is good too, and also gather your references and present them as soon as possible. It's the basics.


On the Creative side it's got to be a good solution. Solutions are above and beyond design. They have to be able to have a thinking element that understands function. We don't like people who are "overly cute". That's where people have to have the ability to look in the mirror and go is this good or bad. And have a really good sense of their ability because a lot of design comes down to taste. What do you think is good vs. bad.

You don't need to win us over with a silly cover letter or the story of your life. Show us great work and all of that personality in that work. Don't be cute and don't be cocky. We don't really want to hire either because it upsets the balance.

Honest, genuine people. You need some swagger in the design business. You need some thick skin. Self confidence, but you can't go so far as being the end-all and know-it-all.

How can someone impress you in an interview?
People need to be genuine and passionate for what we're doing, understanding of our business and our clients business. Have Passion for the industry's we work in and the clients we have and what it's like to work here, a passion for Colorado because it's where you live. You can't be at work 24 hours a day. We're impressed when all of that comes through in an interview.

Most importantly, the candidate must possess the ability to ideate. We hire people who can develop great ideas and we hire them literally every week.

---