Back to News
Flow Welcomes John Colonna as New Director of Product Design
November 17, 2006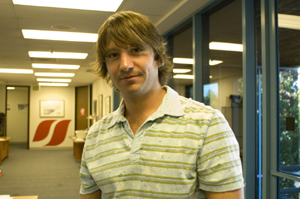 Flow Welcomes John Colonna as New Director of Product Design
Flow, the original producer of the reclining hiback binding has named John Colonna as the new Director of Product Design. Colonna, a native of Youngstown, Ohio is an action sports industry veteran. He began his career working as a shop manager and moved on to join Burton as a Product Logistic Analyst. Over his six-year tenure with the company, John rose through the ranks to Director of Men's Apparel, where he oversaw the success of sound integration into Burton's outerwear program. Having had his fill of cold Vermont winters, Colonna made the move to southern California to join Rusty as the Vice President of Merchandise and Design. In this position he focused on building a product foundation along with strategically segmenting the line to the target customer.
As the Director of Product Design with Flow, John will be responsible for overseeing the design process for all of Flow's product lines including bindings, boots, boards, as well as softgoods.
"John fills a void in the company. We were missing a key component in our Product Department- someone with technical know-how, that also has an eye for aesthetic industry trends," states Anthony Scaturro, President of Flow, "In the past we have been a bit tech heavy, but bringing John in will balance out our line to still include the tech features we're known for, with the addition of the style knowledge he brings."
Flow Snowboarding is the originator of the reclining hiback binding. Since the company began in 1995, Flow has been the sales leader of this technology. Over the past ten years, in addition to perfecting the reclining hiback, Flow introduced its own line of snowboard boots and boards. The boots feature Super Featherweight construction and are one of the lightest on the market, and the boards are continually selected as award winning designs year after year.
Today Flow is known for performance, comfort and convenience. Most recently, Flow introduced "Triple Threat Technology", a system of boots, boards, and snowboard bindings designed to maximize energy transfer when all three are used together. The advantage of Triple Threat Technology was demonstrated this year with the Flow Pro Team receiving The Best Team, The Best Overall Rider, and The Best Halfpipe Rider awards at the 2006 Transworld Team Challenge.

---