Back to News
Rome Snowboard Design Syndicate
January 1, 2007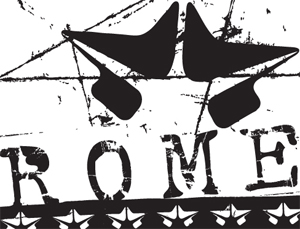 Rome Snowboard Design Syndicate
Rome SDS was created in 2001 and is experiencing continuous growth year in, year out. Rome started with a snowboard line in 2002, and continues to add new major product categories, such as Bindings, Boots, and Outerwear every year. In a market that is nearly monopolized Rome's accomplishments are significant, to say the least. The company is not based on a "smoke n' mirrors" approach either. Its position in the market comes from the owners fundamental beliefs about snowboarding, and its commitment to product design & development.
Rome SDS nails the most elusive element of success, design and development. "SDS" is a Rome cornerstone that stands for "Snowboard Design Syndicate". Rome involves its retailers, pro riders, and every day customers in the design process to produce products which elevate the rider's experience. Rome accomplished what all start-ups aspire to do. Whether you are interested in working with Rome, a Rome customer, retailer, or industry veteran, or a combination, this story is for you.
What made the snowboard hardgoods market feel like there was room for a new company?
There didn't seem to be a clear choice of company whose product, values and commitment to snowboarding represented what snowboarding had always meant to us. In 2000, so much consolidation had happened in the industry that resulted in too many brands being directed by people who didn't understand snowboarding. Read through even a few business start-up books and you will see time and time again stories about entrepreneurs who built business around something that they personally found lacking in a particular market even when the opportunity might not have been clear to others at the start.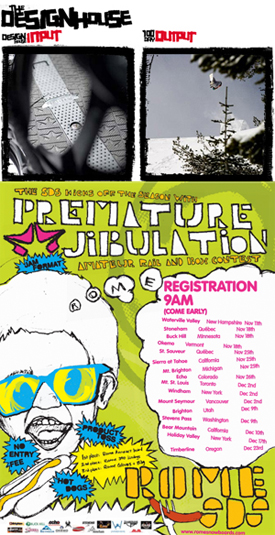 From an outsider's perspective it appears Rome is here to stay which can't be an easy accomplishment when the majority of sales are controlled by very few companies. What are the major contributors to Rome's success?
That's great to hear since the fact is we started the business with the intent of being in it for the long haul. Having spent the majority of our lives being involved in snowboarding in one way or another we understand that trust and authenticity is something that riders demand in a brand and that this is something that takes time to build and that you cannot buy your way into.
For sure our focus on snowboarding is a huge contributor to where Rome is at: building a company that snowboarders want to work at; involving a wide variety of snowboarders in the decisions we make; making products that snowboarders need; and putting together events that real snowboarders want to ride in. Beyond all of that, people have been possibly the biggest contributor to our success. From the people in house, to our rep force, to our riders, we've brought together a large family of people who believe in what we are doing and who have sacrificed a ton to make it happen.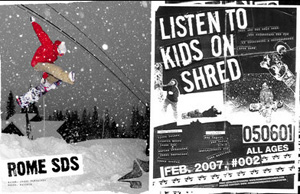 Rome's advertising has evolved over the past few years from introducing the Rome team and defining Rome in the consumers' eyes in 2003 to introducing additional product categories in 2004, and also featured an ad about who owns corporate companies vs. independent companies, who makes decisions – and who really cares. 2005 featured significant accomplishments of Rome riders, Collective Addiction, promotion of the 100 day a year concept, and verifying the quality of Rome's product. 2006 seemed to focus on the product and riders, as well as a significant message about listening to the kids who are pushing the sport forward, and living the life on a daily basis. What is the next step in this evolution? How does it tie into the big picture?
Through the all the iterations of what we've done in marketing, there has always been a continuous underlying concept to what we've put out there—the idea of an everyday love of snowboarding and all that relates to that, whether it is the people, product or principles involved. So moving forward, you'll likely see some new evolution, some new expression of the importance of everyday snowboarding.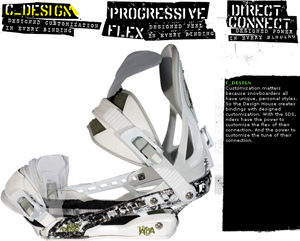 Rome's website does an outstanding job of demonstrating product technology, and the design & development process for all product categories that rely heavily on it. Why is it so important to make this information easily available to Rome customers?
Innovative product is one of the foundations Rome is being built on, as well as the primary background of one of Rome's founders. In every category, Rome has unique technologies that have distinctive benefits on the hill. The website, with its interactivity, is probably the best place to communicate all the intricacies that go into design at Rome.
Though not to all, to many riders technology might be the primary factor in buying one board over another. Everyone has different reasons for deciding on the products they purchase so we try to communicate as much information as clearly as we can including many of the reasons and processes for how we got there.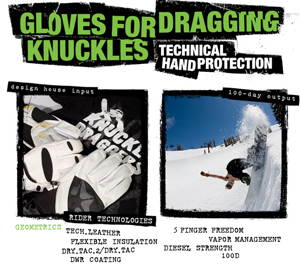 Do your product categories match up to the quality found in other brands that specialize in those categories, or have been in them for a long time. For example, the fit of your gloves vs. the fit of gloves produced by "Specialist Company 7."
We always strive for having superlative or competitive products in all of the product categories Rome offers. While the brand itself might be seen as young, in many cases the people at Rome working on any given product have as much, and often more, experience as anyone in the industry. In addition we feel no company is more focused on meeting the needs of the rider so where we might lack in specific experience as a brand, riders should know that we approach all our design and development from a rider-needs perspective.
Rome began with snowboards, then added bindings, gloves, and is introducing several BIG product categories this year, and it's obviously not on a whim. What goes into making a commitment to this expansion, and what drives the company's desire to expand its product offering?
From Day 1, even though we launched with boards, bags and some t-shirts, Rome has been a snowboarding company, not a snowboard company. While starting with snowboards was a logical first step, we have always intended to expand Rome's product offerings as the timing and resources aligned. Internally we now have extensive experience with pretty much every product category we are looking at down the road and, not coincidentally, in many cases rolling out new product categories has happened as riders and retailers are asking for these new products from Rome. At that point the decisions get much easier.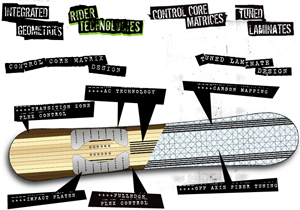 How much research & development goes into building your new product categories and having your first season / release meet your quality standards?
That depends on the complexity of the product category of course but in general a lot of thought goes into designing innovations in every category. We start with what we and other riders want on the hill as snowboarders, whether it is the flex of a jib board, the power of a binding, or the fit of a boot. From that concept of what kind of performance we want, we prototype and develop unique technologies that result in the targeted performance. The energy put into the graphic process is heavy as well—the art for the product generally starts a year in advance of when we release it. Finally, the quality of the manufacturing we enlist is also super important.
How important is quality to Rome?
Very important.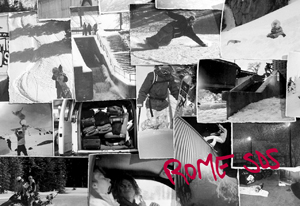 Are there any drawbacks to building your product line around 100-day a year riders now, or do you foresee any in the future?
In general, we feel that all riders benefit from the quality and innovation that results from focusing on 100-day-a-year snowboarding. Maybe down the road there may be a need to separate development focus for riders who aren't getting as many days on snow as others, but where we want to be right now in the market we think it can only be a good thing. In some instances, it is even more important for someone whose life only allows them to get out on the hill two weeks a year to have product that performs as good as possible. Weather is unpredictable, so compromising even one day out of 10 due to equipment issues would suck.
What do you use to benchmark your quality and know you're at par with the competition, or better?
For sure we are out there checking out what other companies are doing but an even bigger focus for us is on what our network of riders and retailers are looking for from us. Keep an eye on the competition but not so much so that it drives all your decisions – otherwise you are not going to find yourself in a leadership position.
How will Rome balance it's commitment to being a snowboard company that is in tune with the culture, and produces high quality product with the need to grow?
We've never felt that building the company around 100-day snowboarding and creating high-quality product is at odds with growth. In fact, it all fits together. Regardless of size or growth rate, as long as we remain driven by snowboarders who care about snowboarding, we'll know that we've remained true to our value system. Relevant branding and innovative, high-quality products that are good for riders are also good for business.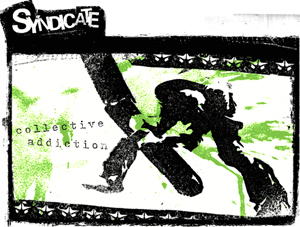 How does Rome's positioning in the market place, and product quality translate what is expected out of employees?
Many of the people who work here first contacted us because of how they saw the brand positioned in the market. As long as this positioning remains consistent with how the company works internally, people who work here understand what needs to be done. In almost no cases have we had to sit someone down and explain to them what is expected of people working here because they just didn't get it.
"Who" fits the profile of a Rome employee?
Some one who has a strong passion for snowboarding is always a good start but beyond that we need smart, hardworking people who understand that this is a business and the work needs to get done or we are all out of great jobs. We're a half hour from lifts that open at 8:00 so that people can ride a ton; but we're also a place where people put in long hours on the other end.
How can a person know if he / she is qualified for your job openings?
Simply read the job postings and objectively look at their qualifications based on this. It's not a bad idea to have someone who knows you and who can be honest with you give you their opinion as well.
What is Rome's position on people who "just throw their resume in the mix?"
We are not opposed to it of course but people should understand that while we are growing, Rome is a small company with limited HR resources. As a result it is not always possible for us to read through unsolicited resumes and give them the thought for future positions that they deserve.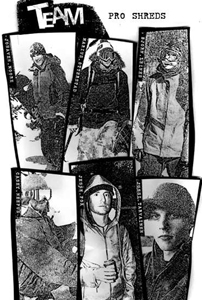 Why does Malakye make sense for finding employees for Rome?
We have been using Malakye for a couple of years now and have definitely noticed the quality and quantity of the resumes we receive improving over this time. This runs parallel with increasing awareness of people looking for a potential career change within (or into) the "action sports" industry being aware of Malakye.
Has a new hire ever resulted from Rome's job postings on Malakye?
A good number of really talented people who work at Rome came through our Malakye postings. We have hired a couple of Graphic Designers and hopefully we'll soon fill one of our product manager positions with a candidate who contacted us as a result of a Malakye posting.
What is the key to success in submitting a resume to Rome? (The essentials to be considered when someone is limited to using paper to present themselves)
There are many different theories on putting together a resume, but outside of the basics (cover letter, education, experience, spelling, etc) the most important and first thing we review is if a candidate's qualifications are relevant to the position posted.
What positions or departments are the hardest to find candidates who have the right skill set and experience?
They are all challenging in some ways but anything that requires more specialized experience will always be the hardest. In general this would be any of the higher level product design and development or marketing positions here.
What is the biggest challenge Rome faces in finding people?
Getting the first people in for any product category expansions is challenging. You want someone who has experience but whose expectations aren't such that they can't adjust to working in a start-up, hands on, small company environment. There are a number of people out there who have risen to a point in their careers where they have people working under them doing most of the work and have lost touch with what it takes to get stuff done. In addition, sometimes it takes a long time to simply find the promising candidates that you want to interview, much less hire.

How will that be addressed over the coming years?
First off, with the number of employees we will have over the next couple years it would be ideal for existing employees that have proven that they are capable of growing with the company to fill the more challenging positions going forward. Beyond that, we'll keep finding people through Malakye and other avenues who might be strong fits for Rome and the specific positions we need to fill.
Which job titles / categories are most likely to be filled by candidates with Action Sports / Snow sports industry experience?
Product Management, Developers, Marketing Managers, Sales Assistants—pretty much any position in product, marketing, sales, or customer service.
Which job titles / categories are most likely to be filled by people with strong professional-level experience gained outside of the Action Sports / Snow sports industry?
There aren't all that many to be honest. All else being equal between candidates, someone with a passion for snowboarding and/or industry experience is likely going to get the nod.
Are there any "read between the lines" details that apply to anyone interested in working for your company?
Being prepared to join one of the hardest working crews in snowboarding and understanding that the feeling of being a part of a family is critical to all of our success.
What makes working at Rome a great career opportunity?
The fast paced work environment we have here is pretty exciting and we promise your days will go fast (usually too fast). As part of a young entity where everyone has input into almost all aspects of the business, you will also have a big, easy-to-see impact on the evolution of Rome. The experience of working at a start up and the skills everyone here has the opportunity to develop could serve anyone well whether they chose to grow with Rome, move on within the industry or even "grow up" and get a "real" job working on Wall Street.
Beyond that we can't be thankful enough for the dedication to helping building Rome that all of our employees have shown. This can only come from a deep-seated passion for snowboarding and a feeling of pride for what they have been a huge part of building.
---