Back to News
Shaper Mike Walker, Makes Big Progress with The Walker Project
January 20, 2007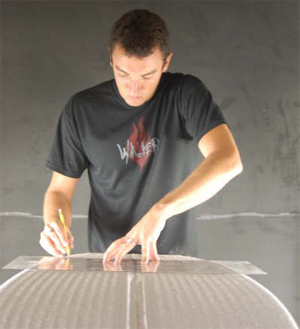 Shaper Mike Walker, Makes Big Progress with The Walker Project
By Marlise Kast
www.marlisekast.com
Having shaped thousands of customized surfboards, Mike Walker's greatest creation has been the shaping of his own company, The Walker Project. At 26, the young entrepreneur is becoming known as one of the most versatile surfboard shapers in the world. This June, The Walker Project celebrated the grand opening of its factory and retail shop in San Marcos, just off the 78 freeway. Walker's wave of success started a decade ago when he began shaping boards in his family's 9x9 garage.
"I was building boards during high school when my family was living in Northern Baja. During my junior and senior years, I was home schooled and was able to surf every day. All that time in the water meant that I was going through boards pretty fast. I couldn't afford to pay retail for new boards so I bought the tools to shape my own. There was no one to mentor me in the 'right way' to build boards. The process was full of trial and error. I just kept at it until eventually the boards I was building looked like the ones I had bought in San Diego."
Word of Walker's board-shaping expertise quickly spread among his friends who began placing custom orders. After graduating from high school, Walker returned to San Diego and landed a job with Pacific Surf Glass. While increasing his skills and experience, he was permitted to utilize the shaping room after hours. Walker credits Pacific Surf Glass for developing his talent as the youngest board shaper in history.
The quality of Walker's work soon triggered a demand for customized boards from some of the industry's most dominant labels. In 1998, he began shaping boards for brands such as Rusty, Xanadu, Sharp Eye, Rawson, Gordon & Smith, Lightening Bolt, South Coast and Kane Garden.
For several years, Walker continued subcontracting for these labels, generating as many as 30 boards in a single week. In 1999, the shaper introduced his own line of boards under the name, "The Walker Project." The inventory now includes short boards, long boards, fish shapes, speed eggs, retro models and wake-surfboards. Each design is constantly being refined to meet the high performance demands of the sport.
Milo Myers, owner of Hanger '94 in La Mesa has been selling Walker boards for eight years through his retail store. "We have a hard core youth following who have made Walker boards our number one local brand. They know that these high performance boards are ideal for aerials and 360's. Walker has stayed ahead of the market and periodically conducts clinics at our store. He is very personable and customer driven."
By June of this year, Walker was financially prepared to focus solely on the development of his own company. Careful planning went into selecting San Marcos as the company headquarters. Determined to be located near the hub of the surfing industry, the site is central to both dealers and individual customers.
"There was no outside capital at all," says Walker. "It was purely organic. I used a couple of credit cards, a lot of sweat and countless long nights. I think eventually we'll reach a point where we will require financial backing in order to take that next big step on a global level. For now I'm focusing on keeping our production going the way it is. I'm pretty stoked with how much we've been able to expand on such a small budget. Sales growth has been in the double digits for the last six years."
Walker credits this level of success to the hard work of his committed employees. In addition to five sales representatives, Walker's team includes Vice President, Sam Hellfeld who is in charge of corporate development. Rounding out the staff is Shaper, Adriano Garcia who assists Walker with board production.
For the past five years, gross sales at The Walker Project have increased by 73.4 percent annually. Fifty percent of the revenue is generated from retail sales to customers, both online and from walk-ins. The balance of the budget is generated from wholesale distribution to dealers nationwide.
In 2005, the company grossed $396,000 in sales and is expected to exceed $500,000 in the current year. These figures represent the annual production of approximately 600 customized boards. The purchase price of $370 to $650 for a Walker board has remained constant despite the rise in production costs. Such costs have accelerated since the closing of Clark Foam, the leading supplier of Polyurethane. Prices have also doubled for petroleum-based resin, which now costs nearly $1,000 per 50-gallon barrel.
These impacts on the industry have not hindered the quality of Walker's finished product. He is now able to dedicate most of his time to board design rather than hands-on labor thanks to the company's investment in a $60,000 DSD Computer Aid Drafting Machine (CAD). Using Walker's programmed formulae, this state-of-the-art equipment shapes the boards and reduces production time by 80 percent.
In the past three months, Walker has launched a website, sponsored dozens of riders and opened the doors to his first retail shop adjacent to The Walker Project factory. He has also been commissioned by Reef to shape one of the twenty boards to be auctioned off at San Diego's January ASR Trade Show. Despite these innovations, Walker believes his most effective marketing tool remains the product itself.
"We are experiencing most of our growth from people seeing our boards or hearing about them from their friends," says Walker. "I put so much hard work and attention to detail into the boards that they sell themselves. I am constantly receiving positive feedback from my team riders. Their comments help me figure out how to improve our products. It's that process that keeps me intrigued."
The Walker Project presently sponsors 25 surfers, including Colin Smith, a legend in the surfing community. Winner of the 1993 Bud Tour National, Smith has been surfing for 26 years and owns 12 Walker surfboards.
"What sets Mike Walker apart," says Smith, "is that he knows about high performance boards because he is a great surfer himself. He is passionate about the business and listens to the ideas of the customers. Being able to communicate directly with the shaper is rare in this industry. He stands behind the product 100 percent."
Recently the company added amateur surfers to its sponsorship roster including Austin Ganz who won first place in the Open Boys Division at the California Games. Japan's "Yuji," recently won All West Japan and will be heading to Huntington Beach for the World Championship.
Coco Jones, winner of the Women's Surfing Association Championship says, "I took out my 6'2'' board and had never surfed as good in my life. It was smooth and yet I was able to do high performance moves. I love Walker's boards and can't wait to use them in contests."
Though best known for its customized boards, The Walker Project also offers wake boards and clothing for men and women. Although the target audience is predominantly youth oriented, the company also builds long boards for the traditional surfer. In 2007, the company will be launching a line of kiteboards and will be releasing surfboards with two new fish designs.
Walker plans to increase future sales by organizing at least one promotional event per month. The company currently sponsors surf and wake surfing events both on the East and West Coasts. Walker's goal for 2007 is to double the number of surfboards produced this year and to triple clothing sales. Brand awareness for the clothing line is being spread through sponsorship of several bands and motocross riders who regularly tour across the nation.
"I'm really optimistic about the company," Walker says, "and its ability to reach so many different aspects of the action sports industry. My visions for the company are to reach a diverse demographic and to focus on quality. I want to offer the market a very high level of customer service with attention to detail. We rely mainly on word of mouth referrals so we make sure our customers get exactly what they are looking for. I believe it is important to maintain the consistency and quality that is our standard. No matter how much we expand, I want to make sure that we maintain the quality and values that have always been the foundation upon which our brand is based."
For more information, visit www.thewalkerproject.com
---