Back to News
Zoo York Announces Exclusive Collaboration with NYC Graffiti Legend Greg Lamarche (SP.ONE)
January 30, 2007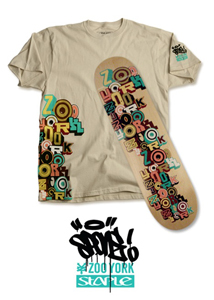 Zoo York Announces Exclusive Collaboration with NYC Graffiti Legend Greg Lamarche (SP.ONE)
NEW YORK, NY – January 2007 – The Zoo York Institute is proud to announce an exclusive partnership with one of the key players in NYC's revolutionary graffiti movement of the '80s, Greg Lamarche. This highly-anticipated collaboration will yield a limited-edition Zoo York deck and T-shirt adorned with Greg's vibrant, flawless letter constructions that are his longtime calling card in the streets of New York, and more recently in some of the finest galleries throughout North America.
"Greg's a native New Yorker with loads of talent, and he's been a friend of Zoo's for a long time which made collaborating on a project like this a natural fit," says Zoo York Senior Art Director Kimou Meyer. "Greg's very selective when it comes to where and how his artwork is used, and we're honored to be working with him because his raw yet refined style compliments Zoo's design aesthetic extremely well."
In celebration of this noteworthy partnership, a special NYC launch party went down on January 11th at Staple Design's boutique/gallery, Reed Space. Greg's new Zoo York creations were on grand display, as well as a variety of his other works in a larger show entitled, "Corrugated Cuts and Collages," which runs through the first week of February.
When released on February 1st, only 450 decks ($70) and 125 T-shirts ($30) will be available at select shops in NYC, LA and SF. However, a special pre-release of both items in limited quantities is currently available at Reed Space.
"We're stoked that this collaboration allows us to offer Greg's many fans a sick piece of artwork that's culturally relevant and affordable," Kimou concludes. "Both pieces turned out great!"
About Greg Lamarche
Hailing from Queens and currently living in Manhattan, Greg Lamarche began writing graffiti in 1981. With a main focus on intricate collage work and painting, in 1992 the affable thirty-seven year old founded the highly-influential graffiti 'zine, Skills. Over the past decade, Greg's artwork has been prominently featured in numerous print publications, as well as on the walls of renowned galleries throughout the United States. Also an accomplished illustrator, Greg has lent his sublime artistic abilities to commercial projects for Carhartt, Helio, Mass Appeal, and now Zoo York. Learn more at: www.greglamarche.com.
About Zoo York
Established in 1993 and headquartered in Manhattan's bustling Flatiron District, the Zoo York Institute is a highly-evolved, skateboarding-inspired lifestyle brand with unbreakable East coast attitude and dialect. Siphoning creative inspiration from NYC's unique cultural mash-up, and backed strongly by some of the biggest names in the action sports, art and music communities, the Zoo Crew proudly serves up a sophisticated collection of skateboards, accessories, tactical clothing solutions and footwear that capture the raw essence of NYC's gritty streets. Zoo York products are available for men, women and youths at finer retailers worldwide. Learn more at: www.zooyork.com.
---