Back to News
Sims Rider, Steve Fisher, Wins Winter X Games Gold
February 1, 2007

Sims Rider, Steve Fisher, Wins Winter X Games Gold
(ENGLEWOOD, CO) February 1, 2007- Making an explosive comeback, Steve Fisher, a member of the newly formed Sims snowboard team, killed it Sunday night at Winter X super pipe knocking out a 92.00 on his first run to take the gold away from Shaun White. After placing second in the elimination round, Fisher strung together a major frontside air, backside 540, front 1080, cab 720, front 900, back 900 and front 720 that left everyone scrambling to catch up. The podium race was close but Fisher maintained the number one spot!
The Breckenridge local has been competitively snowboarding since he was a young kid growing up in Minnesota and riding on the U.S. Snowboarding Team for 5 years. Fisher had a great year in 2004 that included gold medals in the X Games, 2 Vans Triple Crown wins and 2nd at the U.S. Open. He then capped off his three-year success with 2nd place at the U.S. Open in 2005 and a 3rd place finish in the 2006 Grand Prixs. Fisher is out to make an impact on the snowboard world.
"It feels good to be back at the top of my game, this is my year," said Fisher after his big win.
Congrats Fisher! Keep watching. You are going to see a lot more from Steve, the entire Sims team and the new Sims brand in 2007.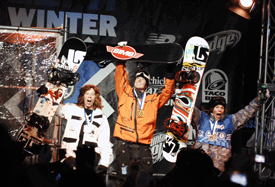 ---