Back to News
Sketching the Blueprint for Success in Action Sports
February 16, 2007
Sketching the Blueprint for Success in Action Sports
For architect Tatiana Barhar, action sports retail reaches far beyond mere merchandise and fashion. Her artistic blueprints and creative sketches have been revolutionizing the look of action sports stores worldwide since 1999.
Barhar says it is crucial that action sports companies see the importance and value of retail design in marketing. "There's an artistic freedom in designing for this unique market," says Barhar. "Surfing, snowboarding and skating are creative forms of expression and should be architecturally separated from retailers outside the industry. My goal is to capture the essence of these brands through architectural design and creative construction."
A native of Chile, Barhar views retail design as mixing architecture with fashion. This comes naturally to her with a five year background in fashion photography for Spanish Elle and Spin magazines. Transitioning to architectural design, Barhar began her studies at Southern California School of Architecture in 1992. Following graduation, Barhar spent several years working at LA's Otto Design Group (ODG). While there, she designed her first store for Hawkskate in New Jersey.
In an effort to blend her twin passions of architecture and fashion, Barhar launched Verdego, a full service design firm catering to the action sports industry. Eager to target this specialized market, the young entrepreneur approached Quiksilver with her concept designs. Her proposal caught the attention of Steve Jones, Vice President of Visuals at Quiksilver who gave her the opportunity to design stores and other projects.
In the years since then, her creative concepts have been commissioned by such high-profile clientele as Roxy, Vans, DC Shoes, Stussy and Quiksilver, for whom she recently completed her twenty-fifth concept design.
Specializing in fixture design, signage and both interior and exterior graphics, Barhar has a reputation for attention to detail. What initially began as two to three store designs per year now averages fifteen concepts annually. To achieve this level of production, she draws on the specialized skills of her design partner, Sarai Grenell. Other Verdego contributors include Thurston Milworks who specializes in woodwork, Chris Soja for custom lighting and Jennifer Hild who generates Quiksilver visuals.
The Verdego team produces retail and space design, construction documents, 3-D modeling and point of purchase display. Barhar also specialize in hand and computer generated drafting, three dimensional modeling, graphic presentation and material research.
Committed to the unique essence of the action sports industry, Barhar incorporates the surf motif in most of her designs, drawing her inspiration from living near the water. Now based in Venice Beach, she is environmentally conscious and utilizes organic and natural materials in her designs.

"I always try to get rid of the white wall," Barhar says. "For Roxy's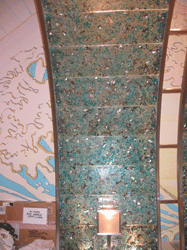 store on Maui, I created a 14-foot illuminated resin wall that was embedded with abalone shells, kelp and aqua blue glass. I also collaborated with artist Mili La Concha to create the store's fitting rooms which included shell mosaics on the ceilings."
In addition to these signature innovations, Barhar has explored using old fixtures to produce new concepts. In an effort to gain the attention of the skate industry, she is currently experimenting with the use of skate decks, light boxes and electrical boards for exterior buildings.
"Skateboarding is an art form which needs to be reflected in retail design," says Barhar. "Ultimately, I would love to work with skate artists like Ryan McGinness and break into this untapped genre. I also want to get into designing for snowboarding stores. There is so much freedom in the unknown."
For more information, visit www.verdego.netor call 310-452-1785

---