Back to News
2007 H20 Winter Classic Wrap-Up
February 16, 2007

2007 H20 Winter Classic Wrap-Up

ORANGE COUNTY, Calif., Feb 16 -- The surf was up and the snow was falling as top surfers and snowboarders took their skills and put them to the test in the waters of Huntington Beach and on the slopes of Mountain High Resort. The annual gathering of surfers and snowboarders known as the H2O Winter Classic, presented by Monster Energy, DC Shoes and MotorDealsDirect.com, made its debut the weekend of Feb 10 and 11, and brought some of North America's best athletes.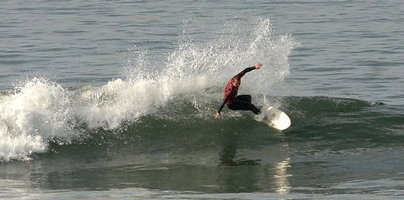 Top athletes included Colorado based Olympic Bronze Medalist and X Games Gold Medalist JJ Thomas and 2006 Canadian Olympic Snowboard Team member Justin Lamoureux, but it was local boy Shane Ellis representing the Active Ride Shop team that took home $3000 and the title of the 2007 H2O Winter Classic Champion. With a 1st place in surfing and a 6th place in snowboarding, Ellis edged passed Lamoureux by just 1 point who managed a 6th in Surfing and 2nd in Snowboarding.
"The level of riding and camaraderie once again continued to show full force at this year's event." Said Ty Smith, Contest Director and Propaganda Creative Director. "Every athlete that participated in the event has a genuine passion for these two sports and we're happy to provide them an outlet that recognizes their Boardriding skills."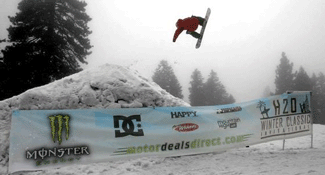 From its grassroots origins in 1992 as a gathering of friends and local kids, the H2O Winter Classic has grown into a weekend blowout. The event brings surfers and snowboarders together to compete in a Surfing competition on the first day and then onto the mountain for a Snowboarding competition the next. Points are accumulated by competitor placings in each discipline, then added together to determine the overall Boardriding Champion.
This one-of-a-kind event has captured the attention of top professional, amateur athletes and industry leaders and is recognized as one of the most honorable events to be invited to.
"This is one of the best contests around," Said Maximus James, Professional athlete and 4th Place Overall Finalist. "The format is competitive enough yet flexible for athletes to really be creative in both disciplines."
Final Contest Results are as follows:
Pro Division
1st Shane Ellis
2nd Justin Lamoureux
3rd JJ Thomas
4th Maximus James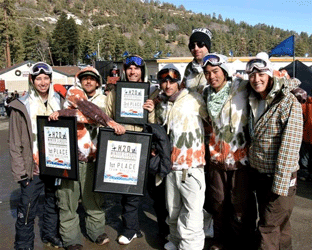 Am Division
1st Chad Martin
2nd Steve Reilly
3rd David Blunt
4th James Robin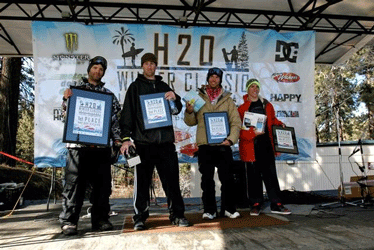 Industry Division
1st Bryan Ellis - Surfing Magazine
2nd Brent Futagaki - Active Ride Shop
3rd Jason Steris - Volcom
4th Barry Robin - Mountain High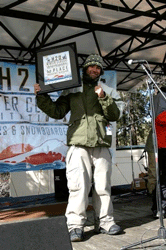 Team Division
Active Ride Shop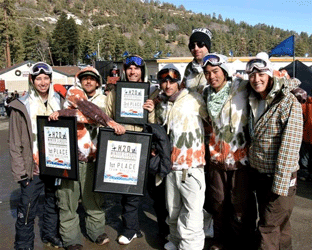 The H2O Winter Classic is presented by Monster Energy, DC Shoes and MotorDealsDirect.com. The event is also supported by Wahoo's Fish Taco, Mountain High Resort and Happy Magazine.
For more info, log onto to www.H2Owinterclassic.com
Images available upon request.
Event produced by PROPAGANDA HEADQUARTERS, INC.

###

About Propaganda Headquarters, Inc.:
Propaganda is a leading Board Sports, Marketing and Management Agency. With long-standing relationships with board sports brands and people who influence today's youth culture and consumers, Propaganda out performs when it comes time to create and execute results driven marketing strategies. Services include Strategic Consulting, Event Management and Production, Athlete Representation and Creative Services.
---