Back to News
Elisa Newton - Accounts Receivable Representative, C1RCA
May 1, 2008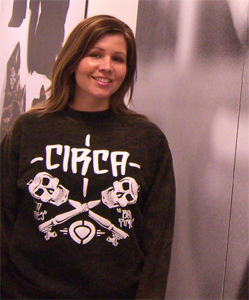 Elisa Newton - Accounts Receivable Representative, C1RCA
It's now May and tax time is finally over! With that in mind, this Industrial Profile with Elisa Newton who works in Accounts Receivable at C1RCA should take your mind off Uncle Sam. She plays a critical role in the process of doing business. Enjoy this story and think about how important success in this position is to the big picture.
How did you become involved in Accounting?
About 8 years ago I got a job at Hoffman Fabrics. Walter and Phillip "Flippy" Hoffman own the company. They are two well known old school surfers. Hoffman Fabrics is a fabric converter whom specializes in custom prints for various manufacturers inside and outside of the industry. I started as a Receptionist in the manufacturing department and eventually became Credit Manager.
How did you move from Reception to Credit Management when you were at Hoffman?
I was doing well so they asked me if I wanted to do this and of course I went for it. As Credit Manager I would work with our new and existing accounts that had credit through our Factors. I was going to Saddleback studying Fashion Design and Merchandising, and eventually moved over to their Retail Design department. I shortly left on maternity leave. I decided to stay at home for a while with our first daughter. But I missed working.
What did you do when you returned to work?
My husband had found me a job at a friends company, Fitch Plastering, completely out of the industry! I wasn't positive I was ready to go back to work, so this would be a good test. I soon fell into Accounts Payable. From there I became friends with the family and they had decided to open Relic, a skate and fashion retail shop in Rancho Santa Margarita, Ca. So as soon as I had the opportunity I jumped on it! And I began doing the Accounts Payable over there. And from there, I came to C1RCA where I am now- I actually found this position through Malakye! Best website ever!
What made you gravitate to Accounts Receivable? Why not Accounts Payable?
Managing Accounts Payable for Relic was really stressful. They were a brand new shop at the time. It's hard and next to impossible to pay people when you don't have the money. When I was looking for a new opportunity I was open to either A/P or A/R. My new position is in A/R and I think that it's really a good fit because this type of stress is easier to manage and I also have good experience being on the Payee side from working at Relic. That experience really taught me how to be more understanding of their situation, because I have been there.
Is your approach to the work one of the tricks of the trade to being successful in A/R?
I think so. We're very customer-oriented and friendly and we're always willing to work with them. Of course we have to get on people, but we always try to keep it friendly and work on creating a positive relationship.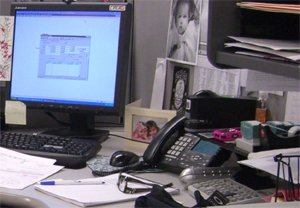 Do you keep in touch with your accounts on a regular basis?
Yes, pretty regular. They'll give me a heads up on incoming payments and most of the shops return my phone calls – that's a good indicator. They don't sound too bummed when I call!
How many shops do you manage?
I manage our key accounts as well as all of California, Northern Nevada and a lot of the east coast accounts in New York, New Jersey, Maryland, and Delaware.
Why do you think C1RCA chose you?
I had interviewed with another company for an A/R position and while I was waiting to hear back from them, I came across the C1RCA posting on Malakye. I went in for the interview, and it was the same night that I got a call with the offer. You know when you go somewhere and it's super comfortable? It was like that. A perfect match! I knew right away that I wanted to work here.
Is there a difference in your work within the industry compared to outside of the industry? For example, if you worked A/R in the pharmaceutical or credit card industry.
I think so. Everyone here is so laid back and casual. Just knowing how gnarly credit card companies can be with collections I'd say there's a definite difference. We're always nice and work to find a solution, and not scare people away. Everyone has to pay their bills, but I try not to approach it that way. I make it more personable. Being here for a while now, I have built relationships with some of the shops. Simple small talk goes a long way.
How does what you do fit in to the big picture of the company's operation?
We play a pretty important role. I work with our Inside and Outside Sales Reps daily to keep everyone up to date. If a customer is past due or on hold, orders have to come to us to be released. Working with our Reps, Allocations, and Management is really important. Everything comes full circle. We can't get anything done if we don't have cash flow coming in.
Who do you work with internally and externally? (i.e. – Accounting staff, executives, sales reps, retailers)
Inside & Outside Sales Reps, I work with the Controller and our CEO, Sales Manager, and Allocations Manager, our warehouse and of course the shops! Everyone has an important role to keep the ball rolling.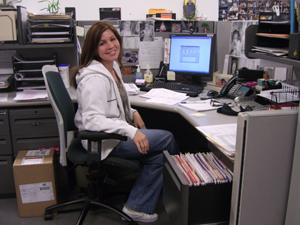 What's an average day in the life?
In the morning I'll get my reports together, approve orders to ship, make phone calls to shops, fax over reminders, and take phone calls from Outside Reps. Work on special projects, whether it's for a Rep or my Controller. And enter the daily deposits. And of course, make small talk and laugh with the other accounting girls. It's not just the accounting, but the industry and the people are what make our job so enjoyable.
Do you participate in any of the sports?
I enjoy dirt biking and off roading. We usually go out to Ocotillo Wells. It's so much fun!
Is there one regular element or responsibility of your work that someone would say, "I had no idea!"?
What a lot of people may not know, is that we aren't stuffy or nerdy girls in work suits! We like to have as much fun as everyone else in this industry (or more- as some of the reps would say, "Crazy accounting girls!") We ride snowboards and dirt-bikes and wear t-shirts and flip flops!
80% of your time at work goes to:
Collecting- Calls, emails, faxes. Making our daily deposits.
20% of your time at work goes to:
Pulling invoices, and PODs (Proof of Deliveries) for shops that are requesting them. Taking care of little problems and issuing credits if needed.
Top 4 things to do on the job?
Talking to my shops and Reps
Keeping my aging current
Emails
Lunch time!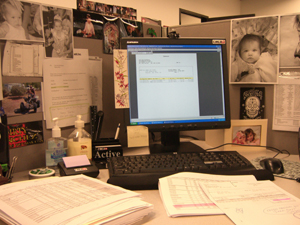 What is the biggest challenge in your work?
One of the biggest challenges is trying to get payment from some of our more difficult accounts. It's pretty stressful when they're not returning your calls. And sometimes it can be a real mess, like an account returning a lot of merchandise and none of it matching up with the order - I had to go through everything with Allocations to figure out what was actually there.
Biggest Reward?
Job well done – it's that simple. Having a check show up out of the blue, when you have been working so hard to get it in is awesome. Not having to worry about that one payment anymore is a good feeling, as little as that may sound to someone.

---