Back to News
FUEL TV
June 1, 2007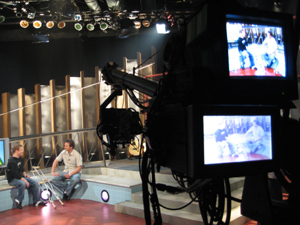 FUEL TV Revealed

Kids born in today's world will grow up with a TV station dedicated to Action Sports. Think about the number of people who watch sports on TV because they love the game, but don't actually do the sport for one reason or another. Many more people are fans than participants. Is that bad? No, and if you work in the industry, or aspire to work in the industry, people identifying with the sport & culture is vital to your paycheck. (Pictured above, a behind the scenes look at The Daily Habit Set)
In May 2004 at SIMA Surf Summit 7 Bob McKnight pointed out the importance & responsibility of "growing the pond". The positive impact of growing interest & appreciation of the sports & culture that make up Action Sports is obvious.
About a year before Bob McKnight's prudent speech, FUEL TV was launched as the first TV network dedicated to Action Sports covering Surf, Skate, Snow, Wake, Moto, and BMX. FUEL TV delivers the most powerful form of content to more than 24 million homes, on 4 continents, and 52+ countries. FUEL TV is helping to grow the pond, in a big way.
FUEL TV statistics:
• First day on the air: July 1, 2003
• Originally available in 5 million homes
• Started with approximately 50% of its content licensed
• Now available in more than 24 million homes in less than 4 years
• Today approximately 90% of programming on FUEL TV is original content
• Available in over 52 countries throughout the world
This in-depth Q&A on FUEL TV was answered by none other than CJ Olivares - the man who put it all together and resides at the helm of FUEL TV.

FUEL TV started out in 5 million homes and today is in more than 24 million homes. How was that growth in subscribers achieved so quickly?
A lot of that is due to DIRECTV. At launch we were exclusively available on the sports & lifestyle tiers with satellite & cable operators which are "add on" packages that viewers have to subscribe to. The biggest part of our leap in viewers is due to DIRECTV moving us to its basic tier – if you have DIRECTV you have FUEL TV.
What made DIRECTV make that move?
It's a business decision. We worked really hard with them to demonstrate that we deserve to be on the basic tier. We view ourselves in the company of MTV instead of niche channels like soccer or tennis.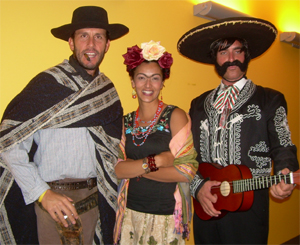 Who founded FUEL TV and why was Fox chosen as a partner? (FUEL TV Bandits & Artist L to R - CJ Olivares, Maricruz, Shon Tomlin)
In 1997 I was at Fox Sports Net doing program development and acquisition. Among the concepts I pitched to the network while working for Fox Sports was a show called Rush Hour which was successful from ratings and revenue standpoint. Late in 1998 I pitched the idea of FUEL TV to top executives but they weren't ready for it. A year later I left to create Bluetorch which became very successful from a TV standpoint. In late 2000 Fox started looking at the idea of creating an Action Sports network. In the middle of 2002 I was approached by Fox with a business plan but no creative vision for the network - what it should be and represent. Fox invited me in and asked me to put together a whitepaper of sorts to give FUEL TV some creative context. A few months later Fox brought me in to say "here are the keys to the car, figure it out". In December 2002 I started out on my own and over the next 4 months put together a team of people to power FUEL TV. In that particular phase there were new people coming in to the organization non-stop. During the first 4 months it went from me by myself to about 40 people. FUEL TV launched on July 1, 2003.
What's different between FUEL TV and past efforts like Bluetorch?
In some regards Bluetorch was like a test run, or a proof of concept. There was a nice ratings story with Bluetorch. The ground swell within Action Sports had been growing. The "aspirants" who like to watch were increasing. There are a couple of key differences. The first is that Bluetorch was a TV show and a multimedia platform that was way too early. It rode the boom & bust of the internet. Because it was a multi-platform media venture it really got swept into being categorized as that. FUEL TV was conceived as a TV network. The financials of the business were built on vast experience of television. Fox has a massive cable group, and knows how to make TV channels work. In the beginning FUEL TV only tried to succeed as a linear TV network. Be one thing and not to everything to everyone. Bluetorch was funded by Broadcom and Henry Samueli who knew a lot about making cable TV work, as in the cable box that you use to receive television, but they weren't involved in running networks, and TV shows - which is very different from what they knew. Fox is one of the leader's in the television and content business.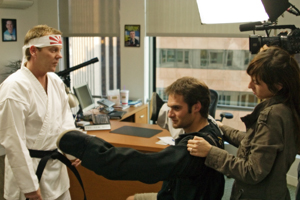 What is they key to FUEL TV's success so far? How does today's Action Sports world figure into the success equation? (Growing audience - Kiefer Sutherland making an appearance on FUEL TV original program American Misfits)
There are a couple things that factor into that. One certainly is the strength and growth of the industry prior to and since our launch. Its trend upward and the fact that action sports have established themselves as legitimate pursuits and they're not fringe activities any more. There's a deep lifestyle and culture that surround the sports that are reaching beyond the endemic people into influencing things like fashion, design, music, art, and more. Guys like Spike Jonze and Mike Mills who have come from skate backgrounds and now are directing feature films. From an art stand point, the crew behind Beautiful Losers is having a huge impact on the changing world of action sports. Their influence on art is huge, putting together major art shows that tours the world and goes into major museums. Music, there's an amazing connection between bands and the action sports world, going back to Taylor Steele using Blink 182 to Jack Johnson today. Those are the things that are happening more broadly and as a whole.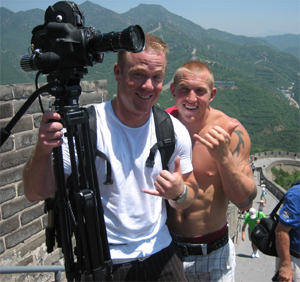 Our connection is to always be an authentic reflection of the culture – to look from the inside out and be a reflection of the culture. Part of achieving that is treating FUEL TV like an endemic brand. You don't role out and make huge noise before there's a lot of substance to what you're doing. So we went out a little more quietly and let the product do the talking, so to speak. We invited people to give us feedback. It's kind of in our DNA. We have employees who are participants and are part of the culture and contributing to the culture in different ways. Everyone who works here feels a certain sense of responsibility to everyone that they've done the sports with to make a product that's good, and representative, and real and doesn't candy coat it or overly commercialize it. (Pictured above, Firsthand on location in China)
Where will FUEL TV be in 3 years?
Well, we'll be…the short answer is we'll be wherever and whenever the audience wants us. The extended version of that is today we've established a reasonably strong brand in the linear television world and the media business is changing rapidly and the moving media space is changing so much with the advent of video over the internet. The viral video sites have created interested new dynamics in our business. And the advent of 3G cell phones in the US. In addition to strengthening our core product of TV we'll continue to expand and create additional distribution opportunities and create ways for people to connect with our content and our brand.
What is FUEL TV doing within the new media markets?
Right now we have distribution deals in place with most of the leading "for sale" video outlets such as iTunes, Amazon, AOL, Cinema Now, Wal-Mart, etc. Those are all platforms where you can logon and pay $1.99 for an episode of Firsthand, or The Captain & Casey Show, or American Misfits and we'll continue to expand that offering over the coming months. We're also using the "free on demand" opportunities on our own site and this summer we're launching a new video player that will be available on our site with a substantial amount of content available. There's a joint venture between NBC and News Corp in the works that will factor in as well.
How does having your content on YouTube affect the business?
For us it's a sampling opportunity. If people dig it, they'll figure out to get it. We've done some viewer research and the viewers are really passionate about FUEL TV programming.
How many people worked at FUEL TV the day of start up? How many people work at FUEL TV now?
The day we launched we were a group of about 36 people and today we're at about 60 people.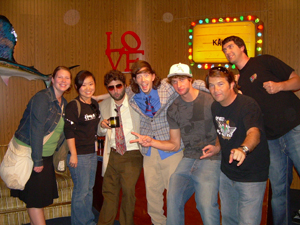 What information can you share that puts the size of FUEL's operation into perspective? (Pictured right FUEL TV's staff with the Captain & Casey.)
There are 60 people who work on programming, production, and marketing every day. On top of that, outside this office there are another 6 people working in production, and there's a pool of shared resources from Fox that we tap in to - a team of lawyers, finance, HR, network operations, and affiliate sales & marketing that put together all the cable and satellite operators to launch and do deals. There are another 25-30 people who dedicate time to FUEL every day.
Right now, out in the field around the world we have a dozen or so production companies that we work with who produce content for Fuel. We have a distribution arm in London that shows nationally. FUEL TV is available in 54 countries.
When you start adding it all up the number of people who work on the network is close to 100. About 52 million people world wide see FUEL TV. And that number will continue to increase over the coming months. We're working on getting FUEL TV into continental Asia - India, Pakistan, Malaysia, Indonesia, Korea, and China.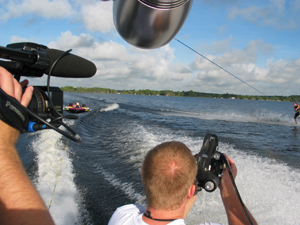 Let's talk about programming and the programming department. What percentage of content aired on FUEL TV is original content vs. licensed content? (Pictured right, Firsthand crew creating content)
About 90% of FUEL TV programming is made for us. Licensed content is made for somebody else first, or for anybody. There are a handful of events that we license such as the ASP Men's World Tour. It's not made solely for us but we license it. Then there's the action sports films we license - all the videos & films that companies like Standard or Taylor Steele are making, manufacturers are making, etc. That is all part of the licensed content we run. We're not relying on a show that was made in Australia for some other network and just buying it to put it on our air for our audience. We're really working hard to produce content through our production team or co-production relationships.
How is this different from when FUEL TV started?
It's significantly different. In the beginning we licensed close to 50%. The blend we have right now works very well. And it seems like we'll keep at ratio – 90% original and 10% licensed. Outside of that we're looking into some interesting film licensing deals. For example we're looking at a mocumentary with Rob Corddry who was from The Daily Show with Jon Stewart, and we picked it up. We're excited about picking up content that's relevant.
How important is licensed content to FUEL TV being able to operate?
The films are hugely important. We don't do a lot of pure event coverage. Most of it is licensed. It's a very small portion - but important portion. The film block is very important we're doing Insane Cinema that we air every night for films that were originally created for DVD / Video distribution.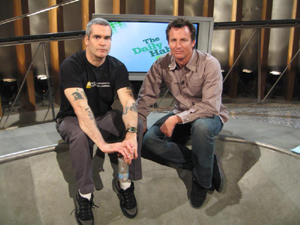 What goes into determining program scheduling? Criteria used to decide what sports to cover, times of day, etc. (Henry Rollins & Pat Parnell on The Daily Habit set, the show airs daily in the evenings)
Determining the sports to cover was a fairly easy task. We looked at the landscape of the sports on a worldwide basis that had millions of participants and are part of a shared culture. The core 6 we've identified are Surf, Skate, Snow, Wake, Moto, and BMX and all have some common DNA and cross over. We've dabbled a little in freeskiing / big mountain coverage and done a little. The key for us was looking at things like sky surfing and street louge that a hand full of people do and they're really hyper niche.
Time of day has a lot to do with experimentation. There are some opportunities around lunch hour to get some viewing. We really focus on the after school hour and give what we refer to as action programming in the after school hours. Shows like American Misfits and The Captain & Casey Show we tend to put into the primetime hours along with more narrative shows like The Daily Habit.
This summer and fall we'll be launching some exciting new programming.
The first is with our 8pm block. One every night at 8pm you're going to get a different sport. We'll have Skate at 8, Surf on Thursday, Snow during the fall / winter and Tuesday's for a moto block. Wake & BMX we'll rotate in on season & availability.
On July 6 we're launching a late night block called Unprotected Sets that will air at 10 PM PST. It's going to be a fun experiment for us. We're creating programming that is primarily short-form content and it will be a blend of different things - there's a show within this block called Stupidface showcasing tricks, stunts, and general nuttiness.
We're also premiering our show The 808 which is kind of a documentary series on the Wolfpack (second generation Hui from the North Shore of Oahu). We followed them all winter and it's going to be really well.
Can you share any stories about things that go on behind the scenes which someone wouldn't think normally happen? Are there any crazy tales from the production department? (Getting ready to make memories & stories on The Captain & Casey show)
There are so many stories. There are so many production stories. Some make air, some don't.
How are advertisers chosen? Can any company advertise on FUEL TV? Do your endemic advertisers care who else is advertising along side them?
We tend to go out and solicit people who we think are appropriate for our environment. We tend not to explore companies that are not a good fit.

In the same way that the endemics are concerned about their position in the print books, they're concerned about where they are in our schedule. We have close to 2 dozen endemic advertisers now and we seem to be adding a couple every month. We've been fortunate, really since September 2006 ASR, endemic advertisers ramped up heavily. In terms of how they make it to our air - it starts with people who want to be there, and then we look at the most likely suspects. All endemics are a potential client of ours. We're working with some of the largest – Quiksilver, Billabong, Globe, Reef, 686, Vans, Volcom, 32, NHS, and DVS to some relatively new start-ups like Carve Board Sports and Freshpark.
When it comes to positioning our endemic advertisers within shows we're proactively mindful. We don't put them in a position in the network that will create conflict.
Every network that has advertising on it has some of that direct response inventory which are the ads on Fuel that prompt viewers to respond to the ad by picking up the phone to buy a product, or order online. Effectively what happens there is the network commits a percentage of its inventory to a 3rd party which in turn sells the space. Proactiv [endorsed by Jessica Simpson and P. Diddy among others] is one of the most prevalent right now. They don't keep advertising unless they get good response. They'll only keep running that spot as long as it works. 12-24 year olds, kids that deal with acne, it's working out for everyone. In the beginning we had some funny ones. There was one that was a stick-on breast enhancer product for women to create cleavage. They were on the air for the first 3 months after launch we were wondering what's going on… there are a bunch of teenage male kids watching eventually they realized there's a lot viewing but not a lot of buying.
Do you see more endemic companies jumping on as they discover it's something they can do?
One of the analogies we made at ASR last fall is effectively what you spend on a one page ad in a print publication gets you 3 spots a day and billboard spots on one show, every day for a full month. We work really hard with each of our endemic advertisers to figure out how & when they're going to best connect with the target audience and make it happen. We do the same thing with non-endemics. Jeep's success on our show Drive with Mike Vallely is a great example of that.
What departments exist within FUEL TV?
Marketing, On-Air Promotions, Production, Programming, and New Media.
Which department has the most people working in it?
Production
Describe the skills needed for different departments. For example, are the skills needed to work on Firsthand different than The Daily Habit or The Weekly Update? (Regardless of your department, having fun is required)
Yes, the nature of the production makes it different. With Firsthand there are really 2 people on it – they go out for a couple of weeks, hang with an athlete, do all the filming, come back and edit. Really put the whole thing together from start to finish. On The Daily Habit we have 14 people working 5 long days every week to pull it together. We have Writers, Production, Bookers, and more. There is a significant difference between working on those two shows.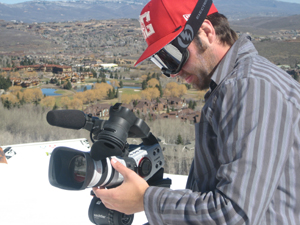 In which departments is Action Sports experience most critical? (Notice, camera is not pointed at the pretty view)
It's really critical in Production and people have to have a specific connection with participation in the sport. Production people are on location on the sides of mountains, in boats, wherever they need to be to film and in Action Sports that requires knowledge & expertise – to ensure quality and safety. If we're covering Snow, then we'll have Production people in place that understand snow. Our production team is made up of people who have a particular area / sport of interest and professional specialty. We also try to push them out into new segments.
Our Programming department requires a blend of culture and actual physical involvement.
We don't have a lot of one-trick-pony specialty people. Nobody has the title Cameraman, or Editor. Most everybody on the production side can produce and edit. They can go out and plan it, shoot it, edit it, find the music for it, and fully finish the show. They're at some level of development in that - our associate producers to our senior producers are developing or have those skill sets which makes them very versatile. We can put together teams of people to go out and shoot pretty much anything there is.
Marketing and network branding really require a cultural connection to Action Sports and understanding the broader youth culture.
Which departments is it not critical?
It's helpful. There's no department where it's not helpful.
"Who" fits the profile of a FUEL TV employee?
People with passion who like to work hard, and a desire to be the best.
How can a person know if he / she is qualified for your job openings?
You've got to have the first three that we just mentioned. It's a tough question. When they see that job posting and they think, "I don't care what it is I want to go work for Fuel", that's somebody we'd be interested in talking to because that's a sign of a broader passion. It's a huge advantage over somebody who's just looking for an entertainment job and sees us on an entertainment website or in the Hollywood Reporter.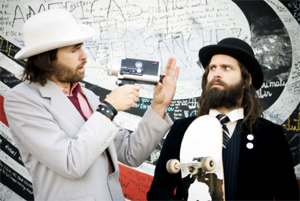 What is FUEL TV's position on people who "just throw their resume in the mix?" (Ted and Laban of American Misfits will know if you're just throwing it out there)
It's pretty easy to identify when you're getting a resume from someone who's just mass-emailing their resume out. As business managers, we get plenty of that so there's no reason to stop and pay attention. We're looking for people who have some connection to what we're doing or if they've had interesting experience with companies that are more broadly relevant. If they worked at MTV or worked on X Games, if they're working on something that's relevant to Action Sports or more broadly to the audience we're trying to reach. That's compelling.
What opportunity exists for mid-level to senior level?
We're stable in our size right now. We'll grow incrementally over the coming years. With that in mind there are opportunities for people to work with us on a freelance basis, or a project basis and there are co-production opportunities. We have started to incorporate people to help out with shows like Firsthand. There have been a couple of rare circumstances where we've said this person has a great relationship with that athlete. We do go shoot events on our own where we'll enlist someone like Mike Pricket who's one of the top guys in the world.
Are there any "read between the lines" details that apply to anyone interested in working for your company?
Small bills, unmarked envelopes!!! No, really it goes to passion and connection. If someone has less experience but more passion, and is super stoked on the potential of working with us it goes a long way. Enthusiasm and willingness to work hard. Having a great skill set is important but people can build skill sets - having a great attitude is an intangible. Consequently we find a lot of people through "people who know people" because of that culture. There are very few "open calls", if you will. But we do it, we're not shy about looking outside because we know we don't know everybody. There may be that rock star that's doing something else, that's super passionate, is great at what they do, and have what it takes. Maybe they're at MTV or Cartoon Network, or Speed anywhere else that could fit.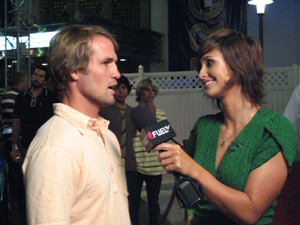 What makes working at Fuel a great career opportunity? (FUEL TV correspondent and pro surfer Kassia Meador on location with CJ Hobgood)
Even though we've been around for 4 years we're still a baby when it comes to comparing us against a TV or media company. For virtually everybody that's here you get to try on a lot of hats. Nobody really does 1 thing. We get a chance to do many things. You get really diverse experience and we have a fun culture. We try not to take ourselves too seriously. We do "Beers at All Hands" meetings. A lot of the people work here socialize with each other and hang out. Go ride together. If you've been out in the morning at El Porto you'll see a crew of our guys surfing before work. It's about being more than a place where you go to work. We're really careful with our culture and look to build a culture where we're going to get a long and work on stuff that we all care about.
---