Back to News
Northwave North America
August 1, 2007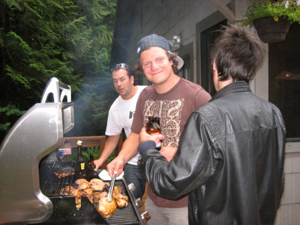 Northwave North America
BBQ?! That's right. It's summer time and the Northwave crew is having a good time getting ready for winter. Read on for an overview of the company's current U.S. operations and what the company looks for in potential employees. (Pictured at the BBQ are Northwave Graphic Designer Rian, and team riders Patrick McCarthy and Matty Ryan)
When was Northwave North America established?
Northwave North America was first established in March 1997.
Northwave started out making snowboard boots and has added additional product categories such as bindings, accessories, and most recently boards by introducing new brands. Why did the company take this approach instead of creating everything under one brand name?
Northwave first started making snowboard boots in 1991. After that, Drake Bindings was acquired in 1997 - keeping the originally established brand name. In 1998 Bakoda was also added to the company keeping its original brand name. Venue was created by the company in 2005 to finish off the hard good package. Each existing brand already had an existing brand image and following, so we wanted to give Venue its own name to let its character and personality develop.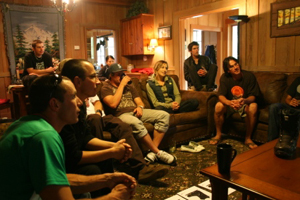 Has Northwave experienced any major changes from evolving market conditions over the past few years? Is it more or less competitive? (Northwave Focus Group with In-House staff, Team Riders, and Retailers represented)
The major change was moving our production from Italy to China to be able to compete in terms of quality, technology advancements, and to meet price points. Northwave had been known as the "Italian Made Company", so there were a lot of changes at the Italian production facility when it moved to China. Now Italy's focus is on research, development, and sourcing. In addition to that, the Italy factory still creates all first run samples and manufactures our top of the line Northwave "Concept" boots.
Did the lack of snow during the 06/07 winter have a major impact on business in the U.S. or internationally?
Not really. We were obviously stronger in some places than others. Some of our customers didn't order as much as they did last year on the East Coast, but other stores ordered more. Mixed with new accounts and strong rep relations, we came out over in sales from what we did last year.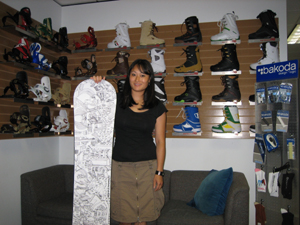 Are Northwave, Drake, Bakoda, and Venue all designed & developed at the Seattle headquarters? (Desiree of Northwave in the showroom)
Venue and Bakoda were designed in the North America office until recently. Now, all four products are designed at our home office in Italy. Our North American office has a strong influence on the direction of all products, with special attention to the technical needs and graphics. We work very closely together to determine what will work in both International and North American markets.
Is the world-wide headquarters in Italy closely involved with U.S. operations?
Yes. The Italian office is the parent headquarters. We have our own sales and marketing strategies to be more effective within our North American markets. The Italian office overseas the funds spent by our Seattle office, but we allocate and invest the resources independently where we feel will help out our market best.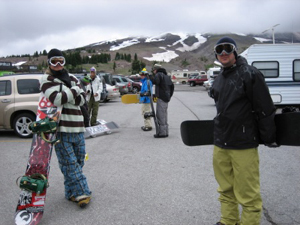 How important is your physical location to the business? (Rian and McCarthy just down the road from the office at Mt. Hood)
It's important because we need to be close to the mountains, but also close to shipping ports and large facilities that can support our company needs. Seattle is a great city because there are large urban facilities that make business more convenient, we are close to international ports, and located next to some of the finest snowboarding in North America.
Does location have an impact, positive or negative, on finding and retaining people to work for the company?
We are located north of down town in Seattle in a nice neighborhood. It is an excellent location because it is still in the city, but not downtown amongst the chaos.

Seattle is a great city with lots of active people… so our location is a plus when it comes to appealing places to live and work.
What positions or departments are the hardest to find candidates who have the right skill set and experience?
Upper management, but the Italian office does most of the scouting and hiring for those positions.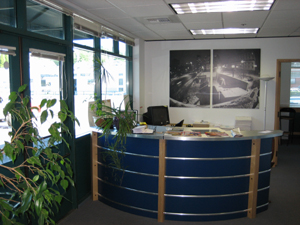 Which job titles / categories are most likely to be filled by candidates with Action Sports industry experience?
Pretty much all of them! Some more than others, but it is important to have some base knowledge of what goes on in the industry.
Customer Service- Entry level, but still important to know how the industry works at some level. Experience would be helpful, but at this level it's more about being passionate about being in the industry.
Marketing- Must definitely be connected with the market
Sales- Must know their customer, be connected to the industry and build strong rapport with dealers
Finance- Probably doesn't have to know the Action Sports Industry as us much, but even then we have people on our Finance team with 20+ years in the industry.
Upper Management- Extremely important… they're running the business!
What is the key to success in submitting a resume to Northwave? (The essentials to be considered when someone is limited to using paper to present themselves)
Apply to the job which you are actually skilled in that area. We have a lot of people eager to be in the Action Sports Industry who just apply without the actual qualifications required. For instance, if the position is for "Graphic Design", it helps to be an actual Graphic Designer. But, a piece of advice is to really utilize the cover letter to your advantage. By explaining why you are interested in being in the industry and what knowledge you have really helps when trying to pick a candidate.
Which job titles / categories are most likely to be filled by people with strong professional-level experience gained outside of the Action Sports / Snow sports industry?
It is definitely important to have all types of skills, but everyone that works at Northwave has worked in the Action Sports Industry before at some level. Even though they may not have gained all their work knowledge in the Action Sports Industry, they have had some work experience that makes them familiar with the industry. Other skills and knowledge gained from outside the industry are important because they may bring a new prospective on how you could do something new or improve on certain areas. Plus, skills are skills no matter what industry you're in.
Are there any "read between the lines" details that apply to anyone interested in working for your company?
The qualified candidate must also be passionate about working in this industry, and not just willing to learn more, but want to learn more. Being active in the sport is an important factor because it makes everything easier in knowing your customer and market. We're here to run a business and make money, but we are, most importantly, here to enjoy life doing something we love doing. So, it's really important that when hiring, we find someone that has the same philosophy and work ethics.
To check out Northwave, visit http://www.northwave.com
---