Back to News
High Grade Distribution
November 1, 2007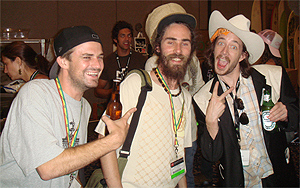 High Grade Distribution

High Grade Distribution, home of Satori, Upful, and Creation and Yellow Brand Skateboards, is an eco-friendly company sticking to the roots of the skateboard industry. Craig Nejedly started Satori when he was 20 years old along with a couple friends, which later became known as High Grade Distribution after adding the brands mentioned above. High Grade continues to evolve and maintain its commitment toward an earth and mind conscious company, the basis for which it was founded on years ago.

Read on to learn more about its progress from a single brand operating out of remote Arcata, Calif., to managing a distribution handling four companies. You will also learn about job opportunities with High Grade and what the company looks for in its employees.

What hole existed in the skate market that created room for Satori?

We, as core skateboarders, just wanted to present our perspective. It was a pretty pure, naive beginning. We really didn't know what we were doing business wise, but we wanted it to be positive, raising consciousness for something we love. Skateboarding was everything at the time, so we just got our friends together, formed a team and gave it a go. Thankfully, nine years later we are still going at it. The industry was ripe for something fresh, and having good skaters representing the Satori Movement was crucial as well.

After Satori Movement moved from Georgia to California, the company was based in Arcata, a small town in northern California. Did physical location have any impact on the growth of High Grade?

Yes and no. We were super small when we made the move. Being in California made it a bit easier to get to tradeshows and keep up with what was going on in the streets of SF. Being way up in the redwoods, five hours north of SF, had some definite drawbacks. Operating expenses were much cheaper, but all the shipments took an extra day or more to land. It also took an extra day or more to deliver orders to customers, which increased freight expenses as well. So it had advantages and disadvantages when speed to market is important.

Loan and financial capital opportunities were easier in the rural areas thanks to economic development commissions which made business loans easy to get. If we were in a city when we needed our first loan, we would not have gotten it. It seems easier to obtain government loans where economies are not as strong. We got a loan in Humboldt with no bank account, credit card history or anything. We scored because the economy up there was in need of some business, so it made getting a loan much easier. It was a blessing.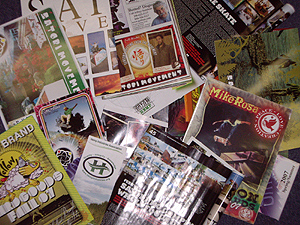 When and why were more brands created to form High Grade Distribution?

We started out as Satori in 1998, and in 2001, made the official incorporation to Satori Movement, Inc. Satori started with wheels, but we also knew eco-friendly apparel is something we really wanted to grow. Making wheels is not so eco-friendly, especially when everything we stand for is providing greater consciousness and living an organic, eco-friendly lifestyle.

As Satori wheels grew more and more popular, customers began asking us for decks, so we figured it was time to expand. In April 2004, we began Creation Skateboards and formed High Grade Distribution. Within the next year, we began distributing Upful Hardware and Jessup grip; and in late 2005, Lucian Moon began Yellow Brand Skateboards.

What's in the name High Grade?

Naming the distribution was a tough one. We decided on High Grade Distribution because our goal is to make the highest quality goods we possibly can. We do not represent entry-level, price-point cheap brands. Our products are for the real skateboarders and eco-conscious consumers. High Grade just summed up what we offer; high quality. Since Satori is typically categorized as a "Stoner" brand, it just seemed to chime in well.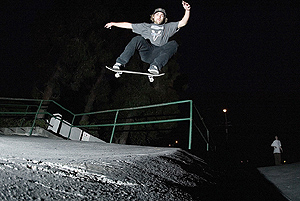 Is Yellow Brand the antithesis of Creation?

Yes and no. Yellow Brand is Lucian Moons project to take on the global-marketing world of propaganda. Creation focuses on the earthy, creative and artistic expressions of skateboarding, while Yellow Brand goes political and kind of attacks the mold of the norm. Creation is about harmony and interconnectedness, while Yellow Brand likes to stir things up for the greater good.

What impact does brand identity have on building your Pro and Am teams?

It's important for the skaters that represent our brands to identify with our brands image and philosophy. We're not after the hottest new kid out there; we're after riders with true talent and a good, natural style. A good attitude is also important because PR is definitely a part of a sponsored rider's job description.

What is the number one challenge in being a small skateboard company today?

Marketing dollars! Marketing dollars keep small companies small. Some of the biggest brands have poor identities and poor products, but they have the capital to spend so much on marketing. They can sell garbage, and a lot of it. Hardgood brands and sales are so heavily dependent on marketing. Ads in all the biggest magazines paying the biggest pros can sell anything it seems. In many ways, it's good to be a smaller company as long as growth is steady. It enables a company to keep their brand identity true to its roots.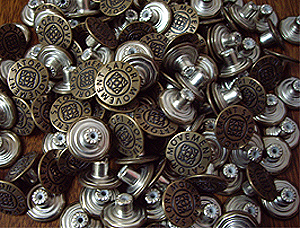 How is High Grade managing that challenge (Apparel)?

Apparel and hardgoods are pretty much a separate ball game. There's more market opportunity for softgoods. With cut and sew apparel, there is more room for product innovation and creativity. Apparel also opens more doors because skaters are not the only ones buying it and the demographic can be broader.

Will High Grade ever go "Huge" or sell to anyone that wants to buy it to grow the company? Why or why not?

Satori will grow steadily. There is the potential to be big, especially considering how big the eco trend is growing. We have been making eco products since 1999, so we know this area well. We can not say Satori would never sell, but if it ever did, it would be a very selective process. We are not looking to just blow up with outside investment. Some peoples/companies money is just not worth it. Satori will never go public. That's when everything goes downhill, in terms of brand integrity.

If Satori were to sell, it would have to be company that shares our same ideals in preserving the earth and always seeking to do business in a more progressive and sustainable fashion. The criteria is very limiting, but there are a couple companies out there that are good.

Why not blow it out?

Blow ups usually lead to blow outs. Losing control of what's important is a big reason. Investors care about dollars and return on investment. They don't care about skateboarding, surfing, and taking care of the environment. We're all about blowing it out if we can do it on our own the right way. We're not going to sell out what we stand for.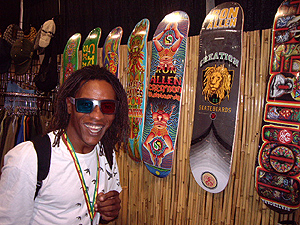 What roll does the web play in High Grade's business?

The web is becoming more and more important everyday. We are in the computer age. Kids in elementary school know how to use the computer better then we do. Kids and the general public are going more and more to the web for information, to make purchases and to explore the community. It's a bit scary to live in the times we're living in today. Everyone is on MySpace! It's also a more sustainable way to do business and marketing if the audience is there. If customers are online and can view your catalogs or information that way, the need to invest in print catalogs and mailings tends to wither away. We use the web to reach the market as much as possible because it's the way society is progressing. It's also easier on the environment.

How will growth be created for High Grade brands?

Grassroots marketing! It's the most effective way to sell. Bring it to the people. Tours, demos, traveling, meeting the consumers/end users, it makes a much greater impact than a $5,000 advertisement in a 300 page magazine. HGD will grow strategically making use of limited print ads, increased web presence and lots of grass roots outreach through tours and community events. The American society is becoming too isolated and losing touch with their community. Industries (skate/surf/snow) were built on a community when skateboarding was not so mainstream; we had a tight worldwide community. You could travel just about anywhere 10 years ago, and if you ran into a skater, you instantly had a new friend—and probably a place to stay for the night. So it's really important to have riders out meeting and skating with the kids, while also taking part in community events to build and promote the brand with the consumer.

Does High Grade put on tours/demos?


Oh yeah! We have tours and demos going on every month. There's always somewhere to go and demos to be done. It's great. You get the person-to-person interaction going, but you also get footage and photos that are great for editorial coverage in print, online media and our company website. We're all about touring. Traveling is one of the greatest teachers of life. Embracing and experiencing another culture takes people out of their comfort zone, helping them realize that life is much greater than their small perceptions of the world.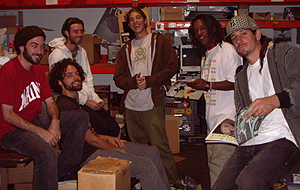 People are one key contributor in facilitating growth. Who fits the profile of someone that works at High Grade?

We agree. Motivation is number one. We are a smaller company so there's no rigid corporate structure in place. We somewhat rely on motivating individuals that are in the industry for the right reasons and know what needs to be done. Though we may be a small company, our greatest reward is doing good and aligning ourselves progressiveness. Believing in karma puts their hearts in the right place, so there can be no failing when prosperity comes.

As the company grows, and its product lines grow, what internal departments will be the first to grow?

Mainly production management, sales and sales management would be the first to grow; along with more apparel designers, merchandising and product development. Sales and production are very important when good quality design and merchandise facilitate sales.

How can a person know if he/she is qualified for your job openings?

Experience in the industry would be the first key qualification. There are different qualifications for different positions. As for sales, a sales rep must know about skateboarding and what's going on in the industry. They should also have some grasp on the sustainable and eco-friendly movement of Satori. As for production, one must know the cycles and levels of inventory that are needed, and how to work with sales and communicate with vendors, both domestic and international. The qualifications are kind of dynamic depending on the position, but it's important for us to hire employees that understand and identify with the movement.

Are people who live outside of the immediate area considered for your job opportunities?

Yes, mainly for sales jobs. We are always looking for good regional sales reps that have other lines or an established customer base. Otherwise, most positions would require being in SF at our headquarters.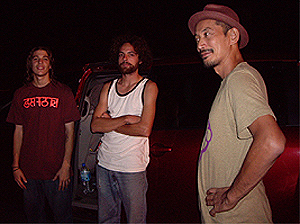 What is the key to success in submitting a resume to High Grade?

Experience and personality is always good. It's good to put some personality in a resume and note personal accomplishments. Thankfully, we don't work in a bland industry, so a good personality, a positive outlook, solid experience, a clean resume and good references are what we're looking for. References are always a must and always asked for, so include them when submitting a resume.

Which job titles/categories are most likely to be filled by candidates with Action Sports industry experience?

Definitely Sales! When it comes to having experience, sales is the most important category; followed by and brand management.

Which job titles/categories are most likely to be filled by candidates without Action Sports industry experience?

Administration positions and production perhaps; but we try to keep our core efforts toward hiring people in the industry who can relate to what's going on within the action sports realm.

Is working at High Grade a great career opportunity?

It's a great place to work with a good environment. Our company is steadily growing through our grassroots efforts. We are small in retrospect, but our brand is on the rise. High Grade offers a great opportunity to be a part of something that will be growing and blossoming over the next few years. It's a great place to work and will only continue to get better.
---