Back to News
New Trend Package Features Useable, Downloadable Flats and Other Product Development Tools
November 2, 2007
New Trend Package Features Useable, Downloadable Flats and Other Product Development Tools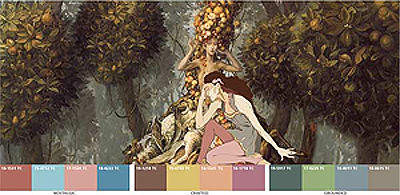 Stylesight, the premier style information service, today released its Women's and Men's Spring/Summer '09 Megatrend forecast and analysis. Only available to Stylesight subscribers, the trend package features a broad spectrum of actionable, big picture trends along with a host of innovative product development tools designed to make the creative process easier, faster and more efficient.
Stylesight's Megatrend for Spring/Summer '09 clearly connects and builds upon Stylesight's Megacolor Spring/Summer '09 package, which was released earlier this year. Firmly rooted in the four natural elements—earth, fire, water and air—Stylesight's Megatrend S/S '09 reflects the balance individuals seek between nature and technology within their complex lives, as conscious consumers in a material world.
Stylesight's Megatrend S/S '09 features the following unique big picture trends:
FLOAT: Inspired by the pebbled beaches of Lartigue's Riviera, Edward Hopper's Maine coastline and sleek, modern Zen minimalism, FLOAT is all about fresh, cool and clear looks. Whether in the city or not, it exemplifies a wish to be in the light of the sky, to breath the fresh air and to cleanse in clear waters. FLOAT represents smart, clean, yet modern classics.
ROOT: Authentic, artisanal and nostalgic, ROOT beholds the memory of the countryside and the small town, with its schoolhouses, fields and streams, barnyards and organic gardens, but with hints of magical realism. It represents a melancholy mood that longs for the good life and simpler times. Rooted to the earth, ROOT features weathered looks with craft embellishments.
HEAT: Inspired by the flamboyance and bright colors of India, Morocco and the sub-continent, HEAT is a bazaar of beautiful exotics for the everyday. A multicultural melting pot with subtle references to 1970's retro, HEAT features fiery tailored fabrics, rich scarf-dressing, caftan and sari effects, and fiesta knits.
FUSE: Virtual, loud and hyper-charged, FUSE shouts "Sex Bomb!" Inspired by kitsch art movements, especially from the East, such as Anime. FUSE is a futurist, unreal look that highlights the convergence of technology and fashion. Extreme, eye popping and fun, FUSE is designed for the Super Hero within all of us.
"Stylesight's Spring/Summer '09 Megatrend package is our most expansive to date and features Stylesight's unmistakable and unique point of view," said Merrill Greene, Vice President and Creative Director of Stylesight.

Stylesight's Megatrend S/S '09 was created by Stylesight's Fashion Office, which is comprised of a global team of venerable trend professionals who probe, edit and check emerging fashion signals in order to translate them into concise, clear and actionable messages for Stylesight's subscribers. Located worldwide, from New York and Los Angeles to London, Paris, Milan, Madrid, Berlin, Helsinki, Melbourne, Tokyo and beyond, the company's network of correspondents gives Stylesight subscribers an unobstructed view of the style world.
Each trend is analyzed and designed for use in three markets: career, casual and performance. In addition, each trend crosses gender lines to better reflect retailers increasing desire to offer consumers integrated lifestyle options to male and female consumers simultaneously.
Stylesight's Megatrend seasonal forecast is supported by beautiful and inspiring images from Stylesight's extraordinary image library, which features over two million images. Each trend story features a full design forecast including mood & color concepts, key looks, full color illustrations, fabrics, exclusive prints and original vectorized flats. Users can download multiple images, zoom every image for incredible detail, print and/or email tear sheets, create slideshows or their own trend boards and share with internal colleagues or external suppliers.
"We challenged ourselves to create actionable art—a trend package that seamlessly integrates beauty and aesthetics with functionality and pragmatism," said Frank Bober, Stylesight's founder and chief executive officer. "I could not be more pleased with the results."
---