Back to News
Access Distribution
December 1, 2007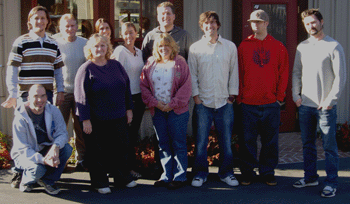 Access Distribution
In only three quick years Access Distribution, headquartered in Nevada City Calif., has grown to house 10 brands, and has even established an opportunity buy segment of its business. Access owns brands that have been around for years. Each brand has a strategic position in Access' business portfolio. Ronnie Tambourine, sales and marketing manager, along with Access founders Brandon Dodd and Travis Wood, share with us more about their stable of brands, Access' plans for the future, and of course how to successfully submit a resume for job opportunities with Access. (Pictured above is Access Distribution's team at headquarters)
What companies make up Access Distribution?
Access is a two-part company. The branded side includes ownership of the names and trademarks to Mission Six (M6) Outerwear and Clothing, Monix Outerwear and Clothing, Prom Outerwear and Clothing, Swag Outerwear and Clothing, Capix Helmets and Accessories, Anex Skateboards and Accessories and Exposure Project (EXP) Outdoor Apparel Company. Access also has the licensing rights to Millennium Three (M3), Silence and Avalanche for Snowboards, Snowboard Bindings, Snowboards Boots, Snowboard Outerwear, Clothing, Skateboards, Wakeboards and Accessories.
The second side of the company operates as a wholesaler of niche goods in the Snow, Skate and Surf Industries. Access specializes in placing top-of-the-line hard and soft goods in the hands of retailers through opportunity buys.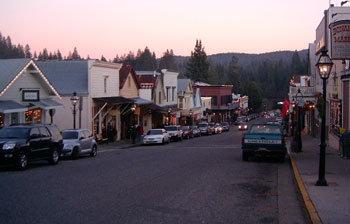 How long has Access Distribution been in business?
Access was founded in 2004 by Travis Wood and Brandon Dodd. Brandon was an independent sales representative for over 10 years. He also successfully founded and operated The Allyance Apparel Company. Travis Wood started as a professional snowboarder and has remained in the industry working with many companies including Sims Snowboards and Four Star Distribution. (Downtown Nevada City, Calif. home to Access)
What plans are in place for each brand owned by Access?
Plans for each brand owned by Access are insider secrets. Plans for Access… find hardworking, like-minded individuals that want to join our family and help our business grow.
M3 and Mission Six have pro teams. Will any of the other brands have pro teams?
Mission Six and Capix currently have pro teams and we are developing a pro team for M3. M6, M3 and Capix have always had teams and have great recognition in the industry. The products are top-of-the-line and we have not had a hard time finding quality athletes to represent them. The distribution channels for the other brands currently don't require the strength of professional riders.
Does Access intend to bring its brands back to the limelight?
A couple of our brands never left the limelight. A few others have had their day but are still recognized worldwide and generate a "buzz". In the landscape of our industry today, where the majority of all brands are bought and sold by the bigger players, it is unique to be able to find a place in which a privately held company can comfortably reside. All our brands are in the limelight; it just depends on whom you are asking.
What is the strategy behind bringing brands back into the market that have "already" had their day?
Not all of our brands have "already" had their day… sure, as mentioned before, a couple of our brand names were stronger when they first came to market but today is our day for brands like Mission Six, Monix and even M3. Capix and Anex are the brands of tomorrow. As for our seasoned labels, such as Silence or Avalanche, these names are well known and they hold a strong place in their respective marketplaces.
Does this benefit the snowboard industry overall in any way?
Of course it does. It provides people with the stoke they need to get by. Remember when you were a kid and you used to strap into your board in your parent's living room? Summer, winter, it didn't matter what season it was. That was your gear and you stared at it everyday. Most people have to pay their own way, so a recognizable brand name, quality product and a soft hit to the wallet help keep the stoke.
What roll does the Internet play for business at Access?
The Internet is important, not so much to Access as a company but to our individual brands and the retailers that carry them. Our branded websites serve as catalogs to the consumer. Backing this with exceptional in-house customer service allows us to put the consumer directly in touch with a retailer in their area or an online retailer that can get them exactly what they are looking for. As for the wholesale side of Access, our site allows our accounts to access information via the web and streamlines the sales process. This allows our customer to deliver faster.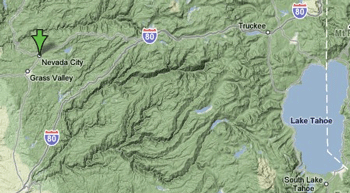 Where is Access located?
On the western slope of the Sierra Nevada mountain range. One hour west of North Lake Tahoe, CA and one hour east of Sacramento, CA. We're in the foothills… Gold Country.
Why did you select Nevada City, Calif., for your distribution site when the heart of the action sports industry in is Southern California?
Location… lifestyle… community. There are less people here. An abundance of outdoor activities. Plenty of sunshine. Four seasons. The list goes on.
What impact does location have on finding employees?
Most people within the industry live in Southern California because that's where the jobs are. They have not heard of or been to Nevada City, so it is difficult to get seasoned professionals. Most everyone that visits considers relocating once they see where we are. As for hiring locally, more than half our team is from Northern California.
As the company and product lines grow, which departments will be the first to grow?
Product Management, Creative Design and Customer Service.
Are people who live outside the immediate area considered for jobs at Access?
Absolutely. When we have positions to fill, we consider the best applicants, regardless of their current location. And yes, we do post on and have hired from Malakye.com.
What type of person fits the Access Distribution culture? (A view of the tranquil South Yuba River right down the road from Access HQ)
Intuitive, self-motivated, team players.
What is the key to success when submitting a resume to Access?
Use a cover letter. When resumes come across without a cover letter, you know the applicant is just sitting on the other end shooting resumes out (don't take this opportunity to tell us your life story though, unless it pertains to the position). Proof read everything twice. If you can't and don't take pride in representing yourself, why would we believe you would for us. Do your research on the position, our company, the brands, etc.
Which job categories are most likely to be filled by candidates with action sports industry experience?
Design, Inside Sales and Marketing, Outside Sales Reps.
What types of jobs do candidates without experience in the action sports industry experience fill?
Customer Service, Operations, Shipping (Don't count out the positions listed above though).
Why is working at Access a great career opportunity?
Access is a family and family comes first.

---