Back to News
Lee Taft: Internet Director - Lifted Research Group (LRG)
December 1, 2007
Lee Taft: Internet Director - Lifted Research Group (LRG)
Interview by Josh Lewis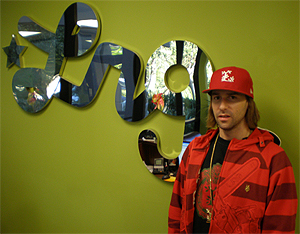 Normally when picturing someone in this line of work, you'd visualize someone with excessively thick bifocals and a pocket protector stressin' over the next move he's going to make on WoW—a computer game called World of Warcraft if you didn't catch the drift. On the contrary, this is far from the case when describing Lee Taft.
For starters, you might catch Lee on his motorcycle screaming by on the freeway pushing a buck eighty five on his way to work at LRG. Then again, you might catch him out skating street or powering through a massive tailslide in some trani'. You'll have to read more to learn how Lee Taft stayed true to his heart, left the corporate world and landed himself an awesome spot in the action sports industry.

Where are you from and how did you get into skateboarding?

I'm from New York and I moved to So. Cal. from Manhattan. I got into skateboarding in junior high and skated all through high school and college; pretty much half my life. I skated quite a bit when I lived in New York City, and after moving to California I just kept skating.

Did skateboarding have anything to do with the profession you chose?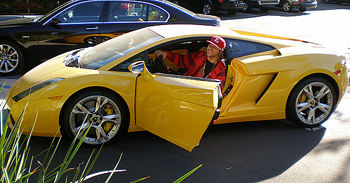 Yeah, skateboarding was a major influence in choosing my profession. I was working in New York City doing normal type client work for Fox, Merrill Lynch, Viacom, Morgan Stanley, AIG, and stuff like that. I was doing a lot of the same type of work that I do now, but not in an industry that I had personal interest in. Basically, I would work the corporate environment during the day, come home, change out of my corporate clothes, go back out on the streets and skate the rest of the night. So when I got an opportunity to move to California and work for a skateboarding company, I took the chance of leaving Manhattan, quitting my job, and moving to Southern California to be in the industry.

Did you need school to get you where you're at today?

Yeah, for sure! I got two bachelor's degrees while I was in college. One was in architecture, and the other in computer art. I needed to learn all the computer software, and a little bit of programming languages; I took those types of classes in college. When I graduated, I started working with Adobe and Macromedia and learned a lot about their software, which are key tools in my position.

What key factors helped you find your first job in this industry?

Well, I skated everyday and knew a lot of people in the skateboard industry. Four Star Distribution already had some familiarity with the work I was doing in New York City, so basically they were asking for samples of my work constantly. As I provided them with samples, it got me closer and closer to being offered a full-time position.

How did you land a job with LRG?

While I was working full time at the first couple of companies, I had been freelancing for LRG the entire time. So while I was working for Circa, Forum and Vans, I would be doing all the extra work I could do for LRG's Web site in the evenings after work. As LRG grew more and more, the amount of work they could offer me increased. They always told me I would be offered a full-time position, and they eventually followed through. That's how I ended up at LRG.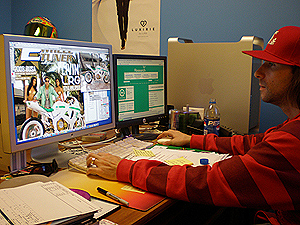 So you are the Internet Director for LRG. What exactly does your job entail?

It's kind of all encompassing at the moment because I'm the only person in that realm. So that can mean anything from designing, programming, maintaining, doing administrative stuff, working with database programs, purchasing new software, working with the graphic design department. I also cover all the bases of anything that goes beyond what is done in the design studio for LRG apparel. That could be anything that they create, taking it further to push it out on the Internet, and programming it to do the functions that it needs to do online.

Does your position require any specific software or programming skills?

I use all the normal design software like Illustrator, Photoshop and so forth. You push it a little further when you start to use programs like Flash and Dream Weaver. You also incorporate your own programming language for things like Java script, PHP, and HTML. It's kind of like using as many of those tools you can to incorporate and produce your final product which ends up getting published on the Internet.

What is the most challenging aspect of your job?

The most challenging aspect is definitely finding creative and technical ways to take what's done in LRG's advertising, marketing, and clothing design, and then taking it further to represent that online. Basically covering all the bases of anything that's related to the Internet and the more technical side of programming design is pretty challenging.

What is your daily routine at LRG?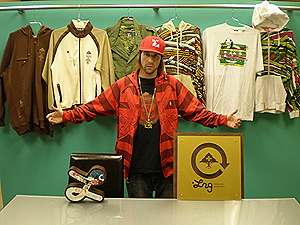 I get in and respond to a bunch of e-mails. Some of them are marketing based, data based, administrative based, and some of them have to do with new content going online. Then I figure out which ones should have the highest priority amongst those requests, and spend the latter part of the morning, afternoon, and evening completing as many of those tasks as possible.

So this could turn into more design, more programming, publishing more new content online, as well as setting up projects for the next upcoming day. It's extremely varied! It could be for LRG, LRG skateboarding, Luxirie (LRG's women's brand), or for the LRG and Luxirie MySpace. It could also be based on product, special projects, collaborations, or
working with the athletes. It's a pretty wide variety.

What do you think is the next step in web design for LRG?

The next step in web design for LRG will be the incorporation of e-commerce, which is something that lots of LRG supporters have been requesting for a very long time. LRG is a brand that is sought after by a lot of different people. So having an e-commerce component is the next strategy. It will offer consumers that don't necessarily know the best locations to purchase LRG products a convenient way to get the clothing they're looking for online.

What do you consider the most rewarding part of your job?

LRG's family-like environment is very rewarding. Everyone is kind of hand selected for their positions. They come from personal references and personal relationships, so when you come to the office and walk through the departments, you get to say what's up and kind of chill and kick it with your co-workers on a personal level. This makes it a rewarding place to be. Other than that, the special projects we get to work on and the opportunity to get a lot of clothing for ourselves is a tight benefit of working there.

What's the coolest thing you've done for LRG?

Recently we were contacted by Suzuki and 2Wheel Tuner, a custom motorcycle magazine, to collaborate together on a custom LRG motorcycle. It's a 2008 Suzuki Hayabusa, the fastest production motorcycle available. We worked with Suzuki and 2Wheel Tuner to design and build a custom LRG Hayabusa that will be pictured on the cover of the January 2008 issue. It will also be featured in the upcoming international motorcycle show in Long Beach in December.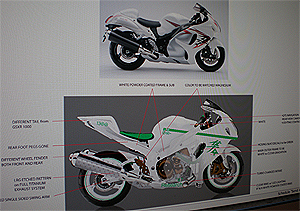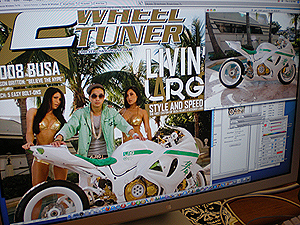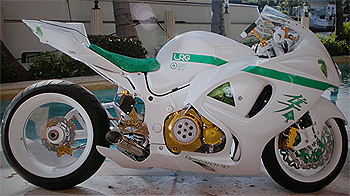 Is one regular element or responsibility of your work that someone would say, "I had no idea?"

Definitely! A lot of the technical details of what it takes to efficiently and esthetically program and design all of the components of a website end up looking complicating to the general observer. Most designers would probably look at the complexity of the programming and programming details and see how that's all put together and think, "I had no idea that it was really that complicated
to make something actually work
and that look good online."

How long did it take to complete the LRG website?

Well, first the concept was made, which began with the outline of all the components of the site, and then the design process began. Then there's the fact that LRG.com is actually three websites: LRG, Luxirie, and LRG skateboarding. So I was designing and programming three sites at the same time. Taking in the fact that they were all done by one person, myself, it took about six months to go through the concept, design, development, and programming to eventually launching them all online simultaneously.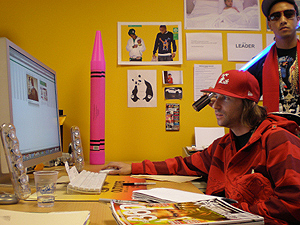 What are the top five favorite things you like about your job?

1. I like the overall freedom to be in control of all the creative elements, features and content that goes online.

2. I like the entertaining and event based atmosphere. We all go out to events that are LRG coordinated and affiliated.

3. All the free LRG clothing I can handle! Especially certain items that you'd never find in stores. If you don't work in the LRG building, you can't get the limited edition stuff like the LRG Forum snowboard, or the LRG Special Blend outerwear—and definitely not the LRG Suzuki Hayabusa!

4. The "Friends & Family" atmosphere that LRG has. All of us go out to dinners and events immediately after work as a group sometimes. It's kind of
like going to work is more of something to go do, instead of something you have to do.

5. Champagne toasts with the co-founders and getting sideways in the Lambo'!

Million Dollar Question! If you could go anywhere, with anyone, with an endless amount $Money$, what would you do?

I'd like to go spend some time out of the country. I'd like to go to Hong Kong and Macau because I heard it's a lot of fun there. I'd also go to Lima, Peru and Barcelona, Spain.

I would basically live as luxuriously as possible, and spend ever expense on things that would make me feel as comfortable, laid back and entertained as possible. I'd make sure to take care of all my family, friends, girlfriend and close immediate friends. I'd buy a place in Southern California and New York City. I would probably travel most of the time.

Why work in the skate industry?

I work in the skate industry because I've worked in the corporate industry before. I know what being successful in that industry is like, and it just seems like more of a job to me. When you can be successful in the skate industry, it's just a lot more fun. It ends up being a job you want to go to because you want to see what's going to happen that day.

In the corporate world you don't really care so much. You're just going to work to get a paycheck. It ends up being like you have to go to work because some corporate client has a deadline, and once that's met, you just go to the next client. It just personally doesn't seem that rewarding.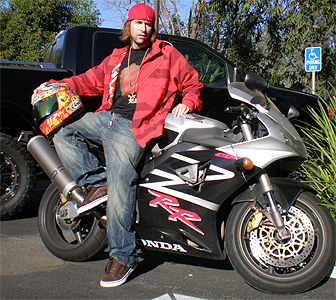 The word on the street is you're into motorcycles. Do you have any interesting tales?

I ride a motorcycle all the time, which is a good benefit of living in Southern California. You can get around very quickly and cover a lot of ground when normally you'd be stuck in traffic. Probably my most interesting achievement is logging 120,000 miles on my motorcycle in about a four year period. That's a ridiculous number of miles, even for someone putting the same amount of miles on a car.

As for an interesting tale, unofficially and without being spotted by the police, I've got my bike up to about 185 mph. That was early in the morning—of course—on the 105 freeway with little to no traffic. When spotted by police…actually I don't want to go there!
---