Back to News
Rusty Malinoski Teams with System AVD Inc. to Develop Pro-Model Customized Design Boat Wrap
December 10, 2007
Rusty Malinoski Teams with System AVD Inc. to Develop Pro-Model Customized Design Boat Wrap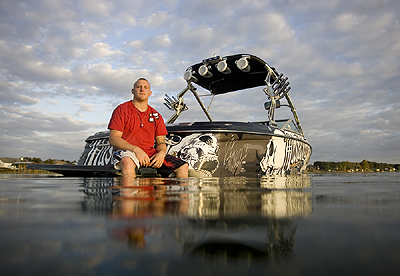 System AVD Inc., a Seattle-based design company, announced the release of the Rusty Malinoski Pro-Model design boat wrap Nov. 28. In addition, Rusty becomes the first athlete System AVD will sponsor.

The custom designed boat wrap, which matches the design of Malinoski's personal MasterCraft X-Star, will be available in 2008 at MasterCraft dealers world-wide, including installation services in the United States and Canada.

"We are providing top of the line boat wrap designs and there is no better athlete to represent our product than Rusty Malinoski," said Josh Sirlin, System AVD co-owner. "We're very excited to be sponsoring Rusty, not only because he's a leader in the industry, but his style aligns with our company's brand perfectly. We are looking forward to working with him for many years to come."


The boat wrap was custom-designed for Rusty by having him work with the design team at System AVD. After Rusty shared his thoughts and ideas, the design team was able to create the graphic that he was hoping for.

"I was able to explain to System AVD what I had in mind for my boat, and they created the coolest looking graphic I have seen," said Rusty Malinoski. "Josh was really easy to work with and after seeing the work they did on my boat, we decided it would be a good idea to work hand-in-hand."

A variety of System AVD's boat wraps are currently available at all MasterCraft Dealers in the world with additional designs being released throughout 2008. Consumers can visit their local MasterCraft dealer to purchase the designs. For MasterCraft dealer locations, visit www.mastercraft.com.

"The program System AVD has offered is truly unique and will help drive our business to a whole new level of creativity," said John C. Behling, director of marketing, MasterCraft Boat Company.
---