Back to News
SESSIONS
January 1, 2008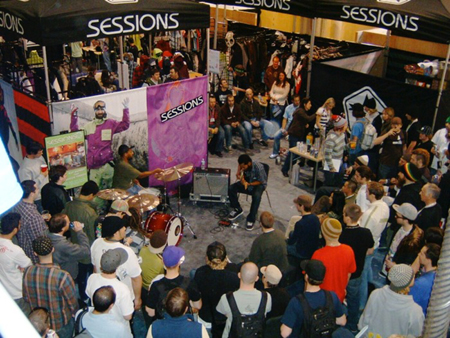 SESSIONS
Sessions started out as a small single-door shop in San Jose, Calif., in 1983 and is now a global outerwear and apparel company found in more than 30 countries across the globe. The evolution of Sessions is marked by a number of innovations in outerwear. It was one of the first snowboard outerwear companies to adopt Gore-Tex into their outerwear; Recco avalanche safety devices were built in to their gear; and most recently, a technology dubbed d30, a material that hardens upon impact to protect riders from harm, was incorporated to provide extra comfort and support. Sessions' dedication to providing a high-quality product and it's long history of incorporating art, music, community, and social responsibility into their culture paved the way to a well established home in the action sports industry.
How did Sessions get started?
Sessions started in 1983 as a dedicated snowboard shop in San Jose California. Skater, surfer, snowboarder and entrepreneur Joel Gomez opened the shop just as snowboarding was beginning to come into its own as a sport. The Sessions shop became an icon of skate, music and snowboard culture.
What inspired the name Sessions?
Sessions is a term used by musicians, snowboarders, skaters and surfers alike. It was and is all about enjoying the Session and at the same time you can express yourself as an individual.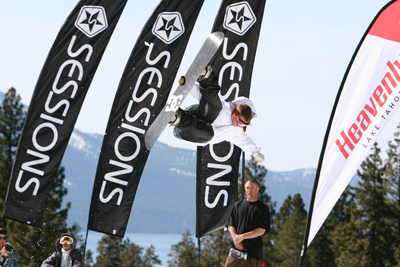 When did Sessions take the leap from being a retail shop to a manufacturer?
By the time the Sessions retail shop opened, snowboarding had been evolving. It wasn't until two years after Sessions, though, that snowboarding debuted as a World Cup event. In the early 1990s, snowboarding really started to take off and this was the period when Sessions first started making its own brand of outerwear.
Was the snow industry a competitive environment back in 1983 when Sessions retail was established?
It was as competitive then as it is now in its own way. We've been pushing innovation, sourcing and development as part of our culture and that continues to be a priority with our brand. We're thankful that we are one of the last independent snowboard brands.
What made it evident there was room for a snowboard outerwear company?
We received a request from an international company to build outerwear from a cover shot in ISM magazine—that was when we knew that the game was on!
How has the competitive environment changed?
The snowboarding industry has gone from a small community industry to big business with big money. The result of all this is that the competition is much tougher because pockets are much deeper. At the same time, Sessions has grown a lot as a company since 1983, and has weathered a lot of storms, so we're tougher, too.
Many companies similar to Sessions have come and gone while Sessions has grown. What are the key factors to Sessions' success?
There's a balance to walk between keeping things authentic and running Sessions as a business. The two complement each other, and Sessions has managed to remain an independent, privately owned business by being a community player and working within our means.
What was in Sessions' first product line?
We had a few jackets, pants and bibs -- styles that are probably coming back in. Tight and bright!
When and why did high-quality materials such as Gore-Tex first appear in Sessions outerwear?
We've always wanted to provide the best in outerwear though design, materials and innovation. After knocking on Gore's door hard they finally let us in and Sessions was the first successful snowboard brand to carry Gore-Tex in their line. Next, we pushed safety and we became very interested in Recco Avalanche Systems. Sessions again was one of the first US snowboard brand to successfully launch Recco and now Recco is a staple in our outerwear pieces. Last year we introduced d30 in our layering. d30 is protection technology. The d3o system contains molecules that flow with you as you move, but lock together when hit, absorbing the shock. When unaffected, d3o is soft and pliable, on impact the material turns into an impact shock absorbing platform. Sessions won the SIA Innovation of the Year Award in 2007. Since then we've expanded the offerings.
What competitive advantage does using a material like Gore-Tex or component such as Recco give Sessions over the competition?
Sessions incorporates GORE-TEX and Recco technologies into our garments because these are the gold standard in dryness on the mountain and in avalanche rescue. GORE-TEX fabrics appear in our high-end outerwear and gloves, to meet the needs of the most demanding consumers. Recco is incorporated in most pieces throughout the line, recognizing that safety on the mountain is important for everyone.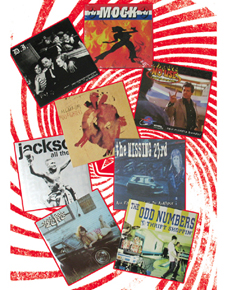 Have the art and music communities always been a part of Sessions' brand identity?
Yes. Sessions as a brand represents creative self-expression and independence. We've always formed relationships with artists and musicians alike. Remember, we were one of the first brands to incorporate athlete's art in our graphics and logos with Jamie Lynn. That continues to this day with the likes of TJ Schneider and others. With regard to music, we've been involved in music for years—we used to have a music mail order catalog that featured bands t-shirts and accessories. This was before things like that could be purchased at the mall. This started a long and healthy relationship with several bands. One year we actually released a 7 inch vinyl for the Foo Fighters so they could get their product to the market faster to qualify them for a Grammy. We did it; the Foo Fighters not only qualified got the Grammy but ended up winning the Grammy.
What will be the key to maintaining growth for Sessions' customer base?
Emphasis in outerwear apparel for the last couple of years has shifted from just function to function + fashion. Ultimately, the success of Sessions depends on the product and on our ability to continue to deliver highly functional, highly stylish pieces at a solid price point.
When and why did Sessions first sponsor skiers?
One of Sessions first sponsored rider was Shaun Palmer. That says it all right there. We've always had the cream of the crop from Jimbo Morgan, the legendary Shane McConkey to our current team which still includes Shane as well as Tanner Rainville, Andy Mahre and Chris Benchetler. These guys are awesome in every sense.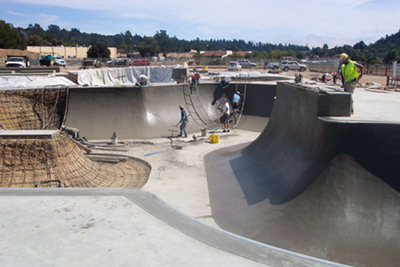 What led to Sessions involvement in the community?
Community involvement is a matter of basic responsibility, and its good ethical business. Sessions grew up as a community business, with the original shop acting more as a destination for people interested and involved in snowboarding, skateboarding and music to visit and hang out more than it was strictly a store front. As Sessions grew, the communities we were part of also grew. Today, Sessions is involved in a variety of community activities, from sponsoring youth soccer teams, to building specific garments to benefit breast cancer awareness and research and SOS Outreach Society, to cleaning up local beaches, to participating with clothes and toys in an annual holiday party for the Foster Children of Santa Cruz County, various food drives and lastly by starting a non profit—the Tim Brauch Memorial Fund which funded opening up skateboard park in Santa Cruz County, provided scholarships and the future has some exciting programs that we're looking forward to announcing.
Are there any current projects in the making?
Sessions has moved toward incorporating more cooperative efforts with organizations that advance good causes into our actual product line. By creating specific garments for Boarding For Breast Cancer (B4BC) and the SOS Outreach Society (SOS) for the 2009-2010 season, Sessions aims to really integrate our commitment to these causes into our way of doing business. We're also working on some great programs soon to be announced with our non profit fund.
What is Sessions doing to grow its eco-friendly business practices and promote environmental consciousness?
Sessions defines Corporate Social Responsibility as conducting business in ways that produce social, environmental, and economic benefits for the communities in which we operate, with this in mind Sessions is putting itself under the microscope to assure that as a brand we are producing less waste. We've created an "11-Step" plan to help guide our efforts. These steps include things like, Reduce, Reuse, Recycle, use of Biodegradable Cleaning Supplies, Water Conservation, utilizing energy efficient equipment, energy efficient lighting, environmentally friendly packaging, meet our goal within the next year to produce 100% organic clothing and/or apparel in a portion of each line, pay employees to participate in annual clean-up days, reimburse employees $250 for the purchase a Hybrid or Alternative Fuel Consumption vehicle.

In addition, Sessions also encourages employees to commute to work using an alternative method of transportation, such as, using public transportation, carpooling, and/or riding a bike. Employees who take part in this are awarded Sessions Bucks to spend on product. This is just one more way we can encourage people to take part in our efforts to reduce emissions, and Sessions has decided to move forward with our goal of going green and has therefore signed up with Renewable Choice Energy to offset 100% of our energy usage with clean energy sources such as wind for the next five years. The savings to the environment is equal to planting 1,062 trees or in other words not driving 89,680 miles.
Has Sessions physical location helped or hurt growing the retail account base and consumer demand of the brand?
It depends on how you look at it. We enjoy our location and the people the location attracts—which includes the retailers. NorCal's snowboard retail base is pretty strong and we're thankful for their loyalty to the Sessions brand.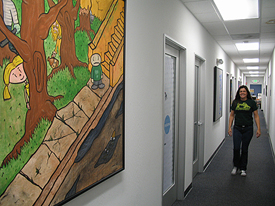 Does location make it difficult to find qualified people to work for the company?
It really depends on the position. It's always about finding the right person to add to what is an outstanding team - which is a challenge anywhere.
Are people who live outside the immediate area considered for jobs at Sessions?
Absolutely. Sessions has brought on people who have relocated from the Southern California, the East Coast and beyond. Geography is certainly a factor, but can be overcome for the right candidate.
When is it most common to look outside of the local talent pool to find candidates?
It depends again. We live in an area that has some pretty exceptional people but we'll look outside the local talent pool to make sure that the promising potential team member can fit with the current one.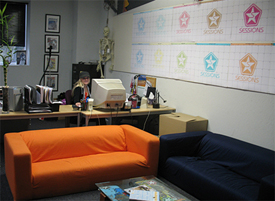 What type of person fits the Sessions culture?
To work at Sessions, it's important to maintain an optimistic outlook, to be flexible and to be a self-starter. This is a company with a lot of opportunity to get involved in interesting projects and learn a lot about the action sports industry. Taking advantage of these opportunities requires employees to be willing to get their hands dirty and have fun. If you're the type of person who wants to be involved, Sessions is a great place for you. If you're looking to sit comfortably on the sidelines, maybe not so much. It's a small team here at Sessions and everyone can see that they truly make a difference.

What is the key to success when submitting a resume to Sessions?
Passion counts for a lot at Sessions, whether its passion for the industry and action sports lifestyle, or passion for a job well done. Your resume should show a track record of getting results and for pushing forward projects you're passionate about.
Which job categories are most likely to be filled by candidates with action sports industry experience?
Marketing, Development and Design, Graphic Artists etc.
What types of jobs do candidates without experience in the action sports industry experience fill?
Let's say something like an accounts payable type of position but most of our team is so involved with sports that they are a part of this industry.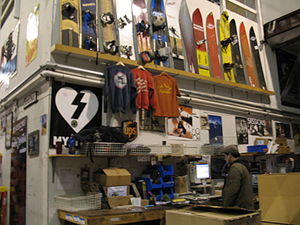 Why is working at Sessions a great career opportunity?
Sessions represents a chance to get involved in a competitive, sought-after and rewarding industry. For 25 years, the brand has made a name for itself in action sports, and has also maintained its integrity and the respect of the industry. Because it's a relatively small and privately held company, there are opportunities for employees to get involved in many more projects and many more diverse projects than might be available in a larger corporate setting. Each person truly makes a difference and at the end of the day that can make you enjoy your job and feel pretty good.

---