Back to News
RPO Outfitters - Ralph Palladino and Sean Pearsall
February 1, 2008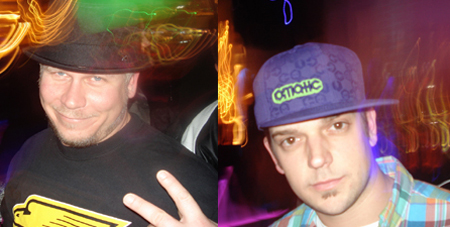 RPO Outfitters - Ralph Palladino and Sean Pearsall
Does this photo make you dizzy?? If it doesn't then the schedule Raphie and Sean of RP Outfitters maintain as an Independent Rep agency operating out of New York might do the trick. RPO holds down snowboard hardgoods AND ski hardgoods (one of the first to hold both categories), snow-oriented accessories, skate hardgoods, and footwear. Their stable of brands include 686 Outerwear & Apparel, Sepia Outerwear, O-Matic Snowboards, Ogio Bags, 4frnt Twin Tip Skis, Drop Gloves, Globe Shoes, and all of Dwindle Distribution throughout New York Pennsylvania, New Jersey, Maryland, and Delaware.
Enjoy this story!
What is RP Outfitters?
Ralphie: RP Outfitters is a company that I started in 1999. I started out alone, but my concept was to start an agency created to operate the same way agencies on 5th avenue operate. I got in with Steve Sternberg who has a big agency in Manhattan. I saw the opportunity his agency presents and asked myself why it wasn't happening within action sports. RPO was my solution to try to make it happen.
It seems like it's happened.
Ralphie: (Ralphie, pictured left with Haslam many years after starting RPO) It took some time. I worked alone for a long time, and have gone through a series of sub-reps in the process of building a true agency. Now I've got Sean as a full-timer, Danny working support in the back office and it's grown to include all the kids that help us at the grass roots level. We have guys that come in and help at shows, watch what's happening in different places and keep us informed. We've got it going now.
Sean: The kids we work with throughout our territory definitely help out big time. We have a whole skate team of 5 guys, a couple surfers, and we're working on putting together a snow team too.
Ralphie: Yeah, our team guys are a big part of what we do. They are ams, but the video footage we've got shows how good they really are. We develop the territory; bring the kids up through the ranks. Some guys on the am team in the surf team are on direct flow with the manufacturers and its part of the fun. Develop the talent as well as develop the business.
Sean: We try to offer the kids something they might not be able to get on their own. We have kids coming to us everyday asking for flow and what not, but we select the kids we have on our teams based on attitude first, then skills. We don't work with any; "so yeah I'm sponsored kids."
What is your territory?
The territory is "New York Metro". We handle New York, Pennsylvania, New Jersey, Maryland, and Delaware. The core of our business is 100 mile circle around Manhattan. And it goes up into upstate New York and the "western tier" as we call it.
How often do you have to do the long drive?
Sean: It depends on the brands and the time of year. Certain brand are seasonal and other are year round.
Ralphie: We have our snow clinic tour which is always once a year and takes us out over the whole territory. We also do a lot of contests. And we do 3 or 4 tours out into the western tier. We're not on a set schedule. We're pretty much in a management situation where we manage and grow the territory, when opportunity knocks we're going to be there.
Sean: We put a lot of focus on seeing all of our accounts on the road and at the shows. At Surf Expo we saw 30 accounts and then the next week it was 45 or so at our regional show and another 30 something at SIA.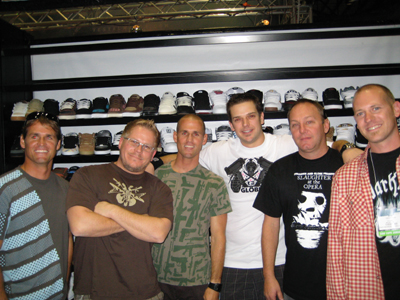 Your agency represents a variety of brands. A lot of brands.(One of which is Globe / Dwindle. Ralphie and Sean pictured with Globe crew at SurfExpo, September 2008)
Do you guys ever help with each others lines, or do you just focus on your own accounts?
For us, they are all accounts of RPO. Its part of the way this agency operates. We all work on everything together.
Ralphie: My focus is on new business, and closing big deals. Sean focuses on support and does his fair share of opening new accounts as well.
We do carry a variety of brands, and we have a lot of brands that are at different levels of development. It keeps our portfolio diverse. When I started RPO I wanted to create a basket that offers a lot to our customers. We have a lot of brands, but none overlap. We can walk into a store and offer them a variety of brands that all make sense. We're not bastardizing ourselves. Some of the brands are young and getting started, and I'm not really focused on pioneering brands, but the young brands we have show a lot of potential, have great people backing them, and are run well.
Sean: It's surprising how many retailers we do have that carry almost all or all of our brands.
What percentage of your accounts carry all the lines?
A majority of our customers are carrying multiple lines from us. And there are some that do everything we carry. We're working with over 200 accounts. Because of the diversity of our account base it's impossible for all accounts to carry all brands.
How does your diverse portfolio contribute to success of RPO?
Ralphie: A good example is footwear and skate hardgoods. We carry Globe and we understand the footwear market and that knowledge helps us understand what our retailers need in skate hardgoods. It's not about loading them up with a ton of product. It's about understanding their business needs and opportunities and helping them have product that will sell. We want to be there to make money for our retailers. We're the middle man between our retailers and our manufacturers in this business.
Even with the great brands we represent, service is still the key. We service our accounts at the highest level possible. Everything from the regional marketing we do to managing inventory issues with a vendor or with a retailer, we make sure to help. Without successful retailers we're nothing. Our focus is on helping our retailers be healthy profitable businesses.
Sean: Our diversity enables us to reach out to a variety of retailers – whether it's a boutique like Michael K in Manhattan or a core surf shop like Unsound on Long Island, to even luggage chains like Innovations in Luggage.
Ralphie: We're at a balance point with our brands, where we're covering almost every key category a retailer would need. Currently we don't work with a sunglass line but that's something we would be interested in.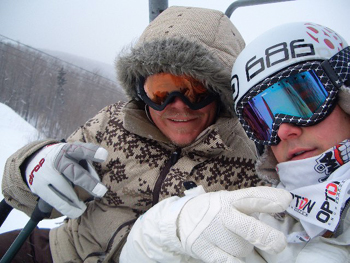 One interesting fact is you represent a ski and snowboard company. That's definitely not common. Is your agency the first that you know of to represent the planks and knuckle-draggers? (Are they draggin' knuckles or plankin'?!)
It's the first we know of. We're coming from a different angle. There are some guys that are going to start carrying Head skis and Palmer snowboards. There was a time that Lib reps had Roxy skis, and some other examples, but those weren't done purely by choice like we did.
What led to having both ski and snowboard hardgoods?
Ralphie: Our choice is from a different angle. I grew up racing and skiing. And watching what's been happening in the twin tip market really got my interest. We represent 4FRNT which is owned by a guy named Matt Sterbenz. He's one of the most authentic people you'll meet and the product is as cutting edge and hip as it gets in the twin tip world. They only make pro-model skis and the quality is as good as it gets. The whole thing made me feel like I wanted to get back in. And with 686 doing such killer outerwear and apparel there was even more cross over. People are switching from one sport to another. Snowboarders go back to skis; skiers going to snowboards. It's a different world today in that sense. Right now you'll usually see me on the board but you'll definitely see me on skis too.
Did you get grief from anyone? Retailers, manufactures, your parents?
Ralphie: I get some grief from retailers, obviously, from time to time. Most of the time it's from retailers that are less than stellar payers. But I try to help them. I don't get any from my mom! She pretty much loves me. Mostly, I get a lot of grief from Sean!!!! When I hired Sean I had a list of needs, and went through a few people. He's the man…but he also came with this ball-busting program that I have been unsuccessful in deleting from his hard drive.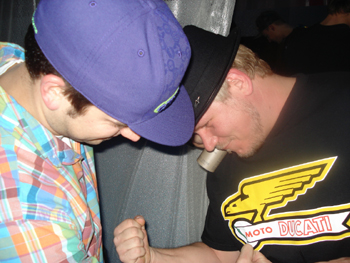 Sean, anything to say about that?
It's a great relationship. Constantly breaking each others balls on a daily basis. We love what we do. Not a lot of people can say that, have fun doing it, and make a living at it to boot. We're very grateful, but we have our fun too.
Do you think this might be a trend that will start popping with other rep groups?
Ball busting or carrying skis and snowboards?!
Both?!
Ski and snowboards…we'll see. Ball busting; we think that's definitely on the up-trend!
Seeing that you rep soft and hard goods, ranging from skis, to snowboards and skateboards, does product zoning (only certain brands being sold within a specified region) ever become an issue?
Not so much. We don't sell some brands in certain areas because of distribution issues. That's for sure, but we do look at the map and make sure that were getting coverage for all our brands geographically. Too much of a good thing inevitably will lead to reach market saturation. Whenever we're expanding distribution, we talk with existing accounts, and our brands, and figure out a happy medium that we can all live with. It's about maintaining a healthy balance. We're all hungry fish and everyone needs to eat. Going out and "slashin' and burnin'" isn't going to help us. We're looking to establish relationships with people and companies who are going to be there in 10 to 15 years. Quick paper won't get us anywhere in the long run.
With so many brands, would you say that you spend a lot of time actually visiting / in each account? More than the average bear?
Sean: Only if they have picnic baskets. Right Boo Boo!
Ralphie: It's not like it used to be. Back in the day it was almost all road work. That was when you can afford it – when gas was a buck twenty five a gallon. Today's world has changed, which in turn caused our in-store presence to adapt as well. When we do visits now it's about point of sale, inventory, fill ins and always, always making sure the kids on the floor know our product, understand it, and are stoked.
The line showing focus is definitely on the circus (the shows). Lines are huge these days, retailers are busy, and that combined can equal spending an easy four hours at retailer showing the line, but it takes 1 hour at the show. We really focus on getting all our accounts to see the lines where we can really show them the line with out distractions at the shows. We do a lot of shows!
I like to hit the stores with a back pack, laptop, and schwag. Bro them out and get the job done.
In the summertime when the weather is nice, I'll roll out to shops on my motorcycle. Drop off catalogs, find out what's happening in the store, talk about the athletes coming to town, and get the kids involved. The focus has definitely shifted from loading up the truck with all the lines - those days are numbered. There will always be line showings in the stores but it won't be the main focus.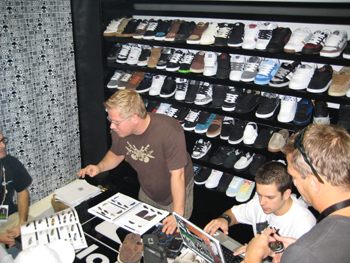 How do you survive tradeshows having to be in so many places at once? (Busy doin' biz)
Ralphie: When we go in to show mode we have our appointments lined up and we try not to make it a rodeo. We focus on more than just showing the lines too. We make sure our customers know everything that's going on with the brand – everything the brand is doing to help them make sales. It's hectic, but the war paint goes on and we go all day long. Don't stop to eat. By the end of the day I say "Sean, even the train has to stop sometime, but we don't." We survive by being super, super busy and it's a time where we have to put out our best. It's so crucial.
Sean: Definitely true. We find it amazing that we're in several places at different times and it feels like being in two different places at the same time. Fully booked, and we manage walk-ups, and anything else that comes our way. The hard work we put in at these busy times pays off. A former manager at my old snowboard shop told me, "you have to be like a shark, if they stop moving they can't breath and they die." Guess that's what we do.
Ralphie: We just let it come as it does. We're very detail oriented and organized.
Sean: Have to be.
Ralphie: And that's the key.
What is one major truth about your territory that people outside of it might not know?
Since we all live in the Action Sports world it feels like it's probably the same everywhere, right? Wrong! Action Sports are very secondary in this area to traditional sports. We have 9 major sports teams in a 60 mile circle and that's not even counting Philly. And that's direct competition, and it's huge. Team sports are huge here. It's competing for the same disposable dollars that are spent at Action Sports retail. It's very different here, it's older, different sort of heritage. It's not so cal where surfing, skating, and everything is really rooted in the culture.
And a lot of the people might not realize how great the surf is here. Jersey on the shore, Long Island, and all over the coast we have great surf. You might ask someone from Idaho….and they'll think there's no surf, but there is. Unsound puts on the their pro event each year and it attracts major crowds.
Have the features on Surfline helped with increasing awareness of the quality of surf you've got?
Yeah, definitely. And WaveWatch too. Our buddy Doug from District Surf has the surfcam for WaveWatch on his house down here in Long Beach. The right coast does get waves.
Being that it actually snows on the same ground you drive to visit accounts; do you have a crazy story of being on the road when nobody should've been out there? Not even the postman.
The Alderon run, (Stars Wars reference). Erie, Buffalo, Rochester, Albany, Utica are out in the sticks. It's cold as hell and snows all the time by the great lakes. It's a two-tank a day trek and you're traveling 500 miles a day, 18 hour days, you're cooked. The postman don't drive 500 miles or put in 18 hour days.
Ralphie: One year a big wet snow was coming down. Tractor trailers were jack-knifed all over the place and one was right in front of me. I had to drive up the side of the freeway and back down on it to get home. I wasn't stopping getting home for any reason.
Sean: I did the loop two days before Thanksgiving this year. I did about 1100 miles in two days. I definitely cemented the fact of how important it is for me to have a GPS. I'm geographically retarded!
Ralphie: Geographically retarded among other things!
Sean: It was good, made it home in time for turkey.
Ralphie: I gotta give props to all the trooper-reps in the Midwest. They'll think I'm a pussy talking about the size of our territory and the conditions. To them, we got it easy. They've got 1200 plus miles to cover! We give them props for sure.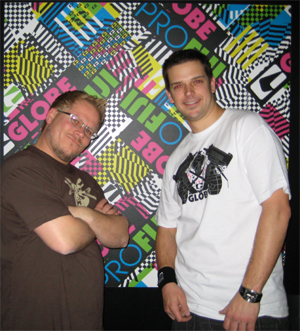 What type of support do you get from the brands you represent? (Local Globe premeire organized by none other than RPO)
Simply put; flow, point of sale, money to put on events. But it's a lot more than that. Anything we want to do that is reasonable typically gets support from our brands.
For example, we did kick ass premiers in NYC and down on the shore for Globes Surf Video the Secret Machine. OG Surf Shop got involved, we had a huge screen set up on the beach in Ocean Grove NJ with well over a thousand people showing up – everyone from kids in diapers to parents to local shredders. The sun went down, movie went on, and it was great. At the Cherry Hill regional show we had Chris Haslam and Paul Machnau out for United by Fate premier and after party with an open bar for every retailer in the territory. The following day we rented Black Diamond Skate Park too. Instead of doing a demo, we invited all the local rippers and shop guys to come out with Haslam and skate with him and Machnau. A lot of fun, laughs, smiles, and photos.
When a brand is trying to run the whole country, it's hard for them to micro-manage the territory and when you develop a history with the brand it's cool because they know what you're going to be doing and that gives you a lot of opportunity to have fun with the marketing and growing of the brand in the territory. It's time consuming for sure, but it's worth it.
Sean: It gets the shop kids stoked, and the pros get stoked too. Chris and Paul were stoked and were happy to come back. Haslam played a few games of skate with the kids and they loved it. Giving back and enjoying still being the kids we were.
We spend a lot of time sitting here thinking "Wouldn't it be cool if…" and some of those happen!!!
We were just talking about doing a railjam on the beach this winter. It'd be sick to shoot with the waves crashing in the background. We're talking about how we're going to do it already. It's a lot of fun to get creative.
What are the top five things you love about your job—Go!
1. Ralphie: Self-reliance. I love being an Independent Sales Rep. It's my ass if I do and my ass if I don't. You gotta be cut from a certain type of cloth. Gambler and eternal optimist.
Sean: We get to work with a great bunch of people who posses many of the ideas and interests we do.
2. Sean: No punching a clock or wearing a suit. That corporate shit ain't for me. I feel for those people in the rat race.
Ralphie: Lifestyle – I love being involved in both pursuits - the business aspect of it and the fun. And working with the people who are also in the same circle. It's a great industry with a lot of great people because they're all inspired by similar things.
3. Ralphie: Not wearing a suit; not punching a clock.
Sean: Being able to do what we love. I live, eat and breath this stuff. It's a gift to be able make your living doing something you love to do. I'm very thankful for the opportunities I've been given.
4. Ralphie: The excitement of sales. Closing deals. The pressure – take the ups and downs.
Sean: Travel is really cool! In the territory, to tradeshows, and sales meetings - I just got to go to Cabo for our Globe and Dwindle Sales meetings. Went to Cali for the 686 sales meeting a few months ago. (Banditos in Cabo - looking to rob people like you!)
5. Sean: Freedom. We're sitting here in the middle of June and there are waves and we'll go paddle out. It might take a poke or a prod to Ralphie, but then we're out there!
Ralphie: The diversity each day brings. Some days we're working on a promotion or contest, and in the afternoon we're closing details. It's constantly changing. The ebb and flow transcends the days, months, and seasons, and the cycle of the business.
Eight for the second month of 08: Which Do You Prefer?
1. Two plankin' or draggin' knuckles?
Ralphie: Both. Drag Knuckles
Sean: There's stuff that he won't shred on a board.
Ralphie: It depends on where we're going. It really depends on the situation. I teli, alpine ski, and snowboard. In the last 9 years I've been on the skis 4 or 5 times. Sean likes to break my balls and think that it's every time, but it's not.
Sean: Knuckle draggin, all way. The last time I was on skis they were straight.
2. Dunkin' Donuts or Starbucks?
Ralphie: Starbucks
Sean: Definitely
Ralphie: We got an account at Starbucks
Sean: We occasionally hit up Dunkin donuts! When the six dollar coffee gets old…
3. Summer or winter?
Sean: Summer is great, and we have fun. But I gotta go with WINTER!
Ralphie: I'm in to all the seasons. Once winter is over, I'm ready to put it away and switch it. I'm in to all of them. Change is good. All things must change.
4. Vegas or Atlantic City?
Ralphie: Vegas
Sean: Vegas
Ralphie: Even though AC is here, it's gnar
Sean: it's just a dirty ghetto version of Vegas, sorry.
5. Heavy Metal or Hip-Hop?
Ralphie: Heavy Metal
Sean: Hip Hop fo sho! Ralph hates it in the office.
6. East Coast Atttitude or West Coast cool?
Ralphie: Are you fuckin' kidding me?
Sean: We're known as the ECM by our Vendors; "East coast mafia"
7. Big Apple or Big Farm?
R: Big apple all the way, I hate the smell of horse shit.
S: Manhattan – I love the city.
8. Giuliani or Schwarzenegger?
R: Of fuck yeah, go Rudi GO!!! Didn't Schwarzenegger do steroids?
S: After 911, there's no doubt its Rudi.

---