Back to News
Skate Pass
March 1, 2008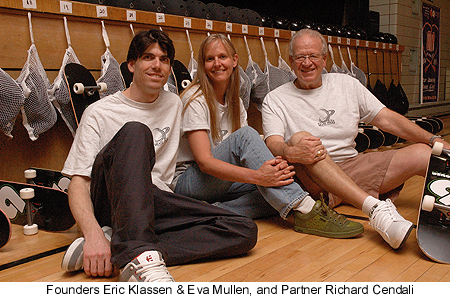 Skate Pass
Thanks to an organization called Skate Pass, schools campuses nationwide are jumping on the action sports bandwagon by adding skateboarding to their PE curriculum. Skate Pass is credited with developing the first in-school skateboarding program, which is gradually being accepted nationwide as a valid form of physical education. The program is blowing up in the media, and has been televised by FUEL, ABC, NBC, FOX and CBS, with some spots broadcasting nationwide. Skateboarding is becoming the new football, so keep an eye out for rising Skate Pass superstars, and read on to learn more about getting Skate Pass into a school near you.

What is Skate Pass and what does it do?

Skate Pass is the first in-school skateboarding program. We formed the organization to promote skateboarding programs in schools. The school purchases the program for its PE program, and every kid in the school ends up learning how to skateboard. What we developed was a system to first manage a class of kids through the program. Over a period of time, we figured out what skills levels we could teach within a certain time period, and how to make it so kids won't hurt themselves. With the schools it's all about safety. They have to know that the kids are not going to get hurt—safety is a big priority.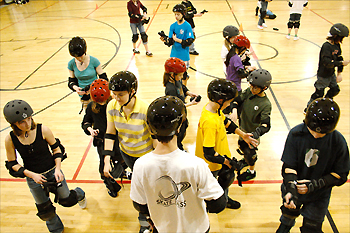 We go to trade shows in the PE industry and several different conferences across the country to get the program out to our market. We also do assemblies in schools. We get skaters, spokespeople, and leaders in the industry from particular areas and organize events for schools, which is a big promotional press event. Since this is such a newsworthy story, we have a deal where if they're the first school in the state to order the program, we help organize and promote a press event at the school. So, basically, we act as a voice between skateboarding and education.
What spawned the idea of creating an organization to promote skateboarding in schools?
Well I used to be a pro snowboarder, and that's kind of where my personal interest comes from. I got together with my business partner, Eva Mullen, and we both collaborated together equally. We also brought in another partner who's a leader in the industry we're in. Richard Cendali, a P.E. curriculum specialist, youth health and fitness spokesperson, and a former American P.E. teacher of the year, is well known for the Skip-Its rope skipping team and is the one responsible for bringing rope skipping to the world. He, along with Eva and myself, came up with the idea of Skate Pass, did all the testing, and just worked together to build the program into what it is today.
So it took about a year and a half to get everything in place and running tight, which was completed back in 2005. We started doing some test runs in Denver and other towns in Colorado, and then we took it national in 2006 when we truly felt it was ready to go. We took it one step at a time. The program just naturally developed into what it is, and now we're promoting it as much as we can.
What is the ultimate goal or master plan for Skate Pass?
Well the ultimate goal of Skate Pass is to get skateboarding into schools all across the world. We want to have it where kids can come in after school, maybe set up a little skatepark in the gym, or bring out other obstacles in the area around their school. We want skateboarding to be at the same level as football, baseball and basketball. It should be as accepted as any traditional sport. To take the vision a little bit further, skateboarding really offers a way for kids to be creative and expressive in a non-competitive environment, which doesn't exist in traditional sports.
Is Skate Pass affiliated with any companies or organizations in the action sports industry?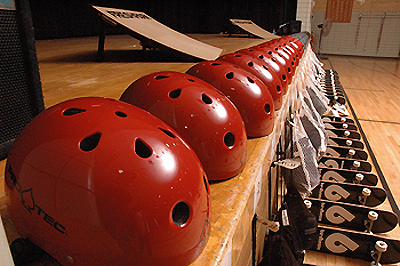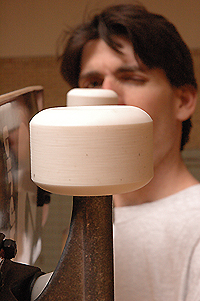 We have a number of sponsors. SkateOne is our board sponsor and manufactures our boards. Our skateboards are custom and designed to be ridden on gym floors; we specifically designed them so they won't damage the wooden floors in the gym. They also work great for outside surfaces, so it's really an indoor/outdoor skateboard for gym facilities.
We also have Triple Eight, who's our protective gear sponsor; they manufacture our protective gear. Then we have Birdhouse, who manufactures our longboards for the teachers and larger students.
We're also associated with DVS. They provide a lot of promotional product to us and act as one of the corporate sponsors. Concrete Wave is also one of our sponsors, in terms of a media partner. So we hold associations to those companies, we represent them, and we're also expanding this list.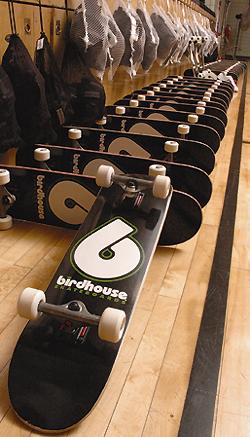 How is Skate Pass expanding the list of supporters? Is there opportunity for corporate sponsorship?
We have sponsorship slots available for interested companies. When a company is interested, we have a sponsorship proposal that covers all the details of what a sponsor gets and how much it costs. We have both a corporate level and a basic level sponsorship. We are constantly talking to new sponsors who are looking to get involved with us.
We also have a licensing program. We get a lot of interest from overseas action sports companies that want to promote their brand by using Skate Pass to get into their schools. It's a great situation for everybody.

How do schools go about adding Skate Pass to their curriculum?
The schools go through a whole process on their end. They have to get clearance from their superintendents, risk management and their principle. Let's say a PE teacher hears about Skate Pass and they want to bring it in. First of all, they have to have the budget to do it; then they have to get clearance. This is becoming much easier to do because of how much penetration Skate Pass has across the country.
How many schools/districts are currently involved in the program?
I'd say we have about 20 districts in 11 states. However, in some of the districts there's over a 100 schools, which means our program is being cycled through all these schools. It would be safe to say the Skate Pass program has been through hundreds of schools. Our program is also being used in schools and recreational facilities in Canada, by the Boys and Girls Clubs of America, and by the US Army for schools in a military community in Germany!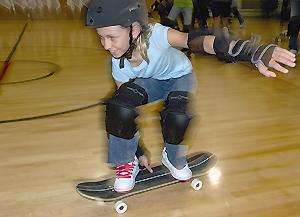 How exactly does the program work?
We spend a lot of time on safety before we do anything. We teach the kids how to put the pads on, how to fall on the pads, and board control before they even step on a skateboard. We also teach them exercises and skatepark etiquette. The gym is turning into a temporary skatepark, so they need to be aware of how this works and the proper etiquette.
On the first day, they learn how to safely ride. The second day is the big day and they learn how to maneuver around a course. There's not a lot of space in the gyms, so they're never really building a lot of speed; we keep the trucks somewhat loose for them. If they want to tighten them down, that's fine too. We have a whole maintenance part of the program that teaches them how to keep their equipment in good shape and how to make adjustments.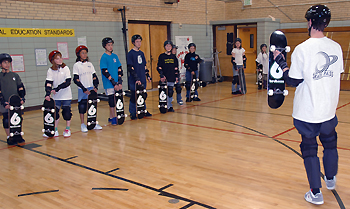 In every class, you have kids that are already good, some that progress quickly, and some who aren't interested in pushing their progression. This is where our program is so effective. We spent a lot of time designing the courses and the instruction to cater to all levels simultaneously. For those that are just starting, there's no pressure to progress, and we encourage them to be safe. For kids that are hungry for more progression, they can continue through the curriculum as far as they want alongside the others. Teachers love this part of the program.
Is Skate Pass the only organization promoting skateboarding in schools?
It is. There are other organizations that are working on creating a skateboarding team, like the school football or basketball team. However, Skate Pass is the only "in-school" program where all the kids in the school learn how to skate. We also have the only custom, gym friendly, equipment that makes the program possible anywhere in the world.
We also have after-school programs and they've been very successful. Some schools have had to turn kids away because the turnout was so large they didn't have enough equipment for the numbers. We're in development with a new after- school program which will be released this summer.
The big breakthrough for Skate Pass is we've cleared the national standards for physical education, and even the standards for California which is much harder, and the program is taught in the gym, with gym specific equipment, during school hours.
Do you feel that the majority of schools are pro Skate Pass?
Yes! The thing we hear all the time is "we want this program, but we don't have the budget." That's the state of the PE industry in the U.S.; a lot of the budgets have been cut, which is really sad. We believe it will be a matter of time before there's a new budget that comes from the federal level.
Is there any opposition?
The only opposition usually comes from some decision maker that had a bad experience with skateboarders at one point or another, and developed a negative interpretation of skateboarding. That's the only opposition.
As for the parents and teachers, they're ecstatic that there's a program like this now. What's happening is, the parents see that their kids are interested in skateboarding, but they don't have a way to really get them involved in a way they feel good about. They're a little uneasy about taking them to the skatepark right away because they go there and see what's happening, it's a little intimidating. They want a safe environment to introduce them to skateboarding and Skate Pass is the answer.
Are there plans to get Skate Pass involved at the junior high, high school and college level?

Skate Pass is actually all levels. We've worked with the college level as well. Two summers ago we taught the program at an event where there were 200 teachers ages 24 to 70, and they all did it. It was amazing! They were all completely shocked they could do it. They were like, this is actually fun. When we go to our conferences we have a lot of people watching our demonstration. We'll have a sign up sheet for teachers to come out and learn how to skate, and the house will be packed with people watching them learn how to skateboard. At the end of the class period - I always do this after I teach a class - I ask everybody to raise their hand if they did better than they thought they'd do, and everybody raises their hands. So it really teaches people that they have far more ability than they believe they do; it helps them believe in themselves
Is there anything preventing Skate Pass from going nationwide?
We rolled out nationwide in 2006 and we're now international. We're going to the conferences, and we're doing everything that needs to be done to get Skate Pass out there. It usually takes a period of three years for a program to be recognized and trusted in the industry. We've actually had unprecedented levels of success given the current trend in the industry.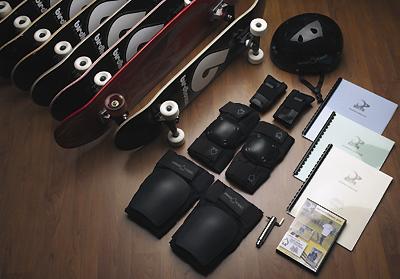 Do the instructors require any special training/certification?

Teachers have two choices. We have very clear instructional DVDs with a written curriculum, so they can study the curriculum, watch the DVDs and learn how to teach the program on their own. If they're a physical educator, they'll know how to teach the program after studying our material.
If the school wants their teacher to be certified, we'll certify the teacher through a program which offers more depth to the instruction. We make sure the teacher has more skill than they would have otherwise; there's more testing involved. We put them through a more intensive situation to get certified, but they can still be proficient at teaching the program just by studying our materials and practicing on their own.

Do you have any funny stories with kids and their egos?
Not really! I actually have some funny stories of teachers that have come back and said "there's this one kid that you'd never think was active or anything, and then he just came in and ruled it." It's kind of funny how that works out. Most of the time the kids are younger and they're still working on getting better, so they haven't reached a professional level or anything like that.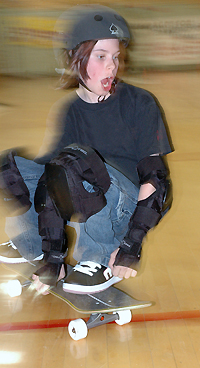 Are there any kids better than the instructors?

Oh yeah, all the time. You always have a couple kids in the school that are really good skateboarders, and we addressed this when we first developed the program. We encourage the teachers to use those kids to help demonstrate. What we found is that those kids were psyched that something they love to do is being recognized and accepted by the school, so they're ready to be cooperative in every way. As long as we use those kids to help demonstrate and celebrate their interest, it's all good.
###
---