Back to News
Origin Design + Communication Announces Current Projects
April 14, 2008
Origin Design + Communication Announces Current Projects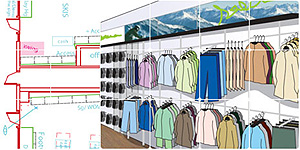 ORIGIN OFFERS ENVIRONMENTAL BRANDING FOR RETAIL STORES
Following the successful revamp of the Atomic store in Tremblant this past fall and the re-branding of Salomon's Tremblant location last year, Origin is excited to apply its experience to more projects such as these. Branded environments are quickly being recognized as a powerful tool in the retail setting and we want our clients to realize this untapped potential.
"Environmental graphic design involves communication, telling stories, defining a message, navigation, information branding and identity."...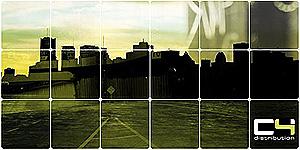 C4 WEBSITE LAUNCH
This month, Origin launched C4 Distribution's new and improved website. C4 Distribution is a leading distributor of action sports and fashion clothing. The site includes tons of behind-the-scenes tools and functions to reach out to its youth clientele as well as its national base of dealers and partners. Origin built an admin tool that allows C4 managers to easily and securely upload content for dealer tools including logos, images and ad campaigns...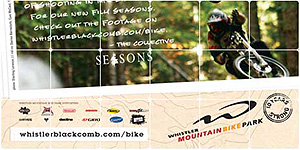 WHISTLER BLACKCOMB BIKE PARK 2008 CAMPAIGN
Once again Origin is working with the Whistler Mountain Bike Park to develop its new summer campaign for 2008. Working with the WB marketing team and the acclaimed mountain bike film company, The Collective, Origin has done concept development, creative design and copywriting for the campaign that features photography by mountain bike heavyweight photographer Sterling Lorence and focuses on The Collective's decision to film their closing segment of "Seasons" in the Whistler Mountain...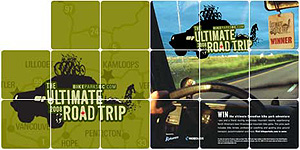 BIKE PARKS BC ULTIMATE ROAD TRIP
Bike Parks of B.C. has returned to Origin for the launch of their 2008 summer campaign, designed to raise awareness of B.C.'s six world-class bike park. The result is the Second Annual Ultimate Road Trip competition featuring a grand prize trip for two to several of the British Columbian resorts involved in the Bike Park program. The winners will receive bike rentals, professional coaching, guiding, transportation and accommodation. Origin's newly developed campaign...
POWWOW COMES TO TWWSF APRIL 17th-19th
It's almost here. Origin has partnered with the TELUS World Ski and Snowboard Festival to present the long-awaited summit of outdoor-adventure industry movers and shakers, the PowWow, April 17th-19th. Over 60 invitees from all over the world will converge in Whistler to discuss a variety of marketing topics from the importance of web marketing with snowsports consumers to the role of urban youth in industry growth. Keynote speaker, Kathleen Gasperini, Co-founder and Senior Vice President of Label Networks + The Label Lab, will share her knowledge of youth culture marketing, research, and branding strategies with the panel of industry experts.
Origin Design + Communication has spearheaded the organization and marketing and lent our expertise in the moderation of the day of discussions. We're excited and happy to be involved in this monumental event. Check out the details at twssf-powwow.com.
ORIGIN HIRES BARELY QUALIFIED, LAZY COPYWRITER. AND HE'S MALE!
Origin is happy to welcome a new member to the team in the Whistler office. Senior Copywriter and Communication Specialist Mike Berard comes to Origin from SBC Skier magazine where he acted as managing editor for the past two years. While still working with Skier as a photo editor and senior writer, Berard will contribute his mediocre writing skills and superhuman drinking ability to Origin's already impressive roster of professionals. When asked how he felt about relocating from his temporary home of Toronto, ON to the snow-capped mountains of Whistler, the B.C. born-and-raised Berard had this to say "I like it."
ORIGIN FOUNDERS INTERVIEWED ON Malakye
This past month, the action sports industry career website Malakye.com featured an interview with Origin's two principal partners, Danielle Kristmanson and Marie-Josee Legault. Featured in an industrial profile, the two Origin masterminds comment on how they got their start, what they love about the job and why big-ticket pharmaceutical contracts are not the path to happiness. Read it here.
---