Back to News
SULLEN CLOTHING Charts 111 Percent Sales Increase Year Over Year 1Q2008
May 21, 2008
SULLEN CLOTHING Charts 111 Percent Sales Increase Year Over Year 1Q2008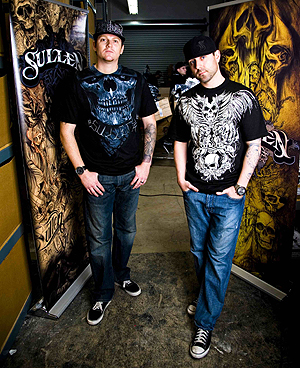 Art Driven Apparel Brand with Tattoo Culture and So Cal Lifestyle Roots Continues to Add Core U.S. Shops, Expand International Accounts, Enter Select Big Box Chains
Sullen Clothing, the art-driven lifestyle apparel brand based in Orange County, Calif., announced today that the company posted a 111 percent increase in sales year-over-year for 1Q2008. Company founders cited their focus on expanding Sullen's core graphic apparel line and attention to elevating brand identity as key to growth.

"At the end of 2007, we made a strategic decision to focus our resources on expanding our core line of art-driven tees, hats and accessories," said Jeremy Hanna, Sullen co-founder and director of marketing. "We are now offering our deepest line ever that features some of the best art the Sullen creative team has ever produced. The success of this strategy in 2008 has helped expand our brand recognition and consumers are responding."

Hanna was quick to point out that while economic conditions in the retail sector have remained sluggish at best this year, that by focusing on the quality, depth and expansion of the core Sullen product line and limiting growth into new product verticals, the company has managed to grow overall sales in the current market by providing a larger selection of proven brand product.

"During our planning for 2008, we realized right away that what we do best is art driven tees, so we made a conscious efforts to produce the most solid line with the broadest possible range of art and style," continued Hanna. "We did add graphic board shorts to our summer offerings as a new cut and sew piece, which have solid pre-bookings, but have limited the focus on new cut and sew projects during 2008. We also pushed really hard to expand our domestic and international distribution in new and existing markets through heightened brand profile."

Some of the key elements of Sullen's 2008 market success include:
* Success of the Sullen Collaboration Series launched in January 2008. Features collaborations between Sullen co-founder, creative director and tattoo artist Ryan Smith with some of the tattoo world's brightest talents - including released works from Tom Berg and Carlos Torres of So Cal Tattoo in San Pedro, Calif.; Jay Langer of Ink Factory in Hudson, Wis.; Jay Cooper of Independent Tattoo in Selbyville, Del.; and Nikko Hurtado of Ignition Tattoo in Apple Valley, Calif.
* Addition of more than 80 new core shop accounts across the U.S., including Puerto Rico, Kansas, Idaho, Wisconsin, Ohio, Minnesota, Kentucky, Pennsylvania, Vermont, New Mexico, North Carolina, New York, Maryland, Arkansas, and Massachusetts.
* International expansion with new accounts and expanded distribution in U.K., Australia, Canada, Germany, Finland, Spain, Hungary, Sweden, Costa Rica, Columbia, Japan and Thailand.
* Depth of current graphic tee shirt line - the core Sullen product. More than 50 men's tee shirts and 15 women's in current rotation. Largest line in company's history. Additionally, company adding new jerseys, board shorts, hats and accessories to summer line.
---