Back to News
ZOO YORK Names Will Skudin Surf Team Manager
July 7, 2008
ZOO YORK Names Will Skudin Surf Team Manager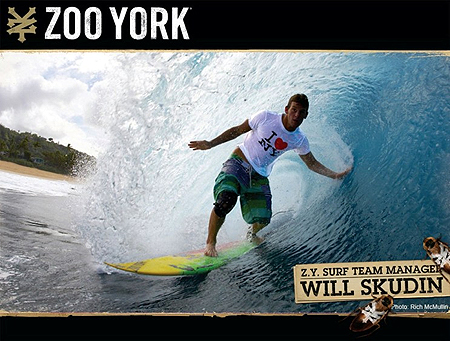 The Zoo York Institute is proud to announce that veteran ZY Official, Will Skudin, has been named Surf Team Manager. In his new role, Skudin will oversee all surf-related athlete, marketing, and event initiatives. Although he's adding a new title to his resume, Skudin will continue to hold it down as one of Zoo's top pros – serving double-duty as team rider and team manager.
Born, raised and currently living in Long Beach, NY, Skudin's big wave pursuits have led him to epic breaks around the world where he's gained notoriety within the surf community by catching and conquering some monsters. A veteran Zoo Yorker, over the past five years Skudin has played an integral part in helping to build and shape Zoo's expanding surf program. In his new role as TM, Skudin is psyched to have the opportunity to contribute on an even deeper level.
"Seeing as I'm a surfer from Long Island, there's really no better brand for me to be affiliated with than Zoo York," says Skudin. "I've been with Zoo since I was nineteen, and I'm hyped to step up my game as TM. The team is killing it right now, and in the coming year the ZY Surf program will definitely turn heads."
In an effort to keep the local NY surf scene strong, this summer the Skudin brothers (Will and Cliff) will host the first ever "Zoo York, New York Surf Clinic" in Long Beach. Ten one-week sessions will run from June 25th through August 30th, and all ages and abilities are welcome. For more information, please visit: www.skudinsurf.com.
In addition to Will Skudin, the ZY Surf squad includes Nick Jiampa, Jun Jo, Pat Millin, Mike Millin, Sean Killarney, Ben McBrien, Robert Wurlitzer, Morgan O'Connell, and new recruit, Rob Brown. Find out more at: www.zooyork.com.
---