Back to News
Return of the Shred: Swatch TTR World Tour Commences in New Zealand
July 22, 2008
Return of the Shred: Swatch TTR World Tour Commences in New Zealand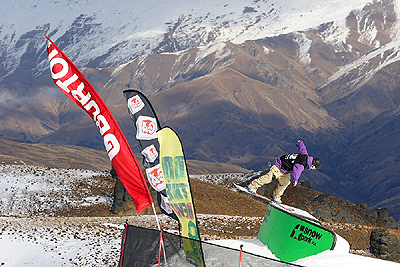 It's always snowing somewhere, and while some riders are taking advantage of the skate and surf in the northern hemisphere, dedicated snowboarders will soon be trekking down south for the first stop of the Swatch TTR World Snowboard Tour's 08/09 season, the 5Star Burton New Zealand Open kicking off on July 29th 2008.
The first slew of 850 Swatch TTR Ranking points and a $50 000 USD prize purse are ready to be dished out to those able to step up and claim, but this won't be a casual stroll through the park. Last season saw a great number of riders improve their game tenfold, throwing down unsuspecting runs of a mind-blowing nature, making it near impossible to predict the victorious. Now with a new season in full swing, the major 5 and 6Star events will no doubt bear witness to legendary competition.
Looking to gain an early lead in the Swatch TTR Rankings, male and female riders will be competing on Snow Park NZ's newly designed Slopestyle course first, then in the Halfpipe with each format counting as a separate result. Due to the newly introduced season-end bonus points system, that allows every rider to carry over their end-of-season points from the previous season to the next, the 5Star Burton NZO marks a crucial point in the Tour, and as a result could already dramatically affect the Swatch TTR World rankings.
The greatest riders in the world are set to begin the 10-month Tour in New Zealand including the 07/08 and current Swatch TTR World No. 3 Peetu Piiroinen (FIN), Japanese shred star Ryo Aono, as well as World No. 7, Chas Guldemond (USA), and World No. 12, Tim Humphreys (USA), who have all proved their worth time and time again. With one good result already under their belt, all have an excellent chance to take an early Tour lead, thus, securing the best starting position for the rest of the TTR season.
We can also look forward to an exciting battle for the new No. 1 spot of the Swatch TTR World Tour between current TTR World No. 3 Kelly Clark (USA), 07/08 Swatch TTR Tour Champion Jamie Anderson (USA) and 06/07 TTR Tour Champion and current World No. 2 Torah Bright (AUS). Last year's NZO Slopestyle champion and current TTR No. 7 Jenny Jones (GBR) will also make an appearance, ensuring another season-long nail biter.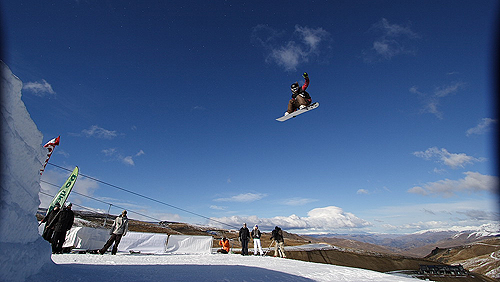 And while other riders like current World No. 6 Mason Aguirre (USA) and Torah Bright look to return to the NZO podium, attention is focused on the local talent raised on the very slopes hosting the competition. Mitch Brown will return to defend his Halfpipe title and looks to be the one to beat with fellow New Zealanders James Hamilton and Stef Zeestraten on his every move.
Stay tuned to www.ttrworldtour.com to find out who will have earned the best starting position for the 08/09 Swatch TTR World Tour season and check out TTR's brand new video teaser for the southern hemisphere portion of the Tour. Also, don't forget to visit www.go211.com for the live webcast of the first Swatch TTR 5-Star event on the Tour, the Burton New Zealand Open on Friday and Saturday NZST, Thursday and Friday EDT and CET (for detailed time schedule on go211.com or visit the NZO event page on www.ttrworldtour.com).
---