Back to News
SURFER Magazine's First-Ever 3D Photo Feature "Into The Third Dimension"
August 8, 2008
SURFER Magazine's First-Ever 3D Photo Feature "Into The Third Dimension" On Sale Now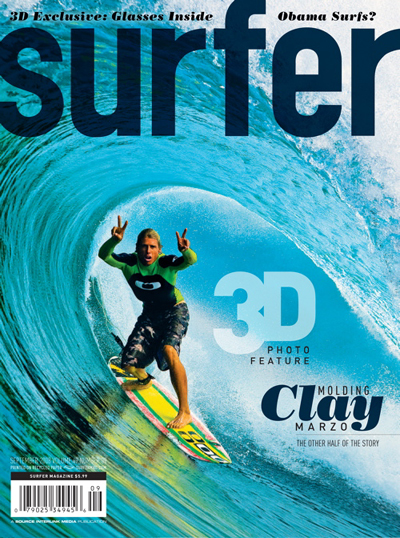 Visual experimentation has always been a hallmark at SURFER. Since 1960, the magazine has consistently strived to bring its readers inside the experience of riding waves by making use of unique photography and interesting imagery.

It's a proud legacy, and that legacy saw a new chapter open this month with the arrival of SURFER's first-ever 3D photo feature. The new issue comes complete with an actual pair of 3D glasses, courtesy of Oakley, inserted into the pages of the magazine.

Published in the September 2008 issue, which is now on sale, "Into The Third Dimension" is a project that features photos by Ben DeCamp, Jason Childs, Scott Aichner, Jason Kenworthy, and other SURFER contributors.

"This magazine is all capturing the essence of surfing and bringing the surf experience to life for our readers," says SURFER publisher, Rick Irons. "This 3D photo feature took that to a whole new level—it makes you feel like you're there, in person, watching the action as it happens."

SURFER Magazine's "Into The Third Dimension" feature is now on sale in the September 2008 issue and can be found at news stands, surf shops and bookstores across the country. Pick one up and see surfing as you've never seen it before.
---