Back to News
Sullen Clothing Showcases New Collection
August 11, 2008
Sullen Clothing Showcases Collection of Original Art for its New Line at August '08 Magic and September '08 ASR and Virture Tradeshows
More Than 50 Unique Artworks and Graphic Designs Featured in Original Sullen Line, Expanded Collaboration Series, Tattoo Artist Originals and Shawn Barber Limited Editions
Sullen Clothing, the art-driven lifestyle apparel company based in Orange County, Calif., is more than doubling the amount of original art and designs for its signature line of graphic tees, fleece, and accessories offered at the August 2008 MAGIC and September 2008 ASR and Virtue tradeshows.
"High quality, original artwork is the backbone of Sullen Clothing and defines our brand," said Ryan Smith, Sullen creative director and co-founder. "The current line we are showing at MAGIC, ASR and Virtue features some of my most thoughtful work alongside amazing contributions from a roster of noted tattooists and the underground's best artistic talent."
Making a name for itself during the past eight years as an art-driven brand rooted in the So Cal lifestyle and tattoo art culture, Sullen Clothing has transcended the boundaries of genre, taking on the challenge of bridging the brand's popularity across the skate, surf, snow, bmx, fmx, motocross, Mixed Martial Arts (MMA), tattoo, urban and alternative/hardcore music scenes.
"Sullen is focused on creating clothing that carries a definitive attitude and look, without confining ourselves to a genre specific identity," said Jeremy Hanna, Sullen marketing director and co-founder. "That is why we are showing at MAGIC and Virtue for the first time this year to broaden our exposure, but staying true to our roots as an action sport lifestyle brand at ASR."
In reaction to consumer sentiment and current retail trends, Sullen Clothing is focused on offering a deep selection of its core product offering - art driven tees - with a select number of additional fleece and accessories products. Featured offerings in its tradeshow lines include:
MEN
Sullen Original Tees
Collaboration Series Tees
Tattoo Artist Series Tees
Shawn Barber Limited Edition Tees
Fleece
Headwear
Accessories

WOMEN
SG/Sullen Girl Tees
Collaboration Series Tees
Track Suits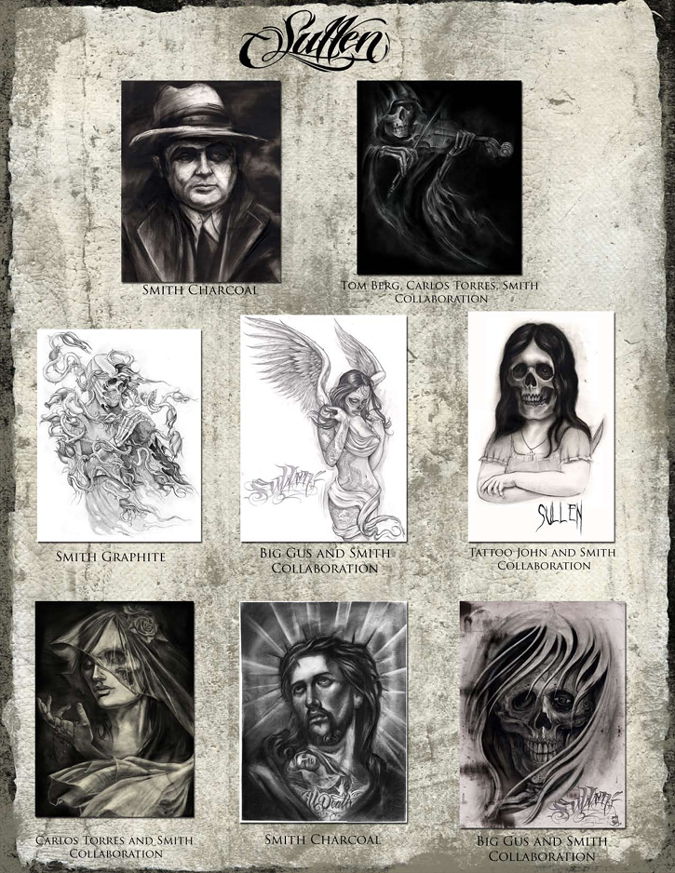 Sullen Original - Artwork developed by Sullen Creative Director Ryan Smith and various contributing artists.
Collaboration Series - Single pieces of Artwork developed by Sullen's Ryan Smith in collaboration with some of the world's top tattooists and underground artists.
Tattoo Artist Series - Signature works from the crème de la crème of tattoo artists.
Shawn Barber Limited Editions - World-renowned artist primarily focused on painting, portraiture and documenting contemporary tattoo culture. http://www.sdbarber.com
Sullen Clothing's origins began in the action sport apparel world – with the original line selling first in core skate, surf and moto shops in Southern California. A gold box brand at ASR since 2006, Sullen's growing recognition at the definitive action sport tradeshow has helped the brand expand into the global marketplace. Now an international upstart sold in retailers throughout the Americas, Europe, Asia, Australia and parts of Africa, Sullen Clothing has built its solid reputation and frontline creditability on intense graphics and detailed original artwork by attracting some of the top talent in the tattoo and artistic underground to work with the brand.
To continue that pattern of broad-based domestic and international growth, Sullen Clothing chose to have a presence at MAGIC in Las Vegas this August for the first time in its eight-year history. The company, a longtime supporter of the tattoo culture, MMA and Motocross/FMX scenes, has also chosen to participate in the inaugural Virtue by ASR tradeshow, a parallel event to the ASR tradeshow held in San Diego this September 2008. Virtue will showcase lifestyle brands related to the tattoo culture and the edgier sporting cousins of the action sport world - MMA, Motocross and FMX.
---