Back to News
NYCA Launches At ASR
September 10, 2008
NYCA-Lifestyles Formally Launches Brand At ASR
Products Include High Class Apparel & Limited Addition Artist Series Snowboards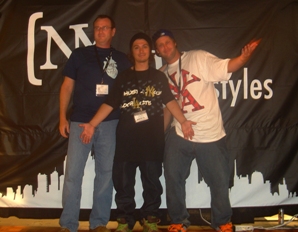 The owners of NYCA-Lifestyles were pleased to formally introduce their new brand at the Action Sports Retailer (ASR) tradeshow on Thursday, September 4, 2008 in San Diego, California. NYCA is primarily an apparel brand with broad appeal and an initial focus on the sport of snowboarding. Based in the Lake Tahoe region, this brand has it's sights set on creating a tight family of creative and talented snowboarders from around the world who represent everything positive about snowboarding. NYCA is determined to offer only unique high-quality products that represent the individuals who wear and use them.
Five International Artists Make Up New Limited Addition Snowboards
In addition to the release of a high-end apparel line, NYCA-Lifestyles presented five new snowboards with graphics generated by five international artists. "We are proud to bring a line of quality snowboards to market in conjunction with our new apparel," says Chris Bielmeier, owner of NYCA. "Our hand-picked artists represent an eclectic scope of pieces from around the world. We feel that the tandem release of snowboards and apparel enforces our focus on creating an extensive family within the snowboarding community," he said.
NYCA Artist Series 147cm
Artist Name: Maria Moreno Perez
Maria MorenoI Perez is from Barcelona, Spain and primarily enjoys working with photography, illustrations and painting and modeling. Her art coincides with the street and urban-style of NYCA mostly because she grew up as a city girl in Barcelona. She likes hip-hop music, sports, driving and playing video games. The "Angel o Demonio" picture on the snowboard is a mix of strong and smooth feelings. "I'm holding my M-16 in my hand and I'm supposed to be an Angel. I think that it is a fantastic idea for a snowboard," says Maria Moreno Parez. "I think that art and sports get together to make a perfect fusion, so I'm really happy to collaborate with NYCA. It's a new experience for me and I enjoy it a lot."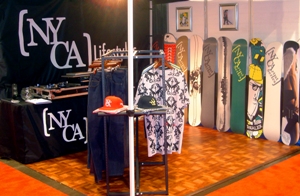 NYCA Artist Series 150cm
Artist Name: Marc Huber
Marc Huber a.k.a. Flugsumelane or just Flux is from Berne, Switzerland and is currently studying at the School of Arts in Biel. His interests are in graphic design (typography, layout, websites) and he also enjoys illustration, drawing, painting and photography. Huber's work is guided by an order through which he chooses the medium, style and mode. His goal is to apply a large variety of techniques in his work. He is influenced by his connection with other young artists and designers from the streets. He has been snowboarding in the Swiss mountains and observing the scene for years. "My presented illustration is a mix of comic, urbanity, pattern and graffiti?something witty and freaky, addressing young people, especially in the snowboard scene," said Huber.
NYCA Artist Series 153cm
Artist Name: Phil Cannone
Phil Cannone currently lives in Spring Hill, Florida and he went to school for graphic design at International Academy of Design and Technology where he fell in love with photography. He is influenced by one of his good friends work, Aaron Bass of Tampa Florida who taught him a lot about photography styles and techniques. He is also influenced by the urban setting of New York City. "I always wanted to pursue designing snowboard graphics, I just never knew how to get started," says Cannone. "Now, years later my work is on a snowboard. It's funny how events turn."
NYCA Artist Series 156cm
Artist Name: Neil Kupras
Neil Kupras is from San Diego, California and mostly works with graphic design, but he likes to experiment with mixed media such as painting, photography, and illustration. He has always been influenced by the type of design that's associated with the action sports and music industry. "They're both such huge outlets for creativity and there's practically no restrictions to the type of work you can produce," says Kupras. "You can be vulgar and gritty or clean and modern with your designs and both would be accepted." He used the image of riders just shredding and chilling, living their lifestyle for inspiration and tried to translate that in to his design with clean lines and a dirty style. "I love seeing sick board designs, especially if the people riding them are bad-ass. So getting the opportunity to design my own board is like a dream come true," said Kupras.
NYCA Artist Series 159cm
Artist Name: Waleed Sulehri
Waleed Sulehri is from Pakistan and is currently a graphic design student into digital illustrations and photography. He is influenced by the people he sees everyday, the streets he walks through?the type of things he sees in daily life inspires him. "I've always wanted to create art that is primarily for common people and NYCA gave me an opportunity to make it happen," says Sulehi. "Snowboarding and relevant action sports companies are the perfect platform to showcase the type of art I love to do. I think I'm really lucky to be able to work with a company like NYCA," he said.

---