Back to News
Ambiguous Gets a Fresh Start
September 30, 2008
Ambiguous Gets a Fresh Start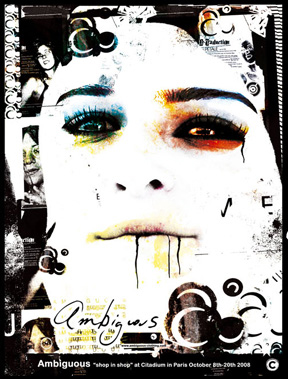 Ambiguous clothing has been devoted to boardsports and street culture by living that life and producing clothing and accessories that embody it. It's Fall '09 re-launch will give the company a fresh start, a new opportunity to take the creativity Ambiguous is known for to the next level, as a new team breathes new life and inspiration into the brand.
Veteran apparel company owner and designer David Patri has been appointed to President of Ambiguous Clothing USA. Patri was the founder of Split Clothing in 1988 and later introduced the Split Girl line in 1999. Patri will use his experience and design expertise to take Ambiguous to a new level of social, artistic and cultural awareness.
The plan is to re-launch the clothing line for Fall 2009. Everything from top to bottom will start fresh. A new building, staff and team riders are in the works in So. California and in Biarritz, France under the name of Life Distribution. The approach is to think on a more global level and grow the sales while increasing the integrity of the brand.
JF Cahu and Christophe Chabaud will lead the European headquarters of LIfe Distribution. JF and Christophe have a proven track record in the industry as well. Formally they headed Split Europe, with JF as President and Christophe leading the Sales and Marketing. "Ambiguous has done well in the international market in the past but we plan to make this a priority and grow awareness unilaterally," says Chabaud.
The Ambiguous team has built a tremendous legacy of creativity in the market. The focus on street culture and art will continue to be an important component of the line. "We want to continue this legacy and create a line that is unique and forward as well as offer solid, consistent sellers," says Patri. "Collaborating with photographers and artists is key to keeping it fresh and on point. I am committed to throwing off the limitations that have been put on the brand in the past."

Currently Ambiguous is still under Rays Apparel in Irvine. As of November, Life Distribution will take over the brand. The new line launch for Fall '09 will be at international trade shows Pool, Agenda for the US and BBB, The Bright, Ispo and Who's Next for Europe in January. The new Ambiguous will be offering a special artist and photography series of T-shirts called "4A", which stands for "Ambiguous Addicted Artists Association" for Spring/Summer '09 that focus on the creativity and diversity of the brand.
Our focus will be on creating apparel that inspires your life. Look for tremendous things from Ambiguous Clothing.
---