Back to News
Forum and The Hundreds Create Co-Branded, Limited Edition Snowboard
October 8, 2008
Forum and The Hundreds Create Co-Branded, Limited Edition Snowboard
The Hundreds/Special Blend Snowboard Jacket and Pant Also Available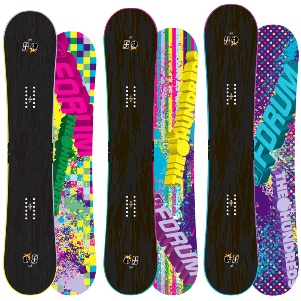 Forum Snowboards, Special Blend Outerwear and prestigious streetwear brand The Hundreds have joined forces to create a one-of-a-kind, mid-season release Forum snowboard aptly named "The Hundreds Board" and a co-branded snowboard jacket and pant based off two best selling Blend outerwear pieces. A first time collaboration with any snow brand for The Hundreds, these limited edition pieces will be available this Fall 2008 only in select Forum/Special Blend and The Hundreds dealers, as well as The Hundreds two retail locations in Los Angeles and San Francisco.
"There are many perks that come along with The Hundreds, but one of the greatest is working with other brands that have inspired us along our way," says Bobby Hundreds, creator of The Hundreds brand. "When we first started talking about a collaborative project, it made perfect sense having grown up snowboarding Westridge at Snow Summit on my Forum board."
The Hundreds Board is based off the in-line twin-tip Destroyer, known as Forum's benchmark for freestyle progression, but with a softer flex. Offered in three sizes (148, 152 and 156), this exclusive deck features a black topsheet with The Hundreds signature JAGS design UV-coating, and three unique base graphics created by none other than Bobby Hundreds himself. "To recall on those early days of Big Bear snowboarding, I mashed up the messy, graffiti-influenced designs of the mid-90s with the more modern, pattern-driven, minimal designs of today," states Bobby. "Both eras relied on a common denominator of punchy vibrant colors that draw the Forum x The Hundreds graphics together seamlessly. At the end of the day, Forum's overall effect is one of timelessness, being neither here nor there, and also referring back to The Hundreds style of being inspired by decades of subculture and design." Retailing at US$399.99, this is one board model that won't last long and shouldn't be missed.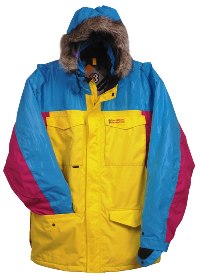 In addition, Special Blend created a co-branded jacket and pant with The Hundreds that are based off two best selling pieces, the tech light insulated Gunner Jacket and Battery Pant, both part of the men's Cirrus Group featuring 10,000mm/10,000g waterproof/breathability. The Rosewood Jacket (MSRP US$199.99, see attached images) is available in two colorways: Black with Black JAGS and a color blocked Bright Yellow, South Beach and Magenta pop version. The Post Pant (MSRP US$179.99, see attached image) is available in two colorways: Black with Black JAGS and South Beach.
---