Back to News
Artec Teams Up With Sony for 5th Design Contest
October 30, 2008
Artec Teams Up With Sony for 5th Design Contest
Win a personally designed snowboard and a Sony PSP-Set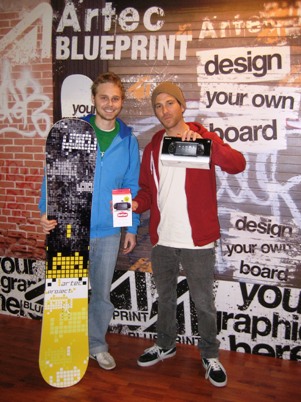 Artec Snowboards is proud to announce the launch of the 2009 Artec Snowboards Design Contest. We are proud to be teaming up with the generous folks at Sony Playstation again this year, and the stakes are as high as ever for the 5th edition of this innovative competition.
Here's the deal: we're looking for artistic souls to take on our creative challenge and design a snowboard topsheet graphic that ties in with our progressive design philosophy and technology. History tells us the winning entry will need to be truly inspired and original, so be creative and unleash your imagination.
The winner of the Artec Snowboards Design Contest 2009, selected by a jury of Artec team riders and designers, will receive a one of a kind Artec snowboard featuring the winning topsheet graphic design. Plus, the top dog will also walk away with a Sony PlayStation® Portable (PSP) Slim & Lite and the newest adventure for PSP - LocoRoco 2. That's a whole PSP mobile entertainment system right there, people.
Our 2nd and 3rd place finishers will also be in line to receive top prizes, with each of the runners-up receiving an Artec Snowboard and the latest Sony PSP game - LocoRoco 2. And check this: the top three designs will be exhibited in the Art Gallery at the Artec Snowboards booth at Ispo Winter 09.
Head over to artecsnowboards.com and download a blueprint design template and get to work. After finish the design you can simply upload it on line together with your personal data. Carefully read our Blueprint design guidelines to ensure you meet our specifications. There are no limits to how many graphics you can upload. The deadline for all graphic submissions is midnight on January 5th, 2009. Now go create something.
For more information on Artec Snowboards visit www.artecsnowboards.com
---