Back to News
NYCA-Lifestyles Launches New Website
November 19, 2008
NYCA-Lifestyles Launches New Website
Portal includes e-commerce, photos, videos and a very special preview
The owners of NYCA-Lifestyles are pleased to formally announce the launch of their new website nyca-lifestyles.com http://www.nyca-lifestyles.com. The site includes photo and video galleries and a sneak peak of the much anticipated spring apparel line coming in 2009 from NYCA. Also, this new portal offers direct ecommerce for the purchase of NYCA products. "As a new, core brand we feel that it's important to provide customers direct access to our products as we build our retail base and distribution outlets," says Chris Bielmeier, owner of NYCA.
In addition to the coming spring release of a high-end apparel line, NYCA offers five new snowboards with graphics generated by five international artists all of which are available for purchase online at http://www.nyca-lifestyles.com. "We are proud to bring a line of quality snowboards to market in conjunction with our new apparel," says Bielmeier. "Our hand-picked artists represent an eclectic scope of pieces from around the world. We feel that the release of snowboards and apparel enforces our focus on creating an extensive family within the snowboarding community." Only 25 boards in each size are being offered creating one of the most exclusive snowboard lines ever.
Based in the Lake Tahoe region, NYCA has it's sights set on creating a tight family of creative and talented snowboarders from around the world who represent everything positive about snowboarding. NYCA is determined to offer only unique high-quality products that represent the individuals who wear and use them.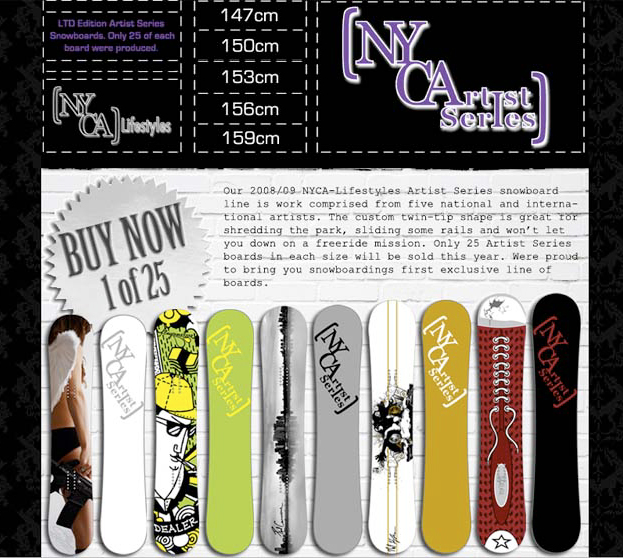 ---