Back to News
NHS Announces Distribution of Flip Skateboards
December 2, 2008
NHS Announces Distribution of Flip Skateboards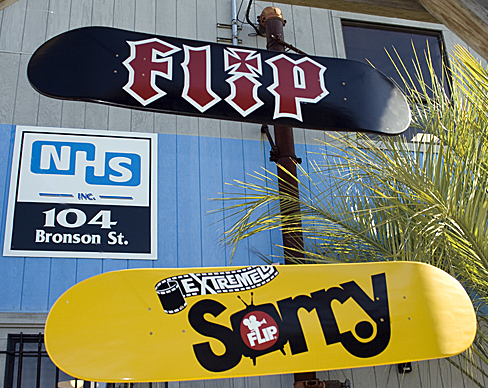 NHS, one of skateboarding's largest and most successful manufacturer / distributors, is proud to welcome Flip Skateboards to its brand roster. NHS will utilize its global sales and distribution reach to realize Flip's full potential as a dominant skateboard brand.
Bob Denike, President and CEO of NHS had this to say, "The addition of Flip strengthens our position to be the #1 skateboard supplier in the industry. The NHS strategy is simple; strong brands across all categories, innovative product development and working with the best pro skaters; past, present and future. The Flip brand together with the global Flip team are a powerful and welcome addition to the NHS group. And frankly, it's about f*#king time!"
"With Flip's move to NHS and the upcoming "Extremely Sorry" video release, all the pieces of the puzzle are now in place to put Flip right at the top!"- Kelly Jablonski, CEO- Ultimate Distribution, Canada.
"Flip and NHS, 2 of the biggest and best skateboard companies in the world, have now joined together making NHS a 1-stop shop!" -Chris Allen, President- Shiner, UK.
"We are really excited to welcome Flip Skateboards to the NHS family," says Holly Anderson, NHS Senior Sales Manager. "The Flip addition diversifies our brand selection even more. We truly satisfy all our customer needs with the industry's leading deck, wheel, and truck brands."
"The timing of the NHS-Flip agreement is actually really good- our sales team is stronger than it's ever been and our ability to deliver product globally is running smoother than ever. Flip heavily strengthens NHS without cannibalizing sales of our existing brands and product." Jeff Kendall, VP- NHS.
"I am proud and honored that the rich histories of both NHS and Flip Skateboards have come together. With the support of NHS and the strength of the Flip brand and team it's a win-win situation. The timing could not have been more perfect!" Geoff Rowley, Pro Skater, co-owner - Flip Skateboards.
Flip Founder Jeremy Fox says, "This move makes perfect sense for the Flip brand as well as for NHS as our new distribution partner, and we feel that there is great synergy between the two companies both in terms of business direction and commitment to skateboarding."
---