Back to News
Ocean & Earth Hosts
December 16, 2008
Ocean & Earth Hosts "O.N.E. Celebration" Charity Event to Benefit Homeless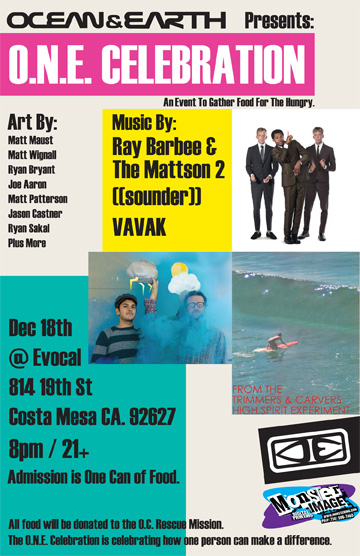 Ocean and Earth is throwing a event on December 18 called the O.N.E Celebration. They are having a Music/Art event in Costa Mesa, Calif., to gather food for a homeless shelter called O.C. Rescue Mission. All of us are very fortunate to work in the Industry we love and to go home to a meal after work, so let's help out some people that are down on their luck.
Ocean and Earth is Proud to Present the First: O.N.E. Celebration
Music By:
Ray Barbee & The Mattson 2
((sounder))
VAVAK
Art By:
Matt Maust (Cold War Kids)
Matt Wignall
Ryan Bryant
Joe Aaron
Matt Patterson
Jason Castner
Ryan Sakal & More
Dec. 18, 2008 @ Evocal
814 19th St
Costa Mesa CA. 92627
8pm / 21+
Admission is One Can of Food. All food will be donated to the O.C. Rescue Mission. The O.N.E. Celebration is celebrating how one person can make a difference.
---