Back to News
Hyperflex Wetsuits with Brand Manager Scott Troxel
January 1, 2009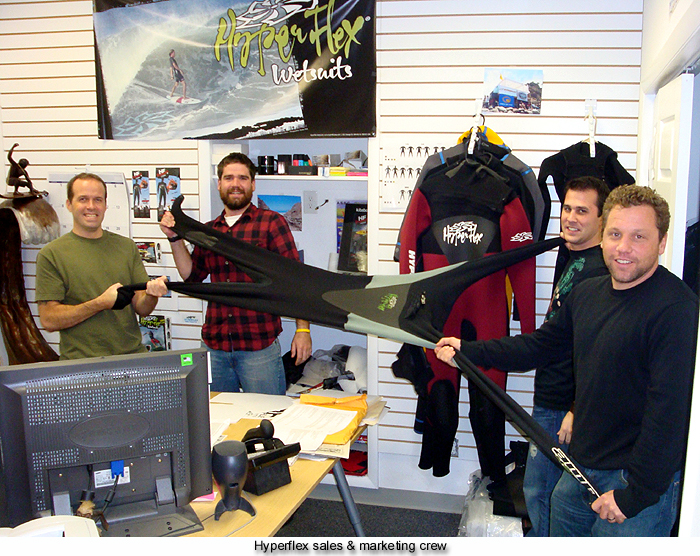 Hyperflex Wetsuits with Brand Manager Scott Troxel
Many would never view the East Coast as a surf mecca, or even a place with decent waves year round. But in all reality, this is not the case. Though the surf scene may not be as "mainstream" as Cali' per se, the East Coast is riddled with great surf spots ranging from Maine to Florida; however, it's just a wee bit colder! Surfers have even been reported taking the subway in NYC to hit up local breaks. Now that's dedication!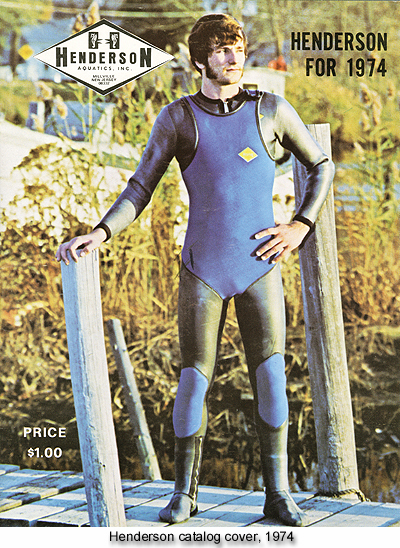 Henderson Aquatics, based out in Jersey, realized the potential of expanding its dive line and seized the opportunity to cater to these cold-water surfers by creating Hyperflex Wetsuits. Henderson has been around since the dawn of the wetsuit, a time when wetsuit seekers had to lay down on a sheet of neoprene, outline their body, and cut and sew the pieces together to get a wetsuit – now that's custom! Henderson Aquatics has been in the wetsuit industry since 1965, and this wealth of knowledge is evident in the products put out by Hyperflex Wetsuits. Read on to learn more about Hyperflex and how wetsuits evolved into what they are today.
Hyperflex Wetsuits was launched in 2002 by Henderson Aquatics, the largest scuba diving wetsuit manufacturer in the world. Tell us how Hyperflex came to be and why Henderson felt there was a need to infiltrate the surf market.
For more than four decades Henderson has supplied wetsuits and gear not only to divers, but to surfers as well, so it was a natural progression to move into the surf wetsuit market. With over 40 years of wetsuit experience, we felt the time was right to expand into the surf market again, given our wetsuit expertise. This is not a unique situation, if you look at the beginnings of some of the other U.S. wetsuit companies, their roots started in the dive wetsuit market which is older than the surf wetsuit market.

Henderson initially entered the surf market in the early '90s with Surf East Wetsuits, and then closed Surf East after a few prosperous years to focus on its growing dive business.

What were the reasons for doing so seeing that "action sports" was an emerging trend in the market at the time? Was Hyperflex looking to revamp its game plan, or was it just bad timing?
The timing just wasn't right and the foundation and support was not setup properly. It was a totally different situation than today. Hyperflex grew out of Surf East, but it has a completely different business model. The distribution and support are all in place to enable Hyperflex to continue to be successful in the surf market.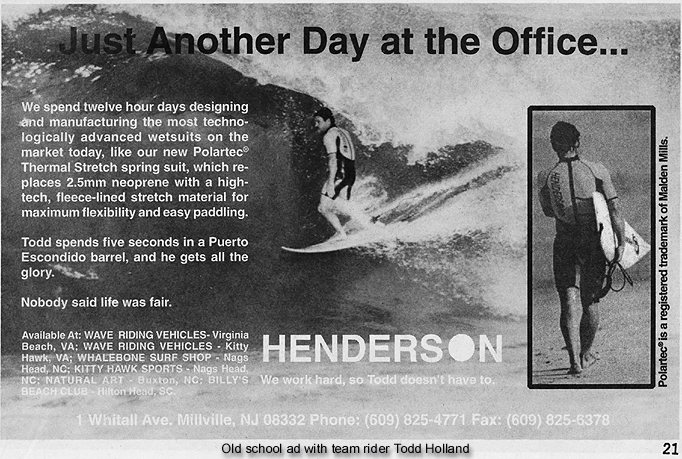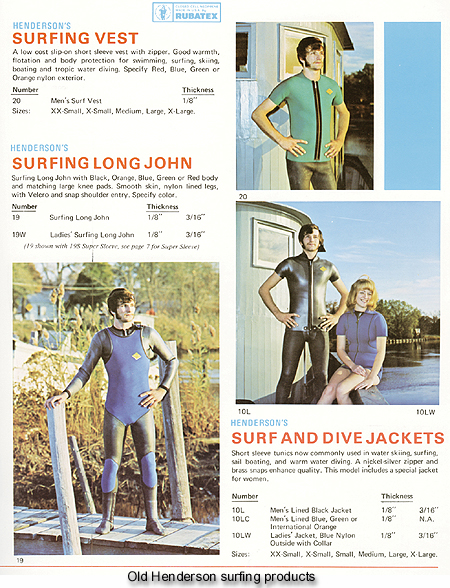 Henderson Aquatics has been around since 1965. Give us a brief rundown of the progression of wetsuits throughout the years?
Henderson Aquatics was started in the Henderson Marina and Boatyard. Customers needing a wetsuit would come in and lay down on a neoprene sheet. The person's outline was chalked up front and back, and both sides were cut out and glued and sewn together. These were fully custom wetsuits (though they were probably a little boxy, haha) and were the first wetsuits made here on the East Coast. There was such a demand for wetsuits on the East Coast, due to the cold water and harsh conditions, that wetsuit production began full time shortly thereafter.

Since then, things have come a long way, from beaver tails to today's superstrech rubber and nylon. Technology is so advanced on wetsuits now that there's is no comparison to the wetsuits made even 5 years ago. I have actually had guys call me in New England after surfing in our 6/5/4 AMP hooded wetsuit and they claim it has the comfort and stretch of a 3/2mm wetsuit. They are so stoked at how flexible and warm our wetsuits have become (believe me, it is crucial that suits are warm when you are surfing in the snow and ice).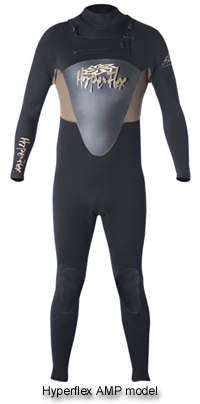 What are the benefits of being based on the East Coast? Does this give you an advantage over your West Coast competitors? If so, explain.
Yes, we definitely have an advantage with our warehouse being based in New Jersey. We can ship most of the Northeast and Mid-Atlantic orders in 2 days via ground; Florida is only 3 days. We get a lot of peak season fill-in business, especially when a good swell is predicted for a weekend. Shops need to get product fast and we have it stocked deep in our New Jersey warehouse, so it makes it very easy for them to deal with us. I have shops call on Thursday and have product on Friday for the weekend via ground shipping. This is huge, especially for the smaller retailers who may not carry a large amount of inventory.
What are the best areas for surfing on the East Coast?
Wow, that's a hard one! I don't want to piss anyone off with naming a specific break or area (haha). I will say every region on the East Coast gets good waves and is unique in its own way. New England has rocky point breaks and can hold big swell. It goes off up there, but it is cold! Those guys are as hardcore as it comes. Obviously, Long Island and Jersey have great hollow beach breaks. Hatteras is really good, but everyone knows that. I haven't surfed a lot in Florida, but I know there are some very good places down there.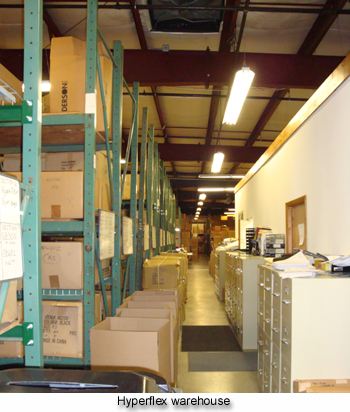 I mean look at the ridiculous talent that has come out of Florida.

Taking that into consideration, do your accounts/retailers tend to gravitate around these locations, or are dispersed somewhat evenly in and around the coast?
Most core surf shops are located right in the coastal towns. A lot of East Coast towns are tourist towns which rely on heavy summer traffic to pay the bills, especially during the lean and cold winter months. Plus, most of our coastline and surf spots are within a reasonable driving distance from the larger East Coast cities like Boston, NYC, Phila, DC, Norfolk, etc. So if people don't live directly at the coast, they drive to the coast to surf and to buy gear. I have heard some guys in NYC actually take the subway to go surf!
In general, do you have a higher demand for thicker wetsuits due to colder waters in your neck of the woods, or does distribution eliminate that factor?
Well, one of the best parts about having a wetsuit company located in New Jersey is the enormous fluctuation in water temperature. If you live in the Northeast or Mid-Atlantic and surf all year, you will need every type of wetsuit possible. I own a 6/5/4, 5/4/3, 4/3, 3/2, short sleeve full, shorty, and a wetsuit top. We get water as cold as 32 and as warm as the high 70s, low 80s in the summer.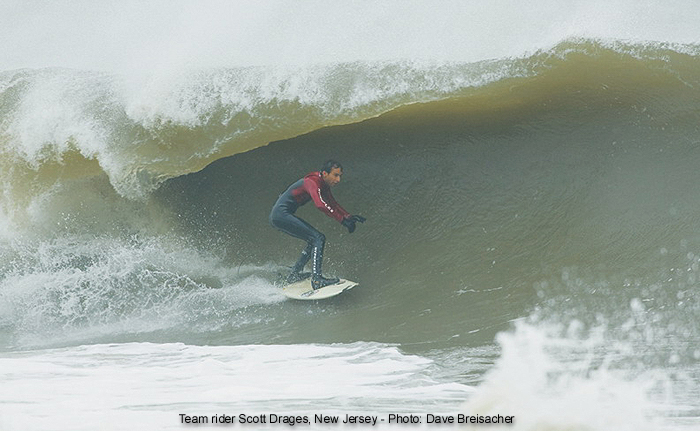 How large (i.e. size, scope, reach) is the surf market on the East Coast compared to the West Coast?
The East Coast is a huge wetsuit market. Florida and the extreme Southeast only use suits for a few months, but a majority of the East Coast requires a wetsuit for at least 10-11 months a year. Factor in gloves, booties, hoods, polyolefin layering and every possible wetsuit from 1.5mm vests to 6/5/4mm hooded suits and this makes for a great cold water wetsuit market. But the West Coast is excellent also. Suits are required for most of the year in SoCal and the central and NorCal areas are pretty darn cold. Guys in the Northwest use 4/3 and 5/4/3 fullsuits year round - the water never gets warm.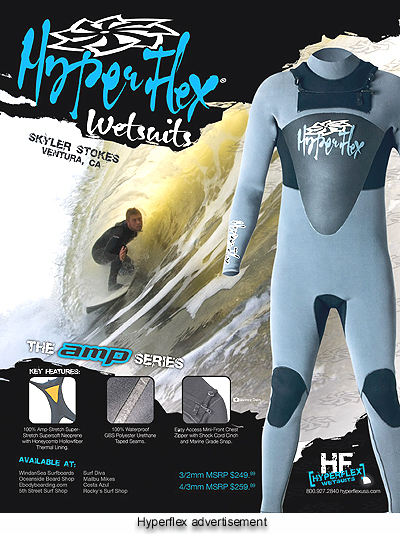 Today, Hyperflex has over 300 core surf accounts and is distributed to 10 countries across the globe. Where are the majority of your accounts located (break it down)?
Well, we have shops in every state in the U.S. including Alaska. We have pretty good distribution along both coasts, especially the real cold water markets like the Northwest and Northeast. We make a lot of reasonably priced cold water gear that performs in the water, so we do well in these areas. We are also growing internationally with distributors in South America, Latin America, Europe, Scandinavia and Japan.

Do you find that East Coast consumers are more open to different wetsuit brands/labels, as compared to West Coast consumers who are heavily influenced by the latest trends?
Surprisingly, during our first few years, we sold more suits per region in Southern California then in any region on the East Coast. I think this was due to the year round coastal population in SoCal and the sheer number of competing surf shops looking for brands.
East Coast surfers, especially in the colder water areas, can be very skeptical of new gear. They know cold water wetsuits need to work period. For example, they know they will be using their 5/4/3 hooded suit in 35 degree water and it may even be snowing. They don't really care about the name on the suit as much as they care if they will be warm enough for a 2 hour session in January (read: Hypothermia). They are open to new ideas, brands and products, but first and foremost, they need to work and be proven in the water. As our reputation grew for producing quality cold water suits (Thanks to our AMP 5/4/3 hooded suit), more and more East Coast surfers were willing to try Hyperflex. Once we got consumers to try Hyperflex, our momentum began to snowball.
Hyperflex also has a wetsuit and accessories division for kiteboarding. When it comes to wetsuits, what are the differences between the two in terms of functionality, features, materials, structure, et cetera?
Usually, it comes down to exterior materials. Kite specific suits are primarily focused on blocking wind chill. We typically use skin rubber exteriors on most areas of the kite specific wetsuits. Water doesn't absorb into skin rubber, therefore you don't get the evaporative cooling effect like you do with Nylon exteriors. Also, most kite wetsuits incorporate ankle straps (to stop water from blowing up your legs) and drain holes (to combat balloon legs where the water collects above the strap).
Surf suits are usually more focused on flexibility. If a surfer is not hindered by a stiff wetsuit, they can surf harder for longer and this generates heat, as surfing tends to be more aerobic than kiteboarding. Once you get tired, you tend to rest more and then you become cold. So for surfing, you can usually stay warmer in a stretchy Nylon suit and wind chill is less of a factor.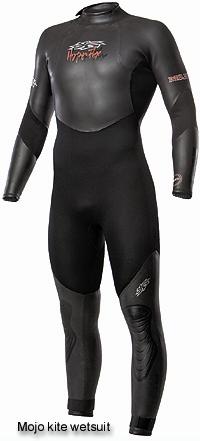 Are these two lines somewhat universal, meaning they both can be sold in a "core" surf or kiteboarding shop?
Yes, they are somewhat universal. A lot of guys who kiteboard come from a surfing background, and they both still surf and kite. They don't want a "kite specific" wetsuit that won't perform like a good stretchy surf suit in the waves, so they tend to use a surf style suit for both sports. Same applies to accessories like hoods, boots and gloves. It is the guys that only plan on kiteboarding that tend to buy the kite specific products because they want the suit or boots to be as specialized as possible. But again, most products have crossover appeal. I would say we sell 95 percent of our line to both core surf shops and core kiteboarding stores.
Hyperflex offers a generous price point without sacrificing quality, with a few high-end models as well. Seeing that Henderson is the wetsuit guru in the diving world, are there any plans for surf-market domination (i.e. higher quality and price points, new technologies, heated wetsuits, etc)?
Sure, doesn't everyone want to make the best product on the market! But dominating the surf market is not what we are specifically focused on. We are focused on building the Hyperflex brand until it becomes synonymous with quality and value. Another goal is to be a brand name label like the big boys. We will continue to develop new technologies and strive to make the best suit on the market. People like what we are doing, so we will keep making great cold water products.
Do you have any up-and-coming innovations you'd like to share with us?
We always have a pipeline of new wetsuit concepts in the works. Basically, we are continuing to make products that perform extremely well for less coin. We are also currently looking into producing a more inexpensive "green" wetsuit, than what is currently on the market. This way consumers can afford to be eco-conscious if they chose. We are also working on the development of several new kite specific products like boots and
gloves.

Though the economy may be sluggish, your sales remain up! What do you contribute this to? How is Hyperflex tackling the tough times?
It is really quite simple; we offer an amazing product at a very reasonable price. Even our premium AMP Series is priced well below the market average for high end wetsuits. I think consumers are starting to realize that if they compare "apples to apples," Hyperflex is one of the best values in the industry. In this economy, everyone is watching the bottom line. Smart consumers know they are getting a great deal when they buy a Hyperflex product. Furthermore, I think first-time Hyperflex consumers are super stoked when they get in the water and realize our suits perform as well as any wetsuits on the market, but they saved a few bucks. We have built a loyal base of Hyperflex fans this way.
When you're looking to bring new talent, what advice can you give candidates to help them along the way?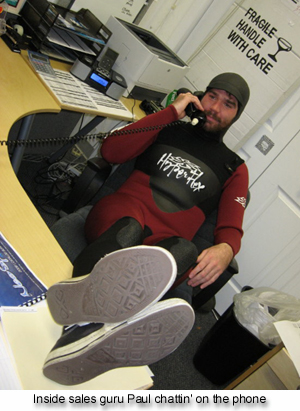 The candidates we are looking for are persistent and intelligent. We are a small company and everyone here does multiple jobs. We look for people that will be able to contribute to the success of the company without a ton of supervision. It sounds cliché, but someone who can "think on their feet." If you are confident, intelligent and persistent, you will definitely get a shot with us here at Hyperflex.

For those applying to jobs on Malakye, you should know what specific job you are applying for before you send your resume. Too many times I see resumes that are too general or for the wrong position. Sometimes people just throw resumes and generic cover letters out that are much too general. Take your time, read the qualifications for the position, then write a good focused cover letter. Make yourself stand out from the rest.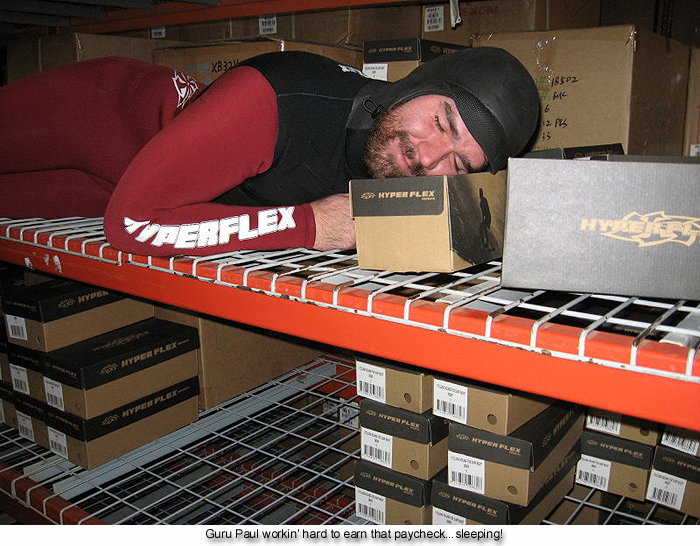 ---