Back to News
Helly Hansen Chatter Creek Partnership
January 7, 2009
Helly Hansen Chatter Creek Partnership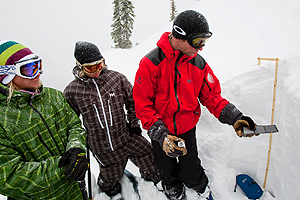 Helly Hansen and Chatter Creek, one of Western Canada's biggest and most impressive cat and heli operations, have formed a business alliance based on shared values, passion for the mountains, and providing those who work and play in them with the best possible experience.

Helly Hansen is providing the entire Chatter Creek staff with technical gear from base layer to outerwear and Chatter Creek is providing Helly Hansen with product feedback and the best place in the world to test gear, shoot photos, and film ski and snowboard action.

"Chatter Creek is known as one of the most legitimate cat and heli lodges in operation. Their staff is hard working and passionate and their seemingly endless terrain is amazing. They are a perfect match for Helly Hansen and we are proud to be provide the best gear for their entire staff," said Mike Arzt, Helly Hansen marketing manager.

As a first order of business, Helly Hansen brought the entire ski and snowboard team deep into the Candian backcountry to the beautiful lodge for a photo shoot and product testing.

The crew included world-renowned photographers Mark Gallup and Nate Abbott and filmer Henrik Rostrup to document the week. The media crew snapped shutters and popped lights while team riders tested the HH product in some of North America's best terrain.

It is Helly Hansen's policy to work closely with uniform partners to develop the most functional and highest quality product possible. Chatter Creek is the perfect opportunity to get product feedback from mountain professionals using and abusing the product in the elements every day.

The Chatter Creek guides and staff had recently received their new product and were able to give feedback to make any improvements before it goes to production.

After a week of riding amazing terrain and enjoying first class accommodation, the Helly Hansen team headed back home with hard drives and film reels full of epic imagery and some final product tweaks to further improve the highest quality technical gear on the market.
---