Back to News
Simon Says, "We're Doing It At Night"
January 7, 2009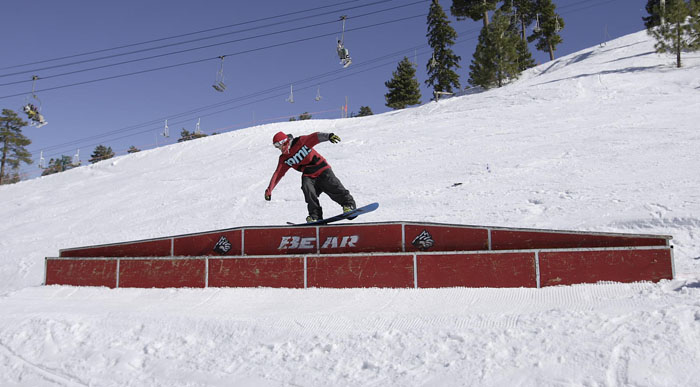 Simon Says, "We're Doing It At Night"
Pro snowboarder Simon Chamberlain brings his unique competition this Saturday night!
Big Bear Lake, CA - Bear Mountain Resort is proud to present pro snowboarder Simon Chamberlain's signature event "Simon Says" this Saturday January 10, 2009 in "The Scene." This unique competition will kick off 5 p.m. under the lights at Bear Mountain. Registration for the event will take place between 3 and 4 p.m. in the Boardroom. Only 80 entries will be taken so if you want to compete get there early and be prepared to kick down the 15 dollar registration fee.
The course will be set Friday night by Bear Mountain's pro terrain park staff. "Simon will be hand picking the features for this competition Friday night so it's anyones guess what will be included," says Bear Mountain's park development and marketing coordinator, Clayton Shoemaker. "I can guarantee that it will be sick and likely include his signature jib that we constructed last year."
Simon Says is similar to the childhood game played on playgrounds around the country for decades. Simon will stand at the top of the course and call out tricks, then competitors will have the opportunity to match his requested trick. If the riders fail to pull the trick they will be eliminated from the competition. Prizes for winners will consist of cash and swag from thirtytwo, Nomis and Step Child.
DJ Slip Matt will be spinning tunes in the base area and the Beach Bar will be serving booze for those 21 and over. Food and beverages will also be available for purchase at the Rail View BBQ. So, come out and make a night of it.
Over the summer the resort installed two new lights that give off 6000 watts of power each making for an excellent night event venue. Snowboarders can look forward to many more nighttime events coming to Bear Mountain this year.
---