Back to News
Freestyle Breaks Out Bright, Bold, and Technical Styles
January 15, 2009
Freestyle Breaks Out Bright, Bold, and Technical Styles
Freestyle, the original action sports watch manufacturer, will introduce new styles and updated watch colors at the upcoming winter 2009 trade shows. Freestyle will debut the collection at Surf Expo, booth #847S and Action Sports Retailer, booth # 1643.
A total of six new styles will be on display alongside two best sellers that have been updated with new color options. New styles include the Bliss, Shark X 2.0, Huckfin, Gromatide, Boiler, and Megalodon. Updated colors will be seen in the Shark Classic and Tide 3.0 collections.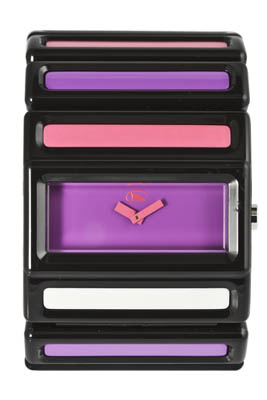 The Bliss is a new women's analog fashion watch. The expandable polycarbonate-linked bracelet is available in four colors and is water resistant up to 100 meters; stylish enough to wear on a night out or poolside. The Bliss retails for $70.00.
The Shark X 2.0 is a new twist on the iconic Shark X watch. The Shark X 2.0 offers the same great technical features as the Shark X, such as a one way turning top ring, analog and digital time and date display, a stopwatch, two alarms, a dual pre-set timer and water resistancy up to 100 meters. The polyurethane straps have been changed and so has the digital display which now has a bigger presence. The watch retails for $85.00 or $95.00 depending on color preference.
Created for groms, Freestyle has introduced the Huckfin and Gromatide. The Huckfin is a digital watch configured with unique top pushers, so that no buttons are accidentally pushed. The watch displays time and date, has a pre-set timer, stopwatch, two alarms, dual time, NightVision™ backlight display and is water resistant up to 100 meters. The Huckfin retails for $60.00. The Gromatide is a grom-sized version of the men's Tide 3.0. It's stocked with surf information including tide data for 75 beaches worldwide with 180 minute offset application which allows users to store up to nine secret or local breaks. The Gromatide clearly delivers the direction, time and height of the next tide and retails for $85.00.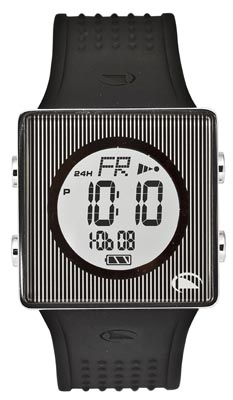 The Boiler is Freestyle's first solar-powered watch. The digital watch has a solar cell charged battery with a power indicator and power saving function. It receives 12 months of power on a single charge. The Boiler is complete with a chronograph, alarm, timer, dual time and NightVision™ backlight display. It retails for $115.00.
The Megalodon is a unisex analog watch with three hand movements. The oversized face with bold graphics and colors make this watch a fashion statement piece. The watch is fastened with durable polyurethane straps and is water resistant up to 100 meters, it retails for $75.00 or $85.00 depending on color.
The ever popular Shark Classic collection has received an addition of five new color options. The newly added colors are solid green, solid red and solid blue, white/black/pink and black/orange styles with an anodized aluminum top plate with checkered and striped graphics. The unisex watch features time, day and date display, two alarms, stopwatch with split screen function, countdown heat timer and NightVision™ backlight display. The Shark Classic watches retail between $50.00 and $60.00 depending on color and strap options.
The Tide 3.0 collection has been updated with two new colorways which are blue and green with accent colors of yellow and orange. Features on the Tide 3.0 include a preset heat timer at five minute intervals between 15 and 35 minutes, two alarms, digital display with time, day and date, dual time zones, NightVision™ backlight display, chronograph and a durable duel injected polyurethane strap. The Tide 3.0 watches retail between $90.00 and $110.00.
All Freestyle watches are water resistant up to at least 100 meters, and are backed with the company's limited lifetime warranty, dubbed "Till Death."
---