Back to News
Office Booyz 2009_Bear Mountain
March 12, 2009


Industry Desk Jockeys Unite at Bear Mountain for Office Booyz 2009
What do you get when you cross more than 100 industry employees, snowboarding, a donut buffet, bottomless cups of joe, office sized obstacles and a few kegs of frosty mountain brew? Answer: the one and only Office Booyz contest.
ASI employees across the U.S. united last Friday, March 6, 2009, for the annual Office Booyz snowboard contest where full-time desk jockeys in the industry competed head-to-head for glory. The funny thing is, the contestants had no idea what they were competing for! You see, the Office Booyz contest is full of secret prize categories ranging from Most Confused and Most Scruff, to Quasi Big-Air and High Ollie Champ. The best part about Office Booyz is the judges have the right to modify, add, create, delete, or swap prize categories and prizes any time they see fit. In a nut shell, the whole point of the event is to bring the industry together at one event, have fun, dork around, get a few runs in, drink a couple coldies and have a blast with your peers.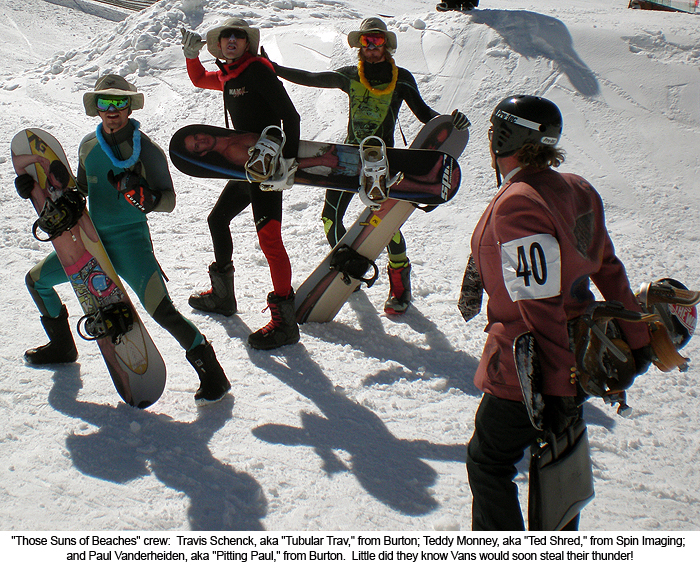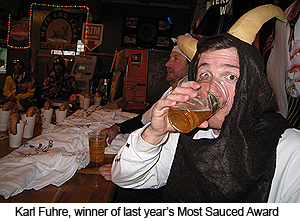 Unfortunately, Karl Fuhre from IS Eyewear, aka "The President" and creator of Office Booyz, couldn't make it to the event, but here's a quick message from The President to break down the history of OB and to explain his absence:
"As you may or may not know, Office Booyz started a number of years ago as an excuse for a small group of Canadians residing in Vancouver to get out from behind their desks and enjoy the reason why they ended up in this industry in the first place. We imagined a place where the best parts of our jobs and our love for snowboarding could coexist, so we brought the coffee and donuts to the hill and Office Booyz "the contest" was born.
Judging by the turn out at Bear last Friday, Canadians aren't the only ones who enjoy a little coffee & donuts with their boarding. A big thank you goes out to my man Chad, the crew at Malakye, all our sponsors and everyone who came out to support the event and make the Office Booyz dream a reality.
Keep posted for details on the Canadian Office Booyz contest up at Grouse Mountain April 9, 2009!"
(Note: Karl chose the color of coffee for text to embrace the OB spirit)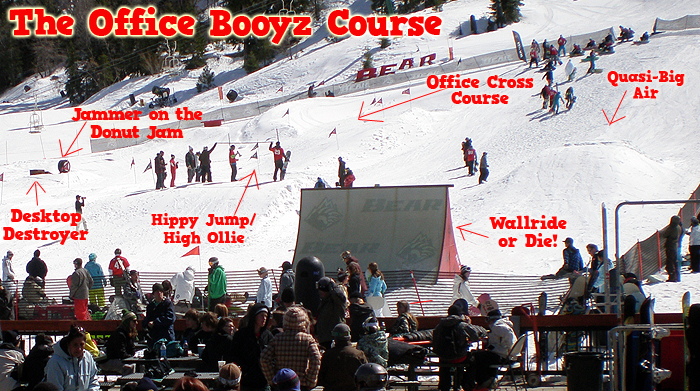 Office Booyz kicked off at high noon with stragglers filtering in as the day progressed. First to bat was the Quasi Big-Air, a jump small enough for anyone to hit, yet still quasi big enough to throw you out into a full blown haymaker. Jared Bevens (#40) from Vans was knighted as the Quasi Big Air Best Overall Champ. Jared and the Vans booyz were getting wicked with mid-air briefcase tosses over the kicker (suitable for a true OB veteran), mid-air 360 briefcase wrap-arounds, through the legs mid-air can-cans, and everything else to boot!
Rob Campbell (#6), publisher at Transworld Business, was hungry for action so he busted out the sickest roast beef to satisfy his grab buds. For doing so, Rob was deemed the Quasi Big Air/Best Old School Air Champ for the meanest roast beef grab of the day. Who says life's over after 30!
Up next on the list of distinguished Quasi Big Air Champs is Ty Smith (#4) from Propaganda HQ. Ty took home gold in the Most Boned Out Air division. Ty, aka "The Rubber Band Man," was boning out airs left and right in every which way imaginable. Ty took home gold on the Jammer on the Donut Jam obstacle at last year's OB event, so he decided to focus his talents elsewhere.
Last up in the Quasi Big Air division was the Cross Bone Champ. Lance Hakker (#18 from Ashbury) was the winner of the division, and was only one of two contestants who pulled out cross bones during the contest. Apparently cross bones weren't popular on the Office Booyz menu because the judges had to scream at the contestants to bust one out – someone had to get the prize right!
Once the OB booyz and gurlz gassed out on the QBA, they headed over to the Hippy Jump/Highest Ollie Challenge for the next round. Man on man, what started as a nice little game of clear-the-4-foot-pole, soon progressed into an all out high-ollie hippie war to see who could get the highest – pun intended. OBers were getting wicked on this thing, clearing the high-ollie bar like Danny Wainwright ollies, well, anything – google 'em. Show off tricks included: backside 180s at about 5 feet (Ty Smith, Propaganda), back flips, tail smacks on the high-ollie support rod, skiing front flip attempts (by mad Billy Corvalan from Transworld), and many others.
Brief interlude: The Office Booyz crew and accompanying sponsors would like to send out a "Get Well Soon" to Mike Hakker from Ashbury. Mike was tryin' to clear the high-ollie bar at its highest point, 8 feet, but that didn't work out so well. Mike snapped an ollie, flew into a flat spin straight out of Top Gun, and landed on his shoulder and ribs. For a moment he was talking in zombie dialects trying to catch his breath, then passed out for a minute or so, and then finally got up and walked away. "I was seriously dreaming right now..." Mike said. Mike went to the hospital shortly after mentioning his ribs weren't feeling to hot. Get well soon bud!
Jared Johnson (#88), also from Ashbury, followed in Mike's footsteps. Soon after Mike slammed, Jared went to backflip the pole, under rotated, and flew 15 feet straight to his face. Besides ice burn to the dome and a few grunts and groans, Jared got up like a true OB warrior, quickly dusted a brew from the keg on scene, and chilled out until the award ceremony that later ensued.
In the end, Jared Reyes (#29), an unemployed inside sales rep looking for work, cleared the high-ollie bar at nearly 8.5 feet, winning the event. The Hippy Jump/High Ollie Challenge proved to be quite the spectacle for contestants and Bear goers alike, but the hardcore tempo of the contest temporarily slowed down as the next round of obstacles proved to be more anyone-can-ride friendly.



Up next were the Jammer on the Donut Jam, Desktop Destroyer and File Cabinet Crasher obstacles; these were way more forgiving. This proved to be a good thing, noting the Office Booyz & Gurlz at the event had already polished 2 kegs of beer, plus whatever else they were pocketing!
This year's Jammer on the Donut Jam Champ is the one and only Tanya Otero (#19) from Omatic Snowboards. Tanya got crazy on the tire-wheel roller, and quite frankly busted out all the stops.
Doug Platten (#20), aka "Dougie the Intern," from New Era won the Desk Top Destroyer division. Dougie bashed the desk in with his face – heavy lies the crown! It's still up in the air whether or not this was intentional, but regardless it was a job well done.
Seeing that the File Cabinet Crasher obstacle was pretty small (a vitamin-pill kicker to a knee high cabinet), the judges decided to give this award to Will Talbott (#80) from Step Child. Will was the best all around on the three previously mentioned obstacles and was the only one to give the file cabinet a real trashing. Though everything seemed to mellow out toward the end of the contest, the show was far from over and a climactic ending was soon to come!
Shortly after the destroyers, crashers and jammers handled business in their respective divisions, roughly 30 Office Booyz & Gurlz lined up at the bottom of the hill for the Office Cross race. At the sound of the siren, the contestants made a mad, frantic dash 50 yards to the top of the hill. Winded and distraught at the top, they had the choice of either strapping on their snowboards, butt-bombing the hill, or throwin' down a snow skate and hoping for the best. This is where it got out of hand! Imagine 30 or so OBers flying down the hill with little to no control, powering through two crescent-moon-shaped turns, gaining momentum up and over five baby hump bumps, and then soaring down the last steep hill of the race through the finish line. EPIC!
Chris Eigabalawi from Elm came in first place, Rob Campbell from Transworld Business in second, and Malakye's own Josh Lewis came in third. Once everyone caught their breath, the judges went to deliberate, and the contestants and spectators meandered toward the lodge in anticipation of the award ceremony to come.
"I think we all felt it would be a fun-time event for all, but little did we know it would gain global recognition as The Best Event Ever!" said New Era's Justin Cobb (and OB head judge). "Long live Office Booyz!"
All in all, the event had a great turnout, the weather was awesome (because the bad weather stayed in Canada with The Godfather Karl Fuhre), and everyone attending Office Booyz had an amazing time. When the actual event came to a close, the rowdy Office Booyz & Gurlz continued the party at the award ceremony, and yet another keg was dished out to satisfy the masses. The ceremony turned into an event of its own, and the whole crowd got involved with witty comments, bantor and heckling. Maybe it was just the booze talkin', or perhaps they were just psyched to realize this is their job! In all reality, it was a little bit of both.



Division Winners & Prizes: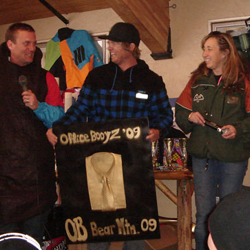 • Office Booyz Spirit Award: Rio, Mindy, Clayton, Dan and others at Bear Mountain for making Office Booyz a reality. Prize: a one-of-a-kind Office Booyz '09 plaque to hang at the office!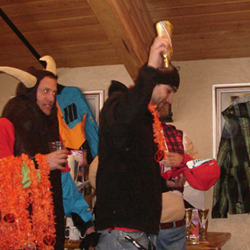 • Hippy Jump/High Ollie Challenge: Jared Reyes (#29), an unemployed inside sales rep looking for work! Prize: Pop Corn Machine and OB '09 Trophy. Jared's got POP...corn!!!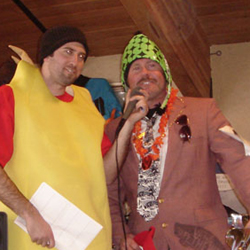 • Quasi Big Air – Best Overall: Jared Bevens (#40) from Vans. Prize: brand new Omatic Snowboard, a bottle of Jägermeister, gear from Dunkelvolk & the Best Overall OB '09 trophy.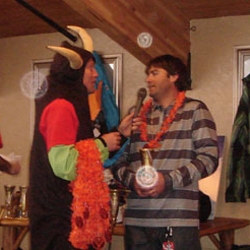 • Quasi Big Air – Best Old School Air: Rob Campbell (#6) from Transworld Business wins with a fiery roast beef grab. Prize: OB '09 Trophy & miscellaneous gear.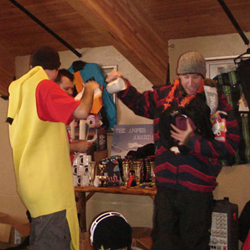 • Quasi Big Air – Most Boned Out Air: Ty Smith from Propaganda HQ. Prize: a custom snowboard top sheet from Spin Imaging & loads of random product from donating companies.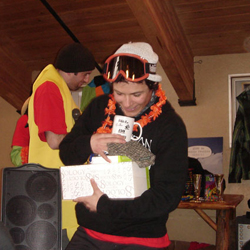 • Quasi Big Air – Meanest Cross Bone: Lance Hakker (#18) from Ashbury. Prize: new gloves, beanies and tees from Drop MFG & random product.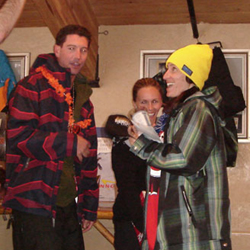 • Jammer on the Donut Jam: Tanya Otero from Omatic Snowboards. Prize: a "What Would Homer Do?" prize pack from Propaganda HQ consisting of a 30 pack of beer, a sacred Homer Simpson mug, a $20 gift certificate to Krispy Creme & a Propaganda hat.

• Desktop Destroyer: "Dougie the Intern" from New Era won. However, he wasn't at the award ceremony so runner up Chris Eigabalawi from Elm accepted the OB '09 Trophy. Chris picked up the computer and smashed it on the desk, then continued to wreck the computer with his snowboard as well.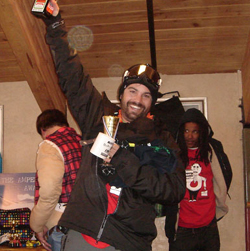 • File Cabinet Crasher: Will Talbott (#80) from Step Child. Prize: OB '09 Trophy, a bottle of Jägermeister & Random gear.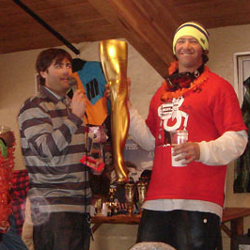 • Office Cross Champion: Chris Eigabalawi (#99) from Elm. Prize Golden Leg/Lemming Award from Transworld Snowboarding & a $100 gift certificate to TGI Friday for burgers and beers.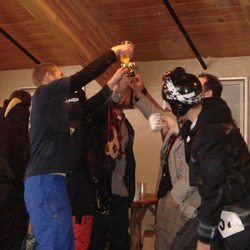 • Most Team Spirit: The Vans Crew: Jared Bevens (#40), Jesse Garrison (#43), Kurtis Schureman (#97), Ed Darden (#95) & Tristan Modena (#90). They rolled out in stylish suits, busted out the briefcase and incorporated it into their choreography! Prize: baby-sized OB '09 Trophy and tons of random gear.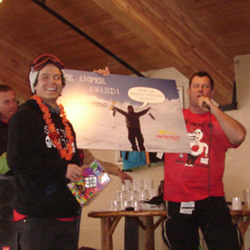 • The Amper Award: Lance Hakker (#18) accepted the award for his brother, Mike Hakker (#21), who got broke off earlier in the day and went to the hospital. Prize: $100 in Double Doubles from In N' Out thanks to Erik Phillips, aka "Amper," from Meridian Graphics!
Secret Prize Categories & Winners: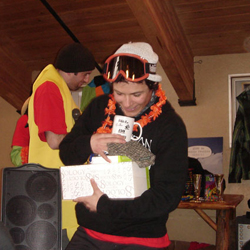 • Scorpion King: Once again, Lance Hakker from Ashbury consistently eat the most crap all day, hence the award. Prize: full outerwear setup from 686, a bottle of Jägermeister & OB '09 Trophy.

• Scorpion Queen: Caroline Graeff from Imagine Marketing Agency went for the gusto. The word on the street is she used to be a professional snowboarder. Prize: ? She had to leave early...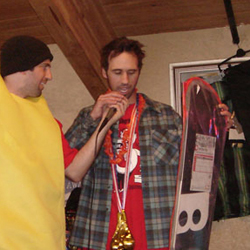 • Brass Balls: Cody Dresser from Monster Energy Drink was awarded for having the biggest balls throughout the competition. Fear is not a factor for this guy - seriously! He hit the wallride about five plus times, bounced off the top and fell off to the other side – among many other slams. Prize: Burton Snowboard, Brass Balls USA necklace, OB '09 Trophy & a bottle of Jägermeister.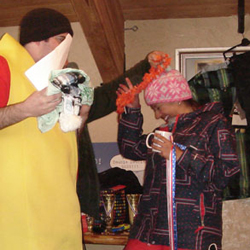 • Blue Balls: Claudia Briones from No Fear wasn't going to ride in the contest, finally decided to ride in the contest, and then speed checked the Quasi Big Air and rode off the side. That will get you a set of Blue Balls! Prize: Brass Balls USA necklace & other gear from donating companies.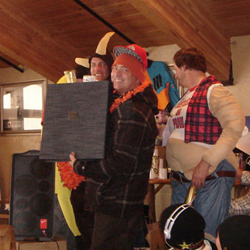 • Smooth Operator: Johnny Howerstinc from Podium Distribution claims victory with his effortless style and one-footed-no-air tail grab sliders over the Quasi Big Air – now that's smoooooth! Prize: limited edition Levi's X 686 Outerwear Collectable from none other than Kristin, Mike and the rest of the 686 crew.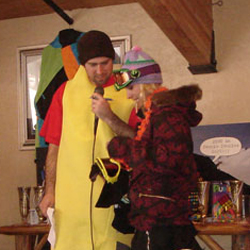 • Rides Like a Dude: Dalma Psaotka (#66) from No Fear charged hard and put a lot of dudes to shame on the course at Office Booyz. Prize: new Spy Goggles & random product.

• Best Yard Sale: Billy Corvalan from Transworld almost front flipped the high-ollie bar, slammed doing so, and all his gear flew off, hence "Yard Sale." Prize: product package from Elm.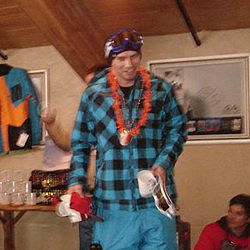 • Most Energetic: Gary Wyman (#46) from 686 was everywhere! Prize: Spy Goggles & other awesome prizes.

• Most Sauced: Laura Murphy (#39), a recent industry employee who's now a personal training, takes the crown. She charged at the Donut Jam with a full cup o' beer, got caught up on the wheel, tossed her beer in the air, then slammed on the hardpack and was showered with her own beer! Prize: Burton Beer cooler, a bottle of Jägermeister and other goods on hand.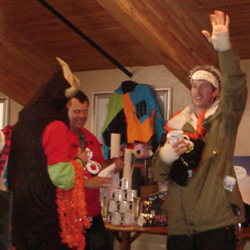 • Most Gray Hair: Teddy Monney (#48) from Spin Imaging takes the award "2" years in a row! Prize: Teddy was honored with a fancy limited edition Office Booyz gray-hair visor.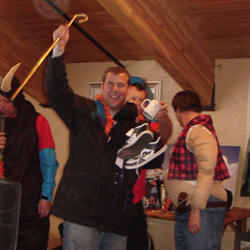 • Oldest Office Booy: Glen from Glendora (???) was the oldest Office Booy on scene. If anyone knows who Glen from Glendora is, e-mail us – info below. Prize: the Golden Office Booyz Cane.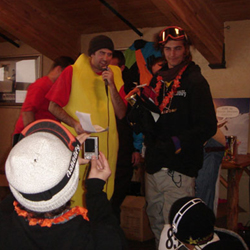 • Most Excuses: Brandon Phillips (#85) from Ashbury claims victory. Whenever he didn't throw his trick right or messed up, he yelled "Oh F*#k!" or "S*#t!" There's no one to blame but yourself bud! Prize: OB '09 Trophy, Spy Goggles, a bottle of Jägermeister and more.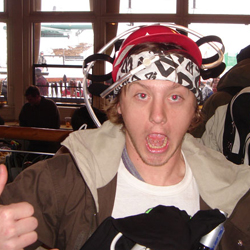 • Smartest Office Booy: goes to Malakye's Billy Bittner for being on point and on top of everything. Prize: a Magic 8-Ball to help him make those big decisions, a pair of Etnies, a Protec Beer Helmet, a Jägermeister shirt & more.

• Most Confused: Mike Hakker (the guy who knocked himself out) from Ashbury claimed victory without even knowing it. His brother Lance accepted his award. Prize: a Rubik's Cube to confuse him even more!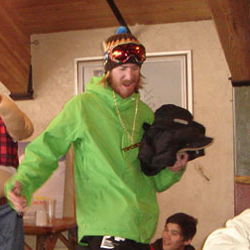 • Most Scruff: Paul Vanderheiden (#30), aka "Pitting Paul," from Burton. Paul's crew, "Those Suns of Beaches," were killing it in wetsuits all day, and had custom top sheets of themselves on their snowboards. Prize: a bottle of Jägermeister, outerwear vest & more.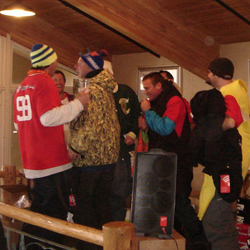 • Heaviest Office Booy: "IT'S A WEIGH OFF!" screamed the announcer. Chris Eigabalawi from Elm, Eric Stricker (#45) from Transworld and Justin Cobb from New Ear (and OB Judge) went toe-to-toe on the scale. In the end, Eric Stricker from Transworld stomped out the competition. Prize: a brand new XL outerwear setup from Oxbow.
Special thanks goes to:
Bear Mountain & Malakye.com for making Office Booyz happen, TransWorld Business, Alstyle Apparel for the OB tees, InkFX Screen Printing for printing the OB shirts, Jo Show Promotions for making the Office Booyz coffee mugs, 686, Propaganda, Jägermeister, Meridian Graphics, DROP MFG, IS Eyewear, Party Snake, Spy Optics, Burton, Elm, Ashbury, Step Child, Vans, Etnies and others.
If you don't see your name in here, e-mail us at news@malakye.com, subject line "Office Booyz: Where's My Props?"


Office Booyz CANADA Greets Grouse Mountain April 9, 2009
Hey you, yeah you, sitting at your desk all day calling accounts, entering orders into spreadsheets and debating where to go to lunch. Listen up! The annual Office Booyz contest "CANADA" is only 3 weeks away. So brush up on your Dilbert cartoons, do some calisthenics, get a team together and get your lazy office laden ass out onto the slopes of Grouse Mt. on April 9th.
Why? Because you've worked hard all season and it's time to enjoy some boarding with your buds. Anyone interested in entering the Office Booyz contest or taking on a prize category should email perry@knowshow.ca.
Pass this on to anyone who's into having a good time!!!

---