Back to News
Sitka and Second Wave Team Up in Vancouver, Canada
March 18, 2009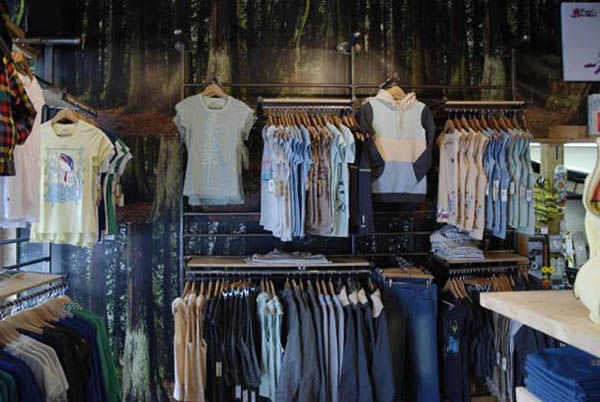 Sitka and Second Wave Team Up in Vancouver, Canada
Two Local Companies Team Up to Create New Business in a Bleak Economic Climate
Vancouver - Local surf, skate and snow shop, Second Wave in North Vancouver, is making some big changes to drive business in a time when economic talk is bleak. Grassroots owner/operator, Neil Callaghan, decided to team up with a local clothing, surfboard and skateboard company, Sitka, to re-open one half of Second Wave's retail store.
On Saturday, March 16, Sitka by Second Wave opened their doors where Second Wave's La Nina 1 200 square foot store used to be at 139 Lonsdale Ave. The store was custom built with Rainforest Alliance Certified Smartwood, which is an eco-friendly wood choice logged from the bottom of flooded hydro damn reservoirs. They got the wood from Triton Logging - Another local Vancouver Company. Both companies are focused on making environmentally friendly choices, and the Smartwood store fixtures will compliment the clothing made from bamboo fabric nicely. The wood fixtures are surrounded by custom forest wallpaper, and walking in the doors feels like walking into a cozy but clean cabin in the woods.
Callaghan met the owners and operators of Sitka - Rene Gauthier and Andrew Paine - a long time ago and really liked what they were doing with their company. He sees them out surfing regularly and can see that they're in the industry for the right reasons.
They saw an opportunity for growing business with the arrival of the Olympics. The partnership of two Canadian brands at such a peak time for Canadian industry seemed like the natural thing to do for the young enthusiastic owners of both companies. The Olympics will be a booming time for Canadian businesses, so both Callaghan and the Sitka boys wanted to show support for their West Coast business peers.
Second Wave opened their doors for the first time twelve years ago. Callaghan and a partner took ownership of the store five years ago on May 17, and Callaghan bought his partner out about a year ago. Sitka started making boards and clothing in 2002 and now have a full men's and women's clothing, surfboard and skateboard line. For more information on Second Wave, head to www.second-wave.ca, for information on Sitka go to www.sitkasurfboards.com and for information on Triton Logging head to http://www.tritonlogging.com.

---