Back to News
Freesytle Co-Sponsors Vans Pier Classic Presented by Jack's Surfboards
March 24, 2009
Freesytle Co-Sponsors Vans Pier Classic Presented by Jack's Surfboards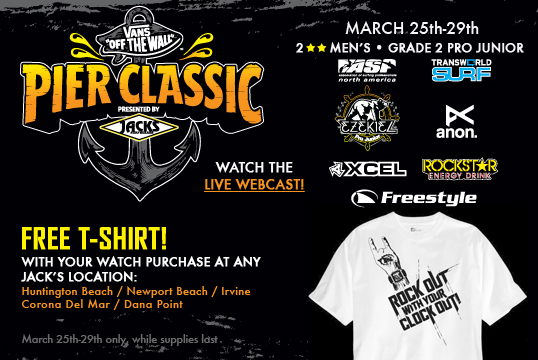 Freestyle, the original action sports watch manufacturer, announces today its co-sponsorship of the 4th Annual Vans Pier Classic presented by Jack's Surfboards, taking place March 25th-29th at the Huntington Beach Pier in Huntington Beach, Calif. In addition to its interactive booth onsite during the event, Freestyle has created an in-store promotion at all Jack's Surfboard locations during the duration of the event.
"As two iconic brands, it was a no-brainer for Freestyle to team up with Vans and Jacks Surfboards," said Freestyle Marketing Director Chad LaBass. "With a long list of talented surfers and one of the most famous surf breaks in the world, the Pier Classic will undoubtedly be a success!"
The Vans Pier Classic serves as the second stop of the ASP North American Tour and kicks off the ASP North American Pro Junior Series, featuring both Association of Surfing Professionals (ASP) World Qualifying Series (WQS) and ASP Pro Junior events. The five days of competition, starting this Wednesday, includes the Vans Pro (Men's WQS 2-star) and the Ezekiel Pro Junior (Men's Grade 2 Pro Junior).
During the week long event, Freestyle is offering an in-store promotion at Jack's, where with the purchase of a Freestyle watch shoppers will receive a free "Rock Out With Your Clock Out" t-shirt (while supplies last).
Among the 230 surfers confirmed to compete, Freestyle team riders Victor Done, Michael Dunphy, Gabe Garcia, Ted Navarro, Adam Virs and Nat Young will make their attempts to dethrone reigning Vans Pro champion and Huntington Beach local, Shaun Ward and hold off Ventura's Cory Arrambide, the current ASP North America Pro Junior Champion in the Ezekiel Junior Pro.
If you can't make it to the beach, be sure to check out live webcasts of the entire event at www.vans.com. To learn more about Freestyle please visit: www.FreestyleUSA.com.
---