Back to News
You'll be Saying Spring-A-Ma-Jig Every Spring at Mountain High!
March 25, 2009
You'll be Saying Spring-A-Ma-Jig Every Spring at Mountain High!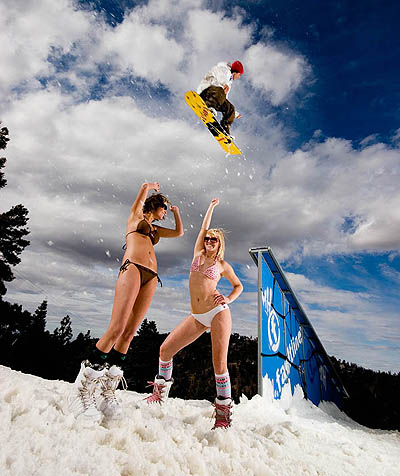 It's spring time at Mountain High and that means Spring-A-Ma-Jig is here! Spring-A-Ma-Jig is Mountain High's annual spring break celebration with a full lineup of contests, activities, and live performances. Every Saturday and Sunday from March 28, 2009 through Easter guests and Spring-A-Ma-Jiggers are invited to participate in events like Pond Skimming, Frozen T-shirt Contest, and Get Ready to Rock…Band. There will also be special events like the Miss Mountain High Bikini Contest presented by X103.9, Snowboard Magazine BBQ, and Easter Egg Hunt.
Daily events begin at 11am with the Big Ollie contest where skiers and snowboarders see who can ollie the highest. At noon the Tug-O-War begins and at 1pm contestants must break a t-shirt out of a block of ice and put it on before their competitors do in the Frozen T-shirt Contest. At 2pm Get Ready to Rock…Band puts wanna-be rockers in the limelight as they play the video game Rock Band on the main stage in front of adoring fans.
To finish the day guests skim across a 50 foot pond of freezing cold water in the ever-popular Pond Skimming at 3pm. All activities are free and open to anyone with a Mountain High lift ticket. Prizes go to standout performers in each Spring-A-Ma-Jig event.
2009 Spring-A-Ma-Jig Dates
March 28, 29
April 4, 5
April 11
April 12 (Easter Activities)
Schedule of Events :
(All activities take place each day of Spring-A-Ma-Jig)
11am Big Ollie
12pm Tug-O-War
1pm Frozen T-shirt Contest
2pm Get Ready to Rock… Band
3pm Pond Skimming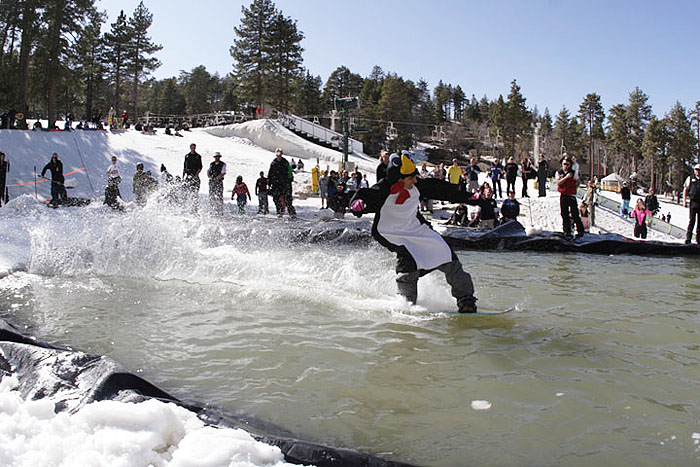 Special Events -
Snowboard Magazine BBQ – March 28, All Day!
Product demos, giveaways, and raffles. Anyone who buys lunch at the BBQ gets a FREE subscription to Snowboard Magazine and entry into the product raffle.
Miss Mountain High Bikini Contest Presented by X103.9 – April 5, 12pm
Winner of the bikini contest receives a 2009/10 Season Pass, commemorative t-shirt, Fresh Peaches bikini, and a page in the 2010 X103.9 calendar. Tune into X103.9 for entry details. X103.9 will be broadcasting live from 9am to 12pm.
Easter Celebration – March 23, 8am adults, 10am kids
Bring the kids and the kids at heart to Mountain High's annual Easter celebration. There will be two Easter Egg Hunts (one for adults and one for kids) and both have a GOLDEN EGG hidden with a free 2009/10 Season Pass inside. The adult Easter Egg Hunt begins at 8am with eggs located throughout the West resort. Children 12 and under can take part in a children's Easter Egg Hunt beginning at 10am in front of the Children's Academy.
Bounce Back Days:
Bounce Back Days are Mountain High's greatest spring deal. Buy an adult 8-hour ticket and get a Bounce Back coupon good for 50% off your next visit any other day this season.
To check out Mountain High's Spring-A-Ma-Jig video spoof, please visit mthigh.com/video or get additional Spring-A-Ma-Jig details at mthigh.com.
Photos: Mountain High Spring Events
Credit: Mountain High
---