Back to News
REEF Continues to Innovate on a Path to Sustainability
April 1, 2009
REEF Continues to Innovate on a Path to Sustainability
Reef is proud to introduce the newest addition to the Reef Redemption Product Series, the NWS sandal. The NWS is part of an ongoing effort to create more sustainable Reef product, without sacrificing any of our famous fit, quality or comfort. Our design and development team challenged themselves as well as our factories to create and manufacture this sandal while minimizing waste. Every detail from the EVA footbed to the way the sandal upper is stitched has been scrutinized for efficiency.
As the leader in sandal technology, Reef is committed to bringing more sustainable design and development into every product we make. The innovative sandal is a premiere example of that commitment. Here's what makes this sandal remarkable:
· The upper pattern pieces fit together like a puzzle maximizing material thus creating less than 1% material waste, also allowing us to make 7 more pairs of sandals per yard of fabric.
· The minimal waste left behind in the making of these upper pieces is then incorporated into the sandal as the 'toe-post overlay'.
· All of the stitching and logo thread is made from 100% recycled PET.
· The footbed is made from 51% post industrial, recycled EVA (the current standard is 31%) molded together in a manner that reduces waste by over 20%. We even made a space in the bottom of the midsole to glue the EVA scraps into once the straps are punched trough.
· The rubber outsoles are made from individual molds rather than blocker molds to minimize waste. The remaining rubber scraps are then recycled.
· Water based adhesives keeps the traditional toxic glue out of our product and creates a healthier working environment for our factory workers.
Interact with the NWS Microsite: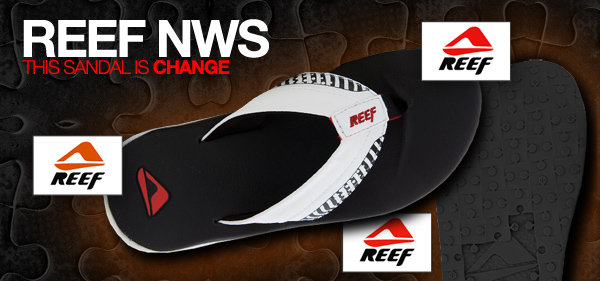 Reef's NWS sandal is available online at reef.com or at all good surf shops. Reef Redemption is a 3-tiered program that encompasses a product series, culture of giving and in-house efforts for a more sustainable tomorrow. 1% of sales from the NWS sandal along with all Reef Redemption products will benefit environmental and humanitarian organizations.
---