Back to News
Nitro Circus Monster Truck Debuted at Monster Jam World Finals
April 2, 2009
Nitro Circus Monster Truck Debuted at Monster Jam World Finals
Former Supercross Champ Travis Pastrana Debuts Nitro Circus at Monster Jam
The Travis Pastrana-driven Nitro Circus monster truck debuted at Saturday's Monster Jam NGK Spark Plugs World Finals in Las Vegas with a score of 26 out of 40, which was good for a 5th place tie in the freestyle competition of the World Finals.

Pastrana earned an impressive 5th-place finish in the freestyle competition.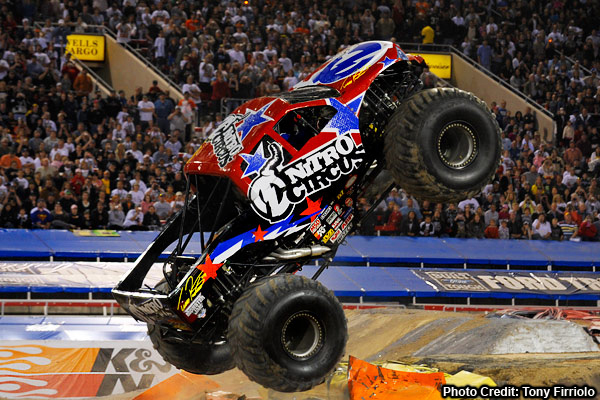 The Monster Jam debut of the Nitro Circus monster truck is a further brand extension to the ever popular Nitro Circus television show which airs Sunday nights on MTV. Former Eastern Regional AMA Supercross Lites class champion, Pastrana, and friends, have taken their action sports antics to MTV with their new hit reality TV show which originally featured the Nitro Circus monster truck in the third episode. But this past Saturday in Las Vegas was the Monster Jam stadium debut of the Nitro Circus monster truck being driven by Travis Pastrana himself.
Pastrana adds the Monster Jam World Finals to the long list of crazy things he's done in his life.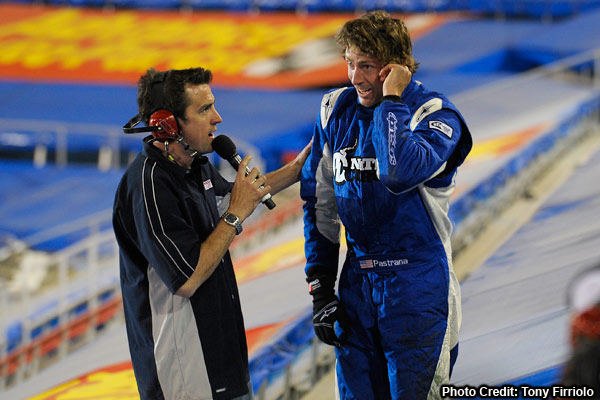 "I've done a lot of crazy things in my life, but that was incredible," said Travis Pastrana as he climbed into the Sam Boyd Stadium seats to slap high fives with the adoring 37,000 fans that saw his debut in the Nitro Circus monster truck. "When I was back in Thunder Alley waiting to drive out I was so nervous, my body was literally shaking."
Pastrana drove the Nitro Circus monster truck to a very respectable 5th place tie out of 24 total monster trucks in the Monster Jam NGK Spark Plugs World Finals freestyle competition only being bested by the Damon Bradshaw-driven U.S. Air Force Afterburner®, Bounty Hunter, Brutus, and Blue Thunder®. Bradshaw, another former Regional Supercross Lites champion, won his first ever Monster Jam World Finals Freestyle Championship by beating all 24 monster trucks with a score of 36 out of 40.
The Nitro Circus monster truck will be featured in the 2010 Monster Jam Hot Wheels die-cast toy line in addition to other consumer products at retail and the Monster Jam live events.
Highlights from the 2009 Monster Jam season and the Monster Jam NGK Spark Plugs World Finals can be viewed Sunday, April 12 at Noon EST, on the CBS Sports Spectacular Monster Jam show. The event will also air on Speed TV in May 2009, check your local listings for date and times.
The Monster Jam NGK Spark Plugs World Finals returns to Sam Boyd stadium in Las Vegas on March 26-27, 2010. Once again, the world's top monster trucks will take to the toughest track for the greatest monster truck event in the world. The coveted Double Down packages, which include sideline jackpot seats to Saturday's show, access to Friday's qualifying, a Double Down t-shirt, Monster Jam World Finals DVD, barbeque and more will be available during the pre-sale which begins April 6th, 2009. For pre-sale information and details on how to purchase the 2010 Double Down packages visit www.MonsterJamOnline.com.
For a complete recap of the Monster Jam NGK Spark Plugs World Finals results log onto www.MonsterJamOnline.com.
---