Back to News
First Annual NextStep Fundraiser in Hermosa Beach
April 23, 2009
First Annual NextStep Fundraiser in Hermosa Beach
Event features include BMX demo, VIP Reception at Bo Bridges Photography Gallery, Live Music, Raffles, Food, and More
NextStep, a non-profit rehabilitative fitness facility (http://www.nextstepfitness.org), announces its First Annual Hermosa Beach Fundraiser. This event will be held on April 30, 2009 at 7:30pm at Sangria Restaurant in Hermosa Beach. The event will kick off with an action packed live BMX Show by Team Soil, a group of elite BMX professionals. The show is free to the public and will take place behind Fat Face Fenner's Fishshack at 7:00pm.
There will be a VIP event at Bo Bridges photography gallery and an evening of live music, dancing, food, raffles and fun with friends and family at Sangria Restaurant. Special performances by Wayward Sons, Hollywood's infamous "Arena Rock" cover band and other entertaining activities will create a truly exciting evening.
The event is designed to unite the South Bay around a wonderful and needed cause, increasing awareness of disabled members of the area and raising funds that will enable NextStep to continue delivering essential fitness services to the disabled citizens of the local communities. NextStep is a state-of-the-art outpatient fitness center that brings the most cutting edge training methods, procedures, and technologies to rehabilitation for spinal injury, multiple sclerosis, stroke, and traumatic brain injury victims in the greater Los Angeles County. NextStep's clients come from all walks of life and socio-economic backgrounds; therefore NextStep offers its services at a fraction of what it costs to have the clients at the facility. This is the reason NextStep relies on charitable donations to operate.
NextStep Fitness was established by Hermosa local, Janne Kouri in June 2008 through a partnership with the Neurorecovery Network (NRN) and the Christopher and Dana Reeve Foundation. Janne Kouri, fractured his C5 & C6 vertebrae when diving into the ocean from the Manhattan Beach shoreline in August 2006 and in an instant was paralyzed from the neck down. After two months in ICU at Cedars-Sinai, Janne and his wife Susan traveled to Louisville, KY to participate in Locomotor Training, a cutting edge rehabilitation therapy for individuals with Spinal Cord Injury. Locomotor Training is an activity-based therapy that attempts to retrain the spinal cord to "remember" the pattern of walking again. NextStep continues in operation today as the only community-based fitness facility specifically designed to enhance the recovery, wellness, and function of individuals in a cost effective manner. It is the only Locomotor Training Center west of Houston.
"The South Bay should take pride in having such a facility within this region and being the unique national beacon from which similar efforts can be established throughout the nation." says Reggie Edgerton, a Co-Chair and Professor of Physiological Science and a member of the Brain Research Institute at UCLA.
Janne Kouri adds, "I am truly thankful for the support we have received from the community and look forward to working together with the local businesses, city officials, community leaders & citizens, to help the disabled in the South Bay get the care they need."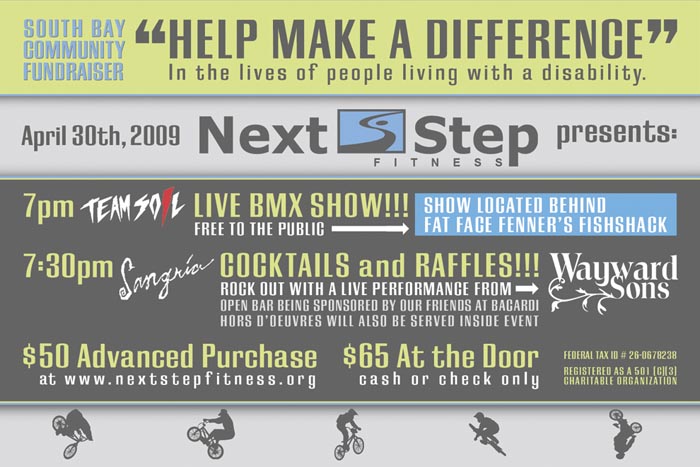 ---