Back to News
Stage 1: Ultimate Boarder Completed
April 7, 2009
Stage 1: Ultimate Boarder Completed
Surf leg to take place April 8th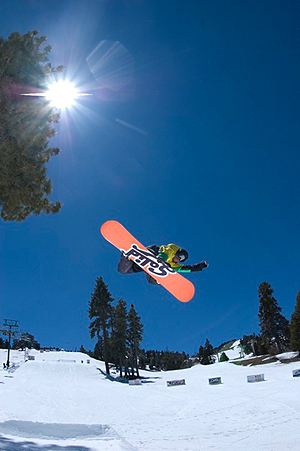 Bear Mountain hosted yesterday's snow leg of the 2nd Annual Coast Body Wash Ultimate Boarder contest. Kurt Wastell took first place in the solo event while Bjorn Leines puts Team Hosoi on top leading into the surf and skate legs.
The surf competition will take place Wednesday, April 8th at "C" Street, (Ventura) starting at 8:00 AM followed by the final skate leg on April 10th and 11th. 3X World Champion Tom Curren will be wearing the blue leader jersey heading into the Surfing along with solo winner Kurt Wastell.
Top 10 solo rankings (unofficial):
1. Kurt Wastell
2. Shane Pospisil
3. Chad Shelter
4. Todd Richards
5. Dave Downing
6. Kristian Philipp
7. Mugs McGuinnes
8. Aaron Astorga
9. Jon Shurke
10. Omar Hassan
Top 10 team rankings (unofficial):
1. Bjorn Leines (Hosoi)
2. Gregory Bokencamp (Val Surf)
3. Tyler Flanagan (Volcom)
4. Zack Hale (Old Skool)
5. Danny Thomas (One Way)
6. Dave Brumm (The Westsiders)
7. Alex Dawoud (Billabong)
8. Christian Koch (Trilogy Arts)
9. Ian Sams (Bravo Condoms)
10. Chris Bradshaw (Hurley)
Wastell up high!
Snow is over...surf is on the way! Join us on Wednesday, April 8th at C Street in Ventura, CA. Public is welcome!
Results and schedule here
Review schedule of events here:
http://www.ultimateboarder.com/schedule_of_events.php
Sponsors for the 2009 Ultimate Boarder event include, Title Sponsor - Coast Body Wash, Amtrak California, Bear Mountain, Indo Board and 180 All Natural Energy.
---