Back to News
South of The North's Easter Shoe Hunt This Weekend
April 7, 2009
South of The North's Easter Shoe Hunt This Weekend
Saturday, April 11th 2009
Start time: 1pm ET
End Time: When the kicks are all gone
Now is the time to twitter your way into some new kicks. On Saturday April 11th. South of the North will reveal on twitter the location of a number golden shoe eggs around the D.C. metro area. Rockville to Reagan national Airport, Bridgespot to Bethesda, Sterling to Springfiled. the locations will be revealed one per hour on twitter.com/southofthenorth, so if you want the free shoes and maybe a few extras follow these steps:
1. Sign up to follow South of the North on twitter
2. That means sign up to follow along here - twitter.com/southofthenorth
3. Check updates starting at 1 pm ET on Saturday April 11th.
4. Get the location of where one pair of shoes will be given away each hour.
5. Get on your skateboard, bike, metro or car and try to be the first one to get the shoes.
6. Find the golden egg either held by yours truly, a friend of South of the North or simply...it might be hidden in plain sight.

I know you're saying to yourself "how in this crummy economy can this be happening?" Simply put we've had some very generous companies pitching in to help out ... including

Brought to you by
Vans
DC Shoes
Nike SB
Loyal Laces
Index Ink
Convoy Skateboards
Alpine Ski Shop
and of course SouthoftheNorth.com

Rules
-Only one pair of shoes will be given away per hour (maybe - possibly more)
-You can only win once! We need to make sure everybody involved has the opportunity to get hooked up!
-Please be safe, smart and responsible. Don't speed, fight or break any laws or common sense to get to the destination once revealed.
-Shoes will be given away as gift certificates so it doesn't matter what size you wear the hook up is here.
-Support you local skate shop.

Hope to see you all on April 11th!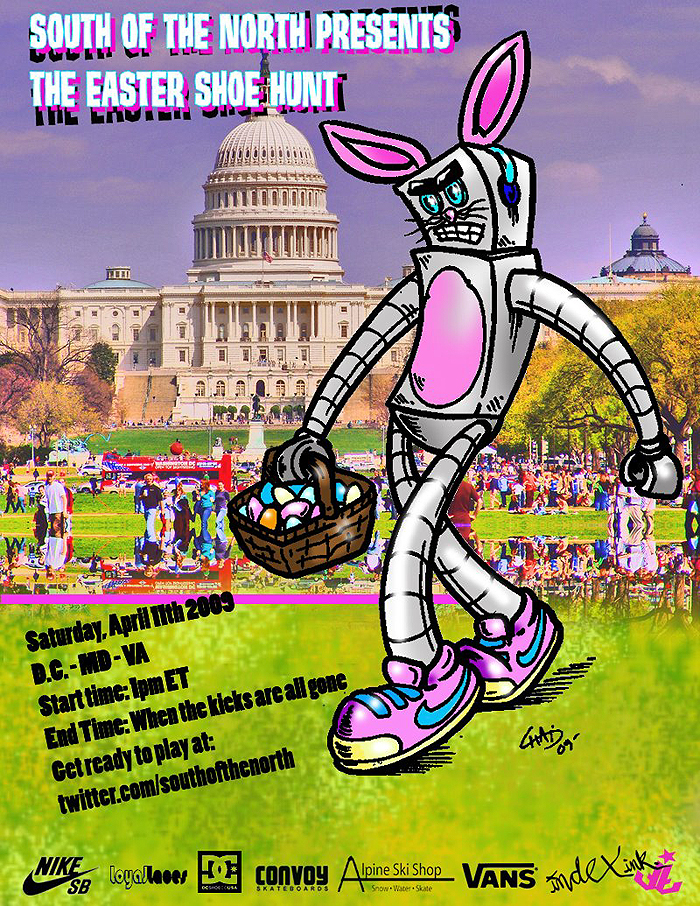 ---