Back to News
Upper Playground Presents Stoked Sessions 2009: "I Love LA"
April 22, 2009
Upper Playground Presents Stoked Sessions 2009: "I Love LA"

On May 2–3, Upper Playground is hosting Stoked Sessions Los Angeles 2009, an art auction and fundraiser for Stoked Mentoring. Every year Stoked teams up with the best artists in action sports, street and fine art to produce original pieces, with 100% of the sales benefiting Stoked Mentoring. This year, Upper Playground is proud to present Stoked Sessions: "I Love LA" at their flagship Los Angeles location.
"Our relationship started this past year when UP donated skateboards for our skateboard program. We were even more excited to learn that they wanted to partner with us in raising funds for our program. Using their space and getting access to their artists enables us to raise much needed funds to give Los Angeles youth the opportunities to succeed in life. – Steve Larosiliere, Executive Director Stoked Mentoring Inc.
Stoked Sessions has invited over 300 artists based on the West Coast to submit original pieces. Artists confirmed for this year include:
Estevan Oriol, Travis Millard, Mel Kadel, Aaron Winters, Abe Lincoln Jr., Mark Sellman, Graphite LA, Anthony Smith, Hit + Run, Brian Gray, Casey Wisden, Blurble, Christy Chaloux, Dash Fidel, David Russell Talbott, Enik One, EyeOne, Jesse Spears, Aryo, Griffin Marcus, Cole Gerst, James Dormer Schneider, James Reitano, Jason Maloney, Jimmy Muga, JAO, JW Miller/ Dektown, Harrison Boyce, Chase, Sarah Anderson and Luke Fishbeck, Phoenix, Jason Hernandez, Scott Hultgren, Stacie Krajchir, Alex Kopps, The Love Movement, Graham Watson, Annie Madison, JESOE ONE, Jimmy Pargas, John Munnerlyn, Dave MacDowell, Alex Prager and Tamar Levine, and more.
"We are very excited to help Stoked Mentoring, by raising awareness through action sports, Stoked has created a positive and fruitful community built around creative expression, bringing help and mentoring to at-risk youth in Los Angeles. Upper Playground is proud to support such a great cause and we look forward to more successful partnerships in the future." – Adam Krohn, Upper Playground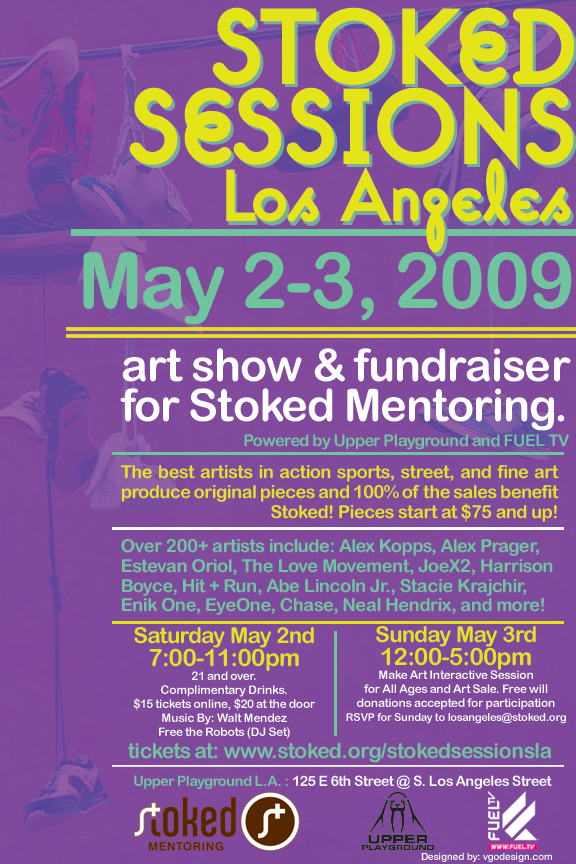 ---