Back to News
Coast & BNQT.com
April 28, 2009
Coast & BNQT.com "Make Me Famous!" Contest Heats Up
With only a month left, innovative contest adds new categories / new sponsors
BNQT.com and Coast Body Wash announce the addition of several new categories and sponsors to the Coast-Make Me Famous sponsorship contest. The Make Me Famous contest, which will award a skier or snowboarder a 1-year sponsorship and $20,000 cash, will also grant prizes for:
- Top Amateur: You think only pros can participate? WRONG. Show us some skill and we'll hook it up!
- Worst Crash: We're not advocating getting hurt, but if you didn't land the trick, why not try and win this category?
- Best Chick: A little something special for the all the ladies. Sorry guys, no cross-dressing.
"These three new categories open the Coast-Make Me Famous contest up to a much larger audience and offer something for everyone", says Danny Spyra, BNQT.com Marketing Manager. "More categories = more ways to win!"
The addition of new contest categories also includes new contest sponsors. Bern Unlimited, Dragon Alliance and Skull Candy have generously donated product to award to the winners of Top Amateur, Worst Crash and Best Chick.
This wraps up a successful Make Me Famous contest for both BNQT Media Group and Coast Body Wash. A huge thanks goes out to Coast Body Wash for throwing this contest and Bern, Dragon and Skull Candy for getting on board as well. Thanks to all who registered and participated in the Coast-Make Me Famous contest!
The Make Me Famous contest ends May 17, 2009. Register today at www.Coast-MakeMeFamous.com and upload video of yourself skiing or snowboarding. You now have 4 possible ways to win…what are you waiting for?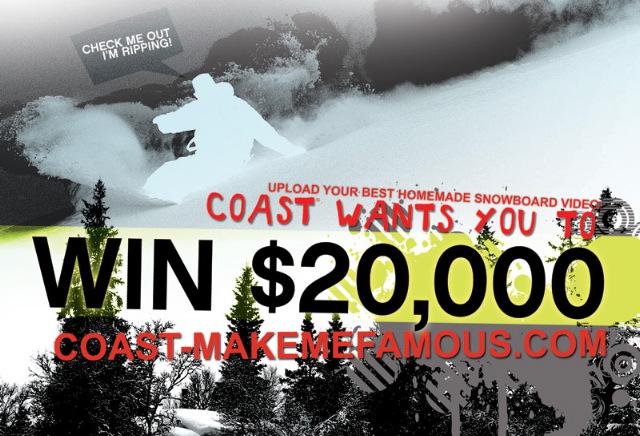 ---