Back to News
Ollie Pop Presents "The Art of SK8" Charity Art Contest
June 8, 2009
Ollie Pop Presents "The Art of SK8" Charity Art Contest
Skateboard Industry Exposure & $500 Worth of Ollie Pop Bubble Gum!
Ollie Pop Bubble Gum (OlliePop) announced the Art of SK8 Charity Art Contest for the 2nd Skate Shop Showcase to be held on Saturday June 20, 2009.
Organizers are looking for Skate Shops to submit Skateboarding inspired pieces from innovative artists to create an exciting and unique experience. The finalists will become part of the personality for this year's event. Top prize earns $500 worth of Ollie Pop Bubble Gum and being featured on a commemorative event package of Ollie Pop. The grand prize and event will be featured in Skateboarder Magazine. All finalists will earn prizes and mention on the event and organizer websites. The entries will be used to raise money and awareness for charities that support the arts, skateboarding and/or children's causes.
Skate Shop Showcase is an event that brings the skateboard community together for a night of art, music and culture. This event is focused on putting the limelight on the Skate Retailer. Skate shops are at the forefront everyday serving as the bridge between the consumer and the brand.

Deadline for submissions is June 18, 2008!

Send Entries to:
Ollie Pop Bubble Gum
Attn: Art of SK8
5235 Avenida Encinas Suite C
Carlsbad, CA 92008
For rules and submission information, please visit:
http://www.SkateShopShowcase.com
For more information about Ollie Pop visit www.OlliePop.com.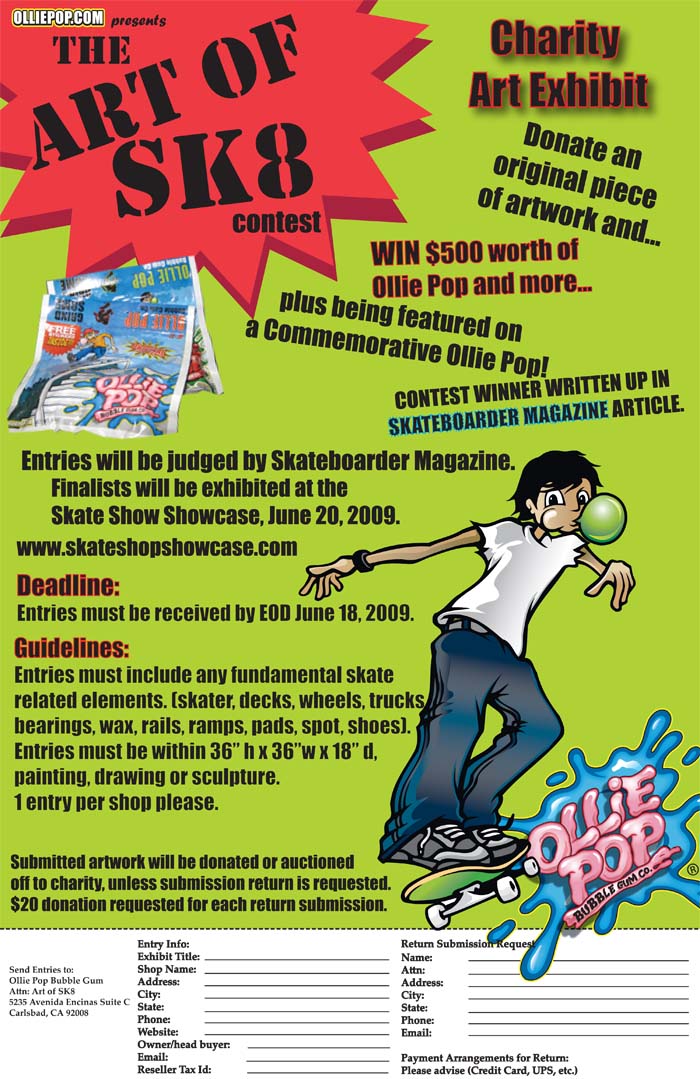 ---