Back to News
Spy Optic, Inc. Partners with Iconic NASCAR Driver Dale Earnhardt Jr
June 9, 2009
Spy Optic, Inc. Partners with Iconic NASCAR Driver Dale Earnhardt Jr
Launches His New Signature Sunglass-The "Dirty Mo"
Spy Optic, Inc. ("Spy"), a leading action sports eyewear brand announces its new partnership with professional motorsports driver Dale Earnhardt Jr.
"I am really excited about my new signature sunglass. With the Spy Dirty Mo, we are at the forefront of design with the look and feel. I am extremely happy with the result," said Dale Earnhardt Jr. "I was introduced to Spy sunglasses through my friendship with driver Boris Said and since then it's the only sunglass I wear. I like the way they look, the way they feel, and how Spy constantly evolves into something new."
Dale Earnhardt Jr. is a world-renown driver with a highly successful career, earning more than $53 million in winnings and 18 victories including the 2004 Daytona 500. He has been selected by race fans six times as the winner of NASCAR's "Most Popular Driver" award and consistently has appeared on Harris Interactive's annual polling of America's Top 10 Favorite Athletes.
"Spy Optic is thrilled to be working with Dale Earnhardt Jr., one of the most popular race car drivers of all time." stated Stone Douglass, CEO of Spy Optic. "Dale is not only a great NASCAR driver, but a creative, intelligent entrepreneur with a great eye for style."
Dale Earnhardt Jr. now joins Spy's elite athlete roster, including legendary seven-time Supercross champion Jeremy McGrath, world-renown surfer Clay Marzo, Olympic snowboarder Todd Richards, popular snow skier Tom Wallisch and world-class wake boarder Parks Bonifay.
Named after his hometown Mooresville, North Carolina posse, the Spy Dirty Mo signature sunglass is designed for life in the passing lane. The Dirty Mo's custom built frame is crafted from high quality Italian propionate material, featuring sleek and aggressive sport styling. The Dirty Mo features inset custom metal detailing, sturdy eight barrel stop hinges and 100% UVA, B and C sun protection in a shatter-resistant, optically correct polycarbonate lens. The Dirty Mo sunglass features a Dale Jr. signature pad print on the inside of the side temple.
The Spy Dirty Mo sunglass is hand-fabricated in Varese, Italy, by LEM S.r.l, a high quality sunglass and goggle manufacturer, which has crafted premium quality eyewear for Spy and other superior eyewear brands for over 15 years. LEM S.r.l. is a wholly-owned subsidiary of Orange 21 Inc., the parent company of Spy Optic.
The Dirty Mo is offered in five frame colors: grey crystal fade, brown stripe tortoise, matte black, shiny black, shiny white and also available with Spy's premium Trident polarized lens technology. The manufacturer's suggested retail price is $109.95 U.S. Dollars for non-polarized models and $149.95 U.S. Dollars for polarized models. The Dirty Mo is available for immediate purchase in stores at Sunglass Hut, Ron Jon Surf Shop, Sport Chalet and many fine Spy retailers as well as www.spyoptic.com.
For more information please visit www.spyoptic.com and www.dalejr.com.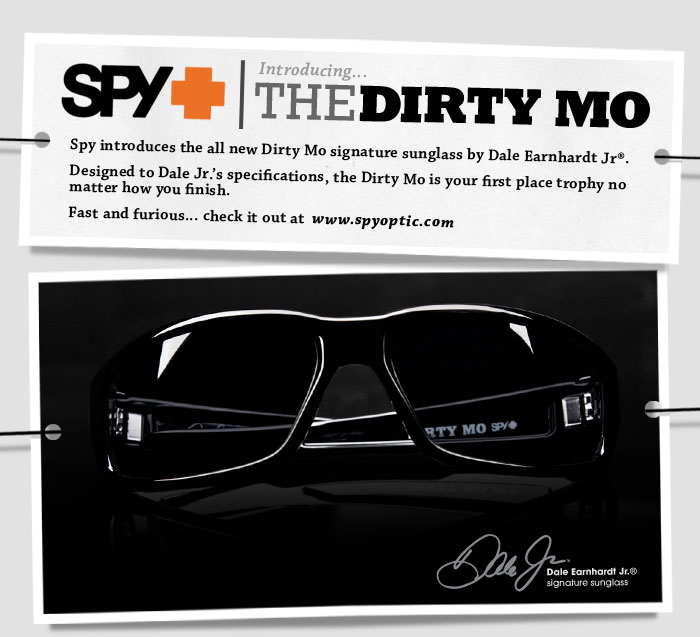 ---