Back to News
And the Art of Sk8 Winners are… Laurenn McCubbin and Goodtimes Skateboards
June 24, 2009
And the Art of Sk8 Winners are… Laurenn McCubbin and Goodtimes Skateboards

Ollie Pop Bubble Gum (OlliePop) announced Laurenn McCubbin's "Blonde On Blonde" and Goodtimes San Antonio as the winners of the Art of SK8 Charity Art Contest held at the Skate Shop Showcase on Saturday June 20, 2009 at Gallery 1018 in downtown Los Angeles.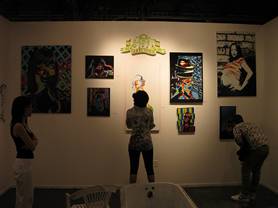 Stunned by the recent news on the June 4th death of Noah James Carter, the 2-year-old son of Ollie Pop investor Thomas Carter; Ollie Pop dedicated the Art of Sk8 contest to a charity vote that raised nearly $100 to launch the Noah James Memorial Fund at the Rady Children's Hospital in San Diego, CA. Show attendees purchased chips that they used to vote for their favorite decorated deck. The wall was made possible by the LVSK8 III exhibit being shown at the Henri & Odette Galley in Las Vegas. 8 pieces were made available for showing that had over 500 in attendance.
Judges led by Skateboarder Magazine declared Goodtimes Skateboards from San Antonio, TX with "Wall of the Show" winning the distinguished honor and $500 worth of a special commemorative Skateboarder edition of Ollie Pop Bubble Gum featuring the winners on the back of the product packaging.

Ollie Pop recognizes the integral role that skate shops and art play in skateboarding and plans to build on the event and the Art of SK8 contest to support the arts and further contribute to the Noah J Carter Memorial at the Rady Children's Hospital.
---